Recent thoughts about the HTX-100 beacon rig.
Past few months or so I have found three HTX-100 rigs that had been used 24/7 as a beacon quit operating in the CW mode...... Even after months of intermittent trouble shooting I have not found the cause.
However, all is not lost as a beacon rig......in the SSB a signal can be injected from the PicoKeyer which will reactivate a beacon message from the HTX-100.
A homebrew interface.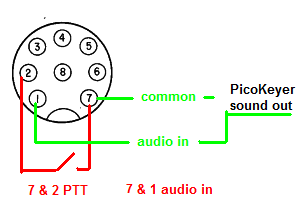 Very little opportunity to screw up these procedures..... All have been tested to work properly. If for some reason your rig will not work in this method, please do not blame me.