---
Web site details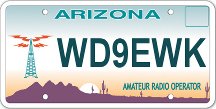 Updated 10 June 2020
---
In 2000, when I created my first web pages, I used the free hosting service of Al Waller, K3TKJ, called QSL.net. For the price - free, to amateur radio operators - it was the quickest and easiest way to go. Unlike other free web-hosting services, there are no ads places on or over pages hosted on that site. Al only asked for donations to help maintain the servers and Internet connections, and I made donations once or twice a year to help him out. Things went well until the last few months in 2003, when I would have problems reaching the site to add new pages or make modifications. I decided that, for my pages, it was time to look for another site to host my pages. I used Yahoo! GeoCities for my pages. With its closure, and change in ownership at QSL.net, I returned my web site to QSL.net in October 2009.

As for the "wd9ewk.net" domain name, I use the services of an Arizona company called Go Daddy Software. For a very small yearly fee, I get the domain-name with e-mail redirection services for lots of addresses ending in wd9ewk.net and also the ability to create "subdomains" (URLs with something other than www.wd9ewk.net). I can redirect all of these URLs, including the www.wd9ewk.net URL, to specific HTML pages anywhere on the Internet. In my case, these URLs redirect visitors to specific pages of my web site. I could use Go Daddy or some other web hosting service for the site, but I am happy with what I have now.
---
All of the web pages on this site were created using either the "vi" text editor under Linux, or occasionally the "Notepad" program - an accessory on almost all Microsoft Windows operating systems. I do not use fancy editor programs for my content, as most of them add extra code to my pages I do not need, and in turn increase the size of each page. For the images and graphics on my pages, I use The GIMP (GNU Image Manipulation Program) under Linux. I am not an artist, nor am I a webmaster (professionally), but I survive with these tools.

Throughout my pages, I use images of various USA and Canadian vehicle license plates with my callsigns in them - including the two images at the top of this page. I started doing this in 2002, when I began designing my own QSL cards. Especially for portable operating, I could put a license plate with a callsign and the relevant CQ and ITU zones for my location in the image, along with other logos and a grid for the contact information, and make a less-ordinary QSL card.
---
Comments/Questions?
Please feel free to contact me if you have questions or comments about my web pages.
---
WD9EWK/VA7EWK