---
My WD9EWK and VA7EWK license plates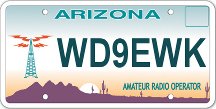 Updated 25 October 2009
---
For some time, I have used a photo similar to the following on my web pages and on my entry for WD9EWK at QRZ.com:


and have been asked some questions like "How can you get a Canadian callsign (VA7EWK) on an Arizona license plate?" or "You live in Arizona - how can you get Nevada license plates with your calls?" And, now, I can try to answer some questions about license plates from Argentina. Here is some background on how I obtained those license plates.
---
Arizona vehicle plates
In the past, the Arizona Motor Vehicle Division required Arizona residents who were amateur operators to fill out a special form to obtain license plates with amateur callsigns on them. Now, the process is much simpler - and much faster, with the help of the Internet. Arizona MVD no longer requires a special form, and the plates can be ordered online from the ServiceArizona Personalized/Specialty Plate Ordering page. Amateur callsigns are handled just like any other personalized plate - for the normal Arizona license-plate style, there is a $25 fee to make the plates and an extra $25/year renewal fee added to the vehicle registration. Other plate designs may have different fees, or no fee if the applicant qualifies for a particular plate design.

It is possible to place an amateur callsign on other plate styles offered by Arizona MVD. Please look at that web site for more information. Arizona permits up to 7 characters on a normal license plate, and when entering an order for a personalized plate with an amateur callsign please note in the appropriate field that this is your amateur callsign. Some plate designs are limited to 6 characters, due to the graphics and/or other information on those plates.

In 2007, MVD finally released a ham-specific personalized plate: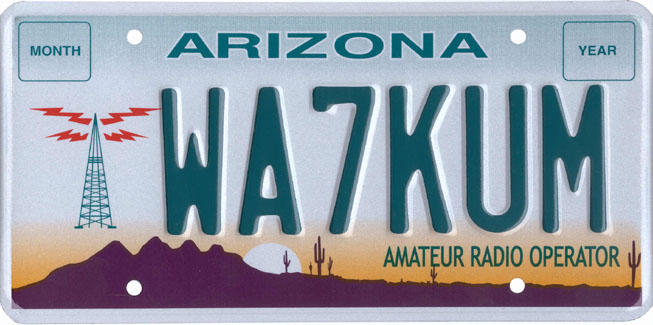 ---
Arizona souvenir plates
The Arizona Department of Corrections Outlet Store in Florence, Arizona, sells souvenir Arizona license plates and many other items. Souvenir plates may be ordered for pick-up at the store, or mailed to an address in Arizona. These plates can be either copper or in a variety of colors (blue, black, red, white, brown, maroon, or lemon yellow for automobile plates) with different colors for the letters and numbers stamped onto the plates. Please note that the normal Arizona license plate with the desert sunset (as seen in the images on this page) is not available from this store, but with those colors for the plates and characters on the plate there are many different combinations that can appear on plates (.JPG image, will appear in a new browser window).

Souvenir automobile plates can have up to 7 characters, and souvenir motorcycle plates can have up to 5 characters. Other than the limitations on where these plates can be sent to, the prices are not unreasonable. I have not ordered any Arizona souvenir plates, but this is also an option if I wanted something else on a license plate - and not change the plate on my car.
---
Nevada vehicle plates
The Nevada Department of Motor Vehicles (DMV) allows amateur operators to register a vehicle in Nevada with plates showing an amateur callsign. The plates for use on vehicles will show "RADIO AMATEUR" to the left of the callsign on the plate. For Nevada residents wanting to put an amateur callsign on their vehicle license plate, the Nevada DMV has a web page with information on how to obtain Nevada amateur radio vehicle plates.

I am not a resident of Nevada, nor have I ever been a resident of that state, so I cannot add these amateur radio plates to my collection - unless I move to Las Vegas or some other place up there.
---
Nevada souvenir plates
Nevada allows anyone to purchase sample plates and customized souvenir plates. There is a good web page on this topic by Nevada DMV. For a single plate there is a $15 fee, or $10 per plate if ordering between 2 and 9 of the same plate, and for more than 10 the plates cost $2.50 each. These fees include shipping and handling within the USA. The souvenir plates can have up to 7 characters, as long as it is not offensive, does not violate any trademark or copyright, and does not conflict with standard Nevada plate numbers.

Please note that the letters and numbers stamped onto the Nevada souvenir plates are in red, where the letters and numbers on Nevada plates used for vehicles are blue. Unlike with vehicle plates, the souvenir plates are only available in the normal Nevada "sunset" design, and will not have "RADIO AMATEUR" stamped on them. Nevada DMV also places a warning label on the back of each plate, warning that the plate is not to be used on a vehicle and citing the Nevada Revised Statutes section regarding the souvenir plates.

I initially applied for a souvenir Nevada plate with WD9EWK on it in March 2003, just to see how long the process would take - and if I could actually get a state-issued Nevada license plate with my callsign on it. It took between 3 and 4 weeks to receive my Nevada WD9EWK plate. After receiving the Nevada WD9EWK plate, I applied for a Nevada VA7EWK plate, and that also took between 3 and 4 weeks to arrive at home. Each plate came with a sticker on the back, warning about not putting these plates on vehicles along with the Nevada Revised Statutes (state criminal code) section regarding souvenir license plates. I removed those warning stickers, and placed these plates on the wall next to my Arizona WD9EWK and VA7EWK plates.
---
Argentina souvenir plates
While I was in Argentina during April 2004, I was able to add a couple of plates to my small collection. With the help of a friend down there, I was able get my two callsigns on Argentine plates.

Normal plates are white, have the country name and national seal on the top edge, a black center section with white letters and numbers, and the government does not allow for personalized plates on vehicles. Except for some taxis and buses, all vehicles in Argentina use the same plates and numbering scheme for those plates.


Photos of my Argentine souvenir plates, taken at an angle to minimize flash-related problems
The plates I have look similar to the normal Argentine plates, with my two callsigns WD9EWK and VA7EWK on them, but with two differences:
On my plates, the center section is light blue, similar to the blue on the Argentine flag. Normally, the center section is black.
In the center of the section with my callsigns, there is a gold-colored national seal. This is only found on the souvenir plates, as there is just an empty space between the groups of 3 letters and 3 numbers on ordinary plates.
Had I purchased these plates, they would have cost approximately US$ 30 per pair in Buenos Aires. I traded two pairs of Nevada souvenir plates to get my two pairs of Argentine souvenir plates, so I did not have to pay for mine (other than the airfare to South America, US$ 40 for the two pairs of Nevada plates I purchased before my trip, etc.).
---
Why did I have an Arizona VA7EWK plate?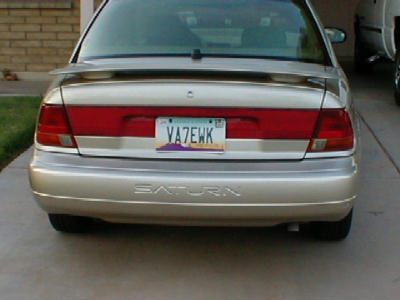 My car, with an official Arizona VA7EWK plate, in August 2002


The simple answer is "Because I could." :-)

I had the Arizona WD9EWK plate on my car for 6 years, and wanted to get a real Arizona VA7EWK plate in my collection. Since I was already paying the $25/year fee for the WD9EWK plate on my car, it would only cost me the $25 to make the Arizona VA7EWK plates plus having to put one of them on my car. As I mentioned above, with the web site it only took a few days to get the plates at home - one on the car (image above), the other on the wall (image at the top of this page). At this time, I was not aware of the prison store which makes souvenir Arizona license plates, so the only option I knew of was to change the plate on my car from WD9EWK to VA7EWK.

At the time I applied for the VA7EWK plates, I searched for any Arizona license plates starting with the 4 normal Canadian callsign prefixes (VA, VE, VO, VY) and a digit following the prefix - to see if anyone else had done what I wanted to do. It appeared there were possibly 3 or 4 other vehicles in Arizona with what could be Canadian callsigns. I may not be alone in doing this in Arizona, as far as I can tell. Judging from the occasional e-mails and comments when other amateurs see the plate, it is a mild surprise for some to see a plate with something other than a USA callsign.

In early 2008, I decided to put the VA7EWK plate back on my vehicle. Once I filed the paperwork, it took 6 weeks to get the new pair of plates in the mail. Unlike with the past plates, Arizona no longer embosses the letters and numbers into the aluminum. The plate is now completely flat.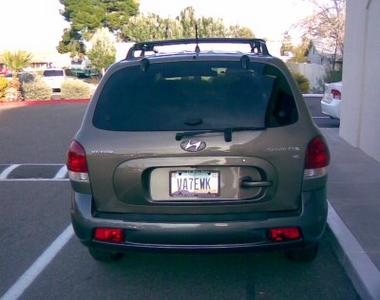 My car, with an official Arizona VA7EWK plate, in March 2008
---
Comments/Questions?
Please contact me.
---
WD9EWK/VA7EWK - Ham Radio