THANK YOU FOR VISITING NEAR SPACE SCIENCES


PLEASE ALLOW A FEW MOMENTS FOR THE PAGE TO LOAD COMPLETELY
Welcome Educators & Students
.
HOW TO GET NEAR SPACE SCIENCES AT YOUR SCHOOL.
Your own schools personal space program is custom designed, and built by you and the Near Space Sciences group of volunteers. It is designed to fit into any science, math or technology curriculum from 7th grade to University level.
.
WHO IS NEAR SPACE SCIENCES?
Near Space Sciences (NSS) is a small slice of our own spaceship called Earth. A wide diversity of people are members of NSS. From farmers to factory workers, grade school age students to 90 year old retirees. And school teachers to actual NASA professionals. All are welcome to join the NSS team. It costs nothing to join, other than just the enthusiasm of a journey to the "Edge of Space"!
.
WHY WOULD YOU WANT TO DO THIS?
Because learning is fun! We would like to spark the student's interest in science, math, technology and the U.S. space program. Many of us are donating our time and talents as a public service to our local community. To share the thrill of good hands on science, and the higher interest levels this creates in the sciences in general. With people of all ages.
The students will learn valuable lessons about the design of their experiments. Also in telemetry, Global Positioning Systems , (GPS), computers, recovery techniques and much more. The project simulates many of the practices and remote observing challenges inherent in working with satellites. A NSS project offers a unique hands-on experience for students in grades 7-12 in earth science, physical science, physics, electronics or aerospace classes. It is a vehicle for teaching and learning technology.
.
.
Type of Participation
Schools can participate in any NSS project as the LAUNCH HOST SCHOOL or as a PARTICIPATING SCHOOL. This would be at the discretion of the schools involved and dependent on experience. First time schools may wish to to start with participation, joining a mission at a LAUNCH HOST SCHOOL and help out in any way needed. Once they are comfortable they then can advance on to the actual designing, launch/mission control level. Depending on your own particular schools level of interest NSS has developed three phases of this program.
.
STUDENT LAUNCHES
.

It is suggested that schools start with the simulated satellite balloon phase and progress (if wanted) to the AMSAT & SAREX missions. Balloon flight times typically last 2 & 1/2 hours per mission; while AMSAT & SAREX missions last only 15-20 minutesas the orbiter or space station passes overhead. With the Balloon launched systems students get an involved, hands on project; designing and building their project from the ground up. NSS personnel assist in any way possible to make their project a success.
AMSAT PROGRAM
...................

............................

You can use real orbiting Amateur Radio Satellites. There are dozens of satellites that have been designed and built by Amateur Radio operators and actually put into orbit. These satellites range from simple one way beacon transmitters, to actual satellites that you can talk through to people all around the world! There are even ones now with onboard cameras that send the views from space back directly to the ground.

SAREX PROGRAM

o
...
..........

........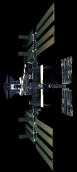 Shuttle...................................Mir........................................ISS

After your school has demonstrated it ability to perform good
and reliable space type of communications in the AMSAT PROGRAMS, NSS can help you apply to become one of the very few schools that are allowed to have actual direct communications while they are in earth orbit with NASA Space Shuttle Astronauts and both the Mir Space Station as well as the new International Space Station going up soon.

.
How does each phase work?
Click on the following links to see how each phase works.
.
STUDENT LAUNCHES
Learn more about the student launched balloon systems.
.
AMSAT PROGRAM
Learn more about the real satellite program.
.
SAREX PROGRAM
See what it takes to become one of the few schools
that actually get the chance to have their students
talk to shuttle astronauts during a shuttle mission!

KEEPING IN TOUCH
.


Most of our personnel here at NSS run a special program called ICQ. It allows us to know if anyone else from the group is even on-line. And if a teacher or student has a question and they also are running this program they can have a live "CHAT" session with the NSS member, or for that matter anyone else in their group. We can even hold "live" group sessions where as many of the group can meet on-line and discuss the project. And of course our E-Mail box at NSS is always open!

If you would like to download the ICQ system follow the link below and just follow the instructions. Near Space Sciences' ICQ number is, 2010540.

Or if you want information about ICQ before downloading it follow this link for full details of what this program can do for you.

NSS is right now


If someone is online
use the instant message sender below
to send them a message, and they
will get back to you as soon as possible.
Online-Message Panel

Sender Name:

Sender EMail:

Message:

  
7. CAREERS IN AEROSPACE?
.

You never know,, several of our members of NSS have moved on to work in the aerospace industry. One works down in Huntsville, Alabama working for NASA. While two others have taken up the challenge of developing reusable launch systems. One for the Rotary Rocket Company, and the other for Vela systems, where Vela will take the average civilian for a short ride into space! The ultimate vacation cruise!

.
HAVE FUN!
.

Learning doesn't have to be lectures, homework, and other DULL! stuff like that, nothing beats a learning experience that is exciting!

.
WHAT IS REQUIRED?

1.. Decide on the type of project your school wants to perform. NSS will help you with this.

2.. Appoint someone to be the project focal person for your school. NSS will need one person that can be the mission control person/contact. The flow of communication is vital with a project like this. Nothing kills a project like this than lack of communication!!

3.. Contact Near Space Sciences to get things started or for more information.
Use this link to send an email to NSS

NSS provides all the knowledge, personnel, and help set-up the schools mission ground support control station for the projects.

NSS will organize and coordinate the preparation and performance of the project.

NSS will obtain all the necessary permissions from the FAA and any other needed permissions pertaining to the particular mission.

.
The school is responsible for:

1. A teacher/contact person to act as school coordinator for the project.

2. Help the students obtain the required funding for their mission. NSS personnel will also help in this matter. We know of several manufacturers that will help out a program like this. Depending on the mission itself the cost can easily be paid by the small donations from the students parents and or local businesses. Most of the equipment is reusable, so after the flight is over the equipment can be re-used on future missions with other classes. Near Space Sciences' chase & recovery teams haven't lost a payload yet and we are up to flight 24 now!

When ready for stage two, moving up to real actual orbiting satellite communications NSS will assist the school in the preparation and performance of the AMSAT satellite project. This will need one teacher or student to study and obtain an actual FCC Amateur Radio License. It is not a hard test, but it is necessary for the actual satellite communications portion of the AMSAT project. It is not needed for the simulated satellite balloon projects we will be using the NSS license for these projects, once the school has their own license they of course can use their own call sign on their balloon payloads.> NSS will assist the school when they think they are ready in the preparation and performance for a SAREX Shuttle project. As with the AMSAT projects the need for a FCC license will be needed for this also. But this is of no real problem.

Note:

While the simulated satellite projects you will need the help of NSS to do them especially for the recovery of the equipment! But once NSS has helped you set up and have running the AMSAT & SAREX projects these can, and should be continued as a curriculum of the school by an Operation team or club.

.
ARE YOU READY FOR A JOURNEY
TO THE EDGE OF SPACE?
LET'S GO FOR IT!
Contact near space Sciences for more information


[email protected]

Follow this link to see some pictures from our latest balloon flight
http://members.xoom.com/nss

For more information of flights to the "EDGE OF SPACE" happening in other areas around the world click on the HABLIC logo below. HABLIC the High Altitude Balloon Launch Information Center. It is a posting place that most of the other Balloon groups use to announce future flights. If NSS here in Wisconsin is not local for you check out HABLIC there just might be a group in your area.