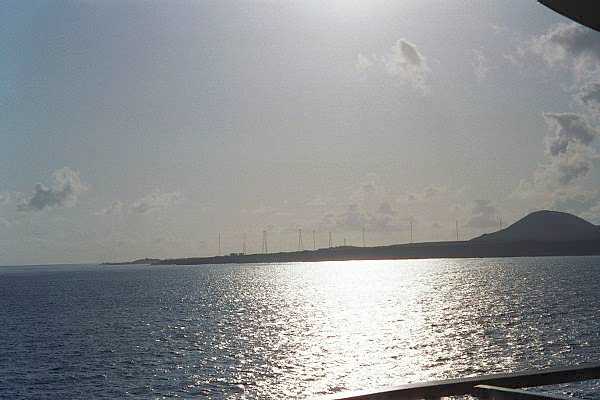 Ascension Island (ZD8) HF Antenna Site. Picture copyright © 2001 Michael H. Borsuk.
Here's the aviation frequencies as I mentioned at the RMVHFS meeting on February 1, 2001. The few freqs immediately below are just a few of the "off-route" military channels that seem to have lots of good stuff. Note that my favorite, 11.175 MHz is included. I've also heard lots of action on 8.992 MHz, but not as much as "triple ones". With all of the following, as you well know, the activity will be time of day and season dependent. With the sun spot cycle so high, expect the higher freqs to be used most of the time.
The other paragraphs are for the "route" frequencies used by commercial aircraft. The North Atlantic routes follow specific latitudes between checkpoints (varying by 1 degree latitude rather than direct, great circle routings) from 50 degrees West to 15 degrees West. West of 50 degrees, the aircraft will usually be working Gander on VHF, and east of 15 degrees, they will usually be working Shannon. You will only hear them when they are between these latitudes and are not in radar contact--and are giving position reports based on their inertial navigation. (GPS is still very little used in commercial aircraft because of the policy of the FAA that continues to install radar equipment and (what has turned out to be) unreliable computer systems--but that's another story.) Also, there are other routes across the Atlantic; so these are not the entire list.
The Pacific routes are usually direct, great circle routes more or less, but HF position reporting is still very much in use. The communications systems are not completely in the 1930s, however, since most of the aircraft have satellite DATA ONLY links with their companies, but these are supposedly used for fuel and other automatic maintenance reports as well as operational (rather than air traffic control) messages.
Also, you'll hear that most of the HF communication are not with air traffic control at all but rather with
ARINC
(Aeronautical Radio, Inc.), a private company that was jointed owned by the airlines to provide relay communications to the appropriate air traffic control. Let me know what you hear. Happy DX.
'cbu/Ø

U.S. ARMED FORCES GLOBAL HIGH FREQUENCY SYSTEM
USB Voice (All frequencies below in KHz.)

USAF Bases such as Andrews, Edwards, McClellan,
Offutt, Ascension, Hickam, Thule, Elmendorf, etc.
with worldwide phone patches, Emergency Action
Messages, general traffic, etc.

4742, 6712, 6739, 8992, 11175, 11244, 13200, 15016


INTERNATIONAL AIR TRAFFIC CONTROL
USB Voice

The following are the
major international air traffic control routes,
cities and frequencies which are normally heard
well throughout North America.


NORTH ATLANTIC A ROUTE
includes Canary Islands, Gander, New York
Paramaribo, Piarco, Santa Maria & Shanwick
30126, 5598, 8906, 13306, 17946 kHz.

NORTH ATLANTIC B ROUTE
includes Gander, Reykjavik, New York,
Santa Maria & Shanwick
2899, 5616, 8864, 13291, 17946 kHz.

NORTH ATLANTIC C ROUTE
includes Gander, Reykjavik & Shanwick
2862, 5649, 8879, 13306, 17946 kHz.

NORTH ATLANTIC D ROUTE
includes Bodo, Cambridge Bay, Churchill,
Iqaluit, Gander, Reykjavik & Sondrestrom
2971, 4675, 8891, 11279, 13291, 17946 kHz

NORTH ATLANTIC E ROUTE
includes New York and Santa Maria
2962, 6628, 8825, 11309, 13354 kHz.

NORTH ATLANTIC F ROUTE
includes Gander and Shanwick
3476, 6622, 8831, 11336, 13291 kHz.

CARIBBEAN A ROUTE
includes Barranquilla, Boyeros, Guatemala City,
Meridia, New York, Panama, Piarco, San Andres,
San Jose, Tegucigalpa
2887, 5550, 6577, 8918, 11396, 13297, 17907 kHz.

CARIBBEAN B ROUTE
includes Barranquilla, Boyeros, Cayenne,
Georgetown, Maiquetia, New York, Panama,
Paramaribo, Piarco, San Andres
3455, 5520, 6586, 8846, 11330, 17907 kHz.

AFRICA 1 ROUTE
includes, Abidjan, Bamako, Bangui, Bissau,
Bobo dioulasso, Bouake, Casablanca, Conakry,
Canaris, Dakar, Freetown, Kano, Niamey,
Nouadhibou, Nouakchott, Ouagadougou, Roberts
3452, 6535, 8861, 13357, 17955 kHz.

AFRICA 2 ROUTE
includes Algiers, Brazzaville, Kano, Gao, Niamey,
N'djamena, Tamanrasset, Timimoun, Tripoli, Tunis
3419, 5652, 8894, 13273, 17961 kHz.

AFRICA 3 ROUTE
includes Addis Ababa, Aden, Asmara, Bahrain,
Benghazi, Bombay, Bujumbura, Cairo, Comoros,
Dar es Salaam, Entebbe, Hargesia, Djibouti, Jeddah,
Khartoum, Kigali, Kisimayu, Male, Mogadishu,
Nairobi, N'djamena, Sana'a, Seychelles, Tripoli
3467, 5658, 10018, 11300, 13288, 17961 kHz.

AFRICA 4 ROUTE
includes Accra, Bangui, Brazzaville, Bulawayo,
Cotonou, Douala, Entebbe, Franceville, Garoua,
Goma, Johannesburg, Kano, Kinshasa, Kisangani,
Lagos, Libreville, Lome, Luanda, Lumbumbashi,
Lusaka, Maroua, Maseur, Nairobi, N'djamena,
N'djili, Niamey, Niamtougou, Port Gentil, Roberts,
Salisbury, Salazar, Seychelles, Windhoek, Yaounde
2878, 5493, 8903, 13294, 17961 kHz.

CENTRAL EAST PACIFIC 1 & 2 ROUTES
includes Honolulu and San Francisco
2869, 3413, 5547, 5574, 8843, 11282, 13261 kHz.

NORTH PACIFIC 2 & 4 ROUTES
includes Honolulu, San Francisco & Tokyo
NOTE: San Francisco covers Anchorage
2932, 5628, 5677, 6665, 8915, 10048, 13294, 13339