Joe,
I have enjoyed your site and the many fine contributions regarding the Ameco AC-1 novice transmitter. After reading several nostalgic letters of hams who had one as a young novice, I decided to copy the transmitter from the schematic here on your web site. I designed the artwork and had a silk-screen made to screen the front panel after painting. See attached picture of the W9BMW copy AC-1A. It was a fun project and it really works great.
I have been fortunate to locate and restore two Ameco AC-1 transmitters since building the copy. They turned out great! I created a copy of the artwork and made a silk-screen for these and any future restorations. (see before and after picture)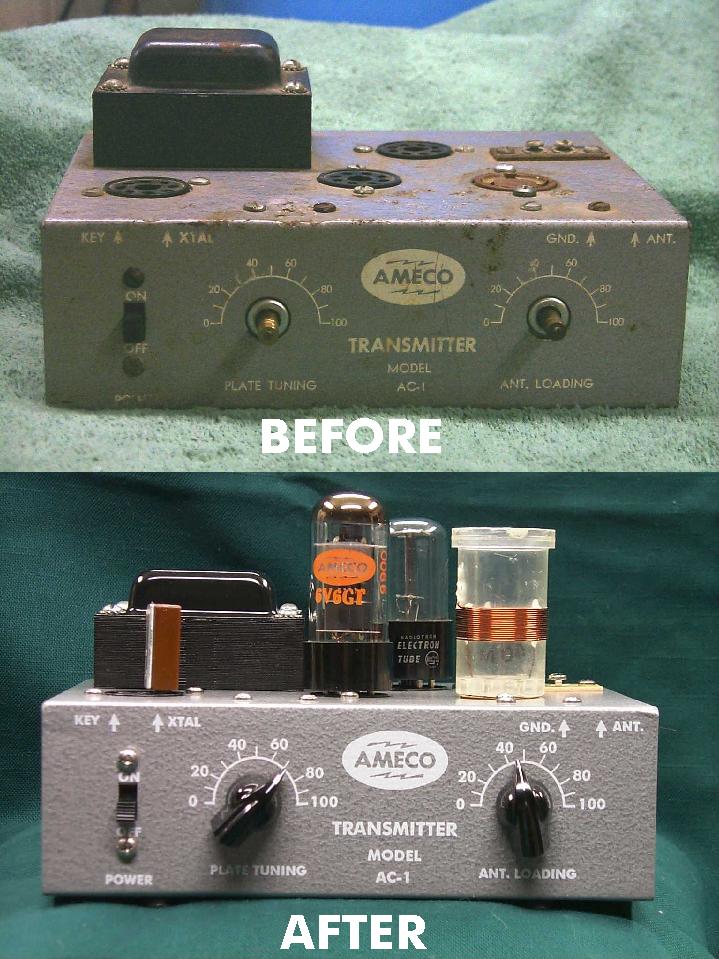 I use my home-brew copy and my other Ameco transmitters all the time. I have had many great QSOs all across the country. I operated SKN this New Year's Eve with only my AC-1 and made lots of entries in the log. It is always nice to note the surprised response of the ham when I tell them I am on an Ameco AC-1 TX.
Thanks for your recognition of the Ameco AC-1 and what role it played in getting so many young hams on the air. It continues to be a sought after piece of ham history and anyone who locates one and gets it on the air can consider themselves truly lucky.
Thanks for the nice website and hope to work you and others with AC-1 to AC-1 on the air!
Regards,
Monte Allen W9BMW
---
Dear Sir,
I have some old pointer knobs for you, if you will send me your address.
My E-mail address is [email protected]. The transmitters here are all
homebrewed. The main transmitter is a 10GK6 / 1625 MOPA transmitter.
The back up transmitter is a 21LR8 MOPA. I found your website last week
and started pulling parts to build a homebrew version of the AC-1. 73's
Best regards,
Rich
WB3COB
---
I bought mine used in 1959 (then call KN4QZO)
Used it about 4 months with S38C. First Class!!
Bought for $10 and gutted it for parts later on UGH!
I do have the ORIGINAL manual.
I just may home brew one.
73 Charles K4QZO
---
Boy....does that bring back memories....thanks for sharing that story about
your AC-1 even though the ending was very sad!!!
I had an ac-1 that worked!! and I a had a companion 1 tube regen receiver
that I also built ....it looked like the ac-1 (same type chassis and looks)
but I am not sure if it was by Ameco.
Anyway...my first (sort of) contact was on 40 meters.....I was so nervous
that when I heard my own call being sent by someone else on cw, I started
shaking so much all I could do was listen in amazement as that unknown W5
was pounding out my call letters ....KN6ZSR ....KN6ZSR....KN6ZSR. But KN6ZSR
couldn't answer his call because KN6ZSR's whole body was shaking so much
that his fist couldn't manipulate that brand new J-38 that was connected to
the AC-1! My fist just wouldn't steady through all the shaking of my body
for me to return his call!! Oh boy ....that was a time when wireless
communication was pure unadulterated MAGIC and just too much for a young boy
of 12 years to handle at that time.
Thanks again for your wonderful story about your AC-1. If you find an extra
AC-1 please let me know! And by the way.....How can I subscribe to Stogies,
Skirts and Shortwave ?
Regards,
Mike, K6ZSR
Webmaster, Electron Bay
---
Very nice. I've had the schematic on my wall for a while. Maybe I'll try
to build one sometime. I'm sure I'm never going to find one at a hamfest.
73,
Nick, WA5BDU
---
Hi Joe:
Still have MY AC-1 on the shelf here. It last spit RF in 1973.
I received the rig, already built, as a gift from my uncle, K8CFO, in
recognition of my passing my Novice exam in 1967 and becoming WN9UWU.
Coupled with my trusty Knight Kit STAR ROAMER, I actually worked 80 and 40
meter QSO's on a fairly regular basis with an 80 meter dipole and a knife
switch coupling the antenna to either transmitter or receiver. The AC-1 was
eventually replaced by a DX-60A and the STAR ROAMER went on the shelf in
favor of a HQ-170A. That HQ-170, BTW, was carried home, by hand, from the
train station several blocks away. No UPS in those days...my box came by
REA Express from Henry Radio in Butler, MO.
The AC-1 came off the shelf in 1973 when I was relicensed as WN9JLK. I
suspended a slinky from my dorm room window and worked North America with
impunity (and more than a few TVI complaints). The old girl has been on the
shelf ever since.
I lost my photocopied manual long ago, but I still have the halved tube base
I employed as a plug for the key leads (J-38!).
Thanks for the memories.
73, de Mike, K9UW
Amherst, WI
---
I am amazed at the interest in the Ameco AC-1. About 3 years ago I was walking through a small hamfest in central Ohio and spotted an Ameco box on the table. Low and behold, it was an AC-1 NEW IN THE BOX AND UNASSEMBLED. Needless to say I bought it. I hesitated building it for a long time because it probably is the only one still in kit form. One Saturday I decided it was time and built it. It is absolutely mint. I made about 5 contacts on it and put it on display in the shack. What a great collectors item.
de Jerry K8RA
---
Joe,
Enjoyed your little web article on the Ameco AC-1. Don't specifically
remember that rig but I built a 6V6 oscillator transmitter on a cake pan
about 1967. I don't recall that it ever worked either HI. Just
finished building a 12BY7/1625 transmitter from the 1964 ARRL handbook.
Fired it up literally tonight. Seems as though the switch I added to
switch 110 VAC to a remote Tx/Rx relay was wired directly across the AC
line instead of in series. Blew a 10 or 15 amp breaker in my power
strip and filled the room with smoke HI. Rewired it and got the
transmitter up and running and contacted Michigan, British Columbia and
Montana on 80 Meters. Used empty plastic pill bottles for coil forms.
Next project is to wind the coils for 40 meters and find some more
crystals to use. Next project is a transmitter from a ham named Harry
in Upplands Sweden. Uses two tubes and delivers 7 or 8 watts. good
luck with the Ameco.
73
Bud
WAORGG
Colo Springs CO
---
Thanks so much! I was surprised to see all that info on the AC-1. I just printed it out for my file....Tom W3GNM
---
I never owned an AC-1, but a few years ago, in cleaning out the shack of a
friend SK, I found the documentation for one...no AC-1, just the assembly
instructions.
I became a novice in 1962, lured by the interesting QST magazines my uncle
(W6GBK) left at my house. I remember wondering how the AC-1 in the ads in
back of the magazine could be for a real "transmitter" when the photos in
the front of the magazine showed ham stations with Collins and Hallicrafter
transmitters with tuning dials and meters. The AC-1 couldn't really be a
transmitter, could it? It was some time before I learned how simple a
transmitter could be.
Ever since finding the AC-1 documentation I have been planning to build a
replica. I have all the parts (many times over) and only need to get a few
other higher priority projects out of the way.
I will bookmark your page and keep in touch. Would especially like to get
the front panel artwork as close as possible to original...by the way, gray
hammertone paint is available. I got some at WalMart and used it on an old
cabinet.
Roger K6XQ
---
Hi my name is Tom call since 1973 WA6APN,call in 1960 was WV6KAL. My rig in

1960 was an ac-1 and a bc 348,still have the bc 348.About two months ago

started thinking about the ac-1 found one on the internet within a

week.Bought it for $20+$10 shipping. It's in fair shape replaced the filter

cap,and 6x5 and 6v6 with nos in the box tubes. Loads up fb into a 25 watt

bulb.Am presently rebuilding my shack to fit the old novice rig and my old

upgrade rig a Heath DX40 & NC98.Great to find this site and read all the

notes about the AC-1. 73 Tom, WA6APN
---
Just stumbled across this site and couldn't help but smile. The AC-1 was MY
first novice rig when I was about 14...put it together with my father
looking over my shoulder. Fired it up...nothing. Never did make a contact on
it. Unfortunately I didn't know anyone who knew any more than I did.
Thanks for the memories!
Geoffrey C. Malloy
---
Dear Joe
I keep your website as one of my favorites and every once in a while I drop in to see my favorite transmitter. Like every one else it did not work very well and mine was soon replaced with a DX-20. With that I worked the world. But the AC-1 I built with my father when I was aged 10 and for that reason would like to find one. Thank you on behalf of all of us for printing the schematic and parts list. I would love to homebrew one. One of your writers had a wonderful idea for you to scan the face so we could make up decals of the transitter.
Again thank you for your website is is deeply appreciated, enjoyed, and brings back many fond memories.
From WA2ZWE Tom Monahan
---
I have been looking for an Ameco AC-1 for a long time. I never found one -
so decided to build my own. The photo is attached. It was a quick digital
camera and the photo does not do it justice.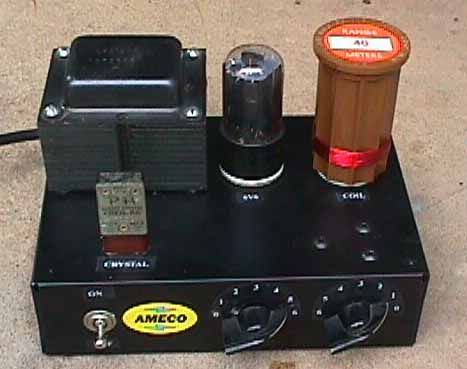 There are a few variations which I will note. The chassis was slightly
smaller than original, and the transformer slightly taller. Because of
these changes, I thought I would "improve" the original AC-1 by the
following modifications.
1. The 6X5 was deleted and solid state rectifiers used.
2. A real key jack was added on the back to be compatible telegraph keys.
3. A real crystal socket was used.
4. A real coax fitting was used for the antenna.
5. A toggle switch replaces the slide switch.
A slightly modified layout was used to fit the components - but it sure does
have the flavor of the AC-1. I call this model the AC-2.
The decal is home made. Note that the lightning bolt is a single rather
than a double - a sure sign it is a fake.
My power transformer was slightly less voltage than the original and the rig
has 3.5 watts output on 40 meters. It is somewhat critical as to crystals -
but that was the way most 6V6 oscillators were.
It is fun to use. I will build a home brew regen receiver to go with it.
73, Colin K7FM
---
Dear Joe,
          
         I have been so fascinated by your wonderful page on the AMECO AC-1 that I have
not hesitated to find one on Ebay.
          
         I must say that I am a Heathkit Boatanchor collector, but the AMECO AC-1 has
really won and captured my attention.
          
         This little jewel is such a simple and effective rig enabling the amateur to
establish a CW contact thousand of miles away with just an oscillator tube
and a handful of components !!! And it glows in the dark !!!
Furthermore it was originated and commercialized around the years of my
birth (1961).
          
         The AC-1 I own is the one with the "Ameco" cursive version paint scheme instead
of the OVAL logo. In my opinion this should be the early version (about 1958-1959?). I also own
a photostat copy of the manual of the early version and the ORIGINAL of the
latest version. The latest version has some different components such as the antenna loading
capacitor (900 pF dual section) different from the early version (365 or 400 pF
single section). Furthermore the latest version does not have the power choke and the 
electrolytic capacitor is of 20 uF instead of a dual 8+8 uF. The latest version has got a
2.5 mH RF choke on the terminals of the antenna, the earliest not.
          
         I could send to you a photocopy of both the manuals if needed. The differences
are clearly noticeable and may be of interest for all the AC-1 enthusiasts.
          
         I am now happily involved in the restoration of my AC-1. I have thorougly 
cleaned all the rusted screws, power transformer and chassis.
The chassis has been repainted with hammertone spray gray paint exception made
for the front which was not in bad condition and I wanted to keep original.
The tubes will be substituted with N.O.S. ones.
          
         I hope the original 8+8 uF electrolytic capacitor is OK. Could anyone find one
new old stock of exactly the same type?
          
         I have taken some photos of the "rusted" AC-1 as I had received it and some
photos during the first part of the restoration have been made also. I will keep
on.
         
I will also check the voltages on the power transformer in order to bring up to
date the components list on your page.
         
Again my compliments to you for the fine web job and my greetings to all the
AC-1 enthusiasts.
Alex, HB9OBZ
---
Hello Joe:
I have been reading with great interest about the Ameco AC-1 transmitter. You are not going to believe this, but I never knew much about this transmitter, but I did build a transmitter back in 1963 that looks almost identical in layout to the AC-1. Even used one plug in type coil and a power transformer from and old tube radio with a 5Y3 rectifier and choke filter. The oscillator tube was a 6AG7 in a colpits configuration using a 40 meter crystal. The output coil was a 4-pin plug in type with link coupled output. Tune up was by connecting a 4 watt red christmas tree buld to the SO-239 connector and tuning for max brilliance then connecting the rig to a dipole antenna. I even had a 20 meter plug in coil so I could double the 40 meter output to 20 meters.
I worked all over the world with this rig. I figured it ran about 5 watts or so QRP. It delivered a chirp free pure DC note to the antenna. I still have it and can report it works perfectly to this day. I loaned it to ham friend in 1968 when I went into the Navy for four years and he worked the world with it too. I got it back from him when I got out of the Navy in 1972. It looks so much like the Ameco it scares me. Just thought you would enjoy hearing about it. I will send you a schematic diagram of it if you like. Thanks for reading this and very best regards.
Willard H. Killough, Jr., PE
501 Green Court
Carolina Beach, NC 28428
---
Built a AC-1 in 1968 when I was 12 and still have / use it.
         
I went crazy last week, while digging through my junk box.  I dug out ALL of
the required parts, plus a few extras and built an  AC-1(OS).  The OS stands
for "On Steroids."  The radio is built from the AC-1 Schematic, runs the
usual 6V6, but all the parts are super heavy duty.  I then added:  80/40
meter bandswitching, Plate current meter, key and crystal sockets, switches
for Filament and B+, the B+ switch operates the internal T/R relay and turns
on the B+ and Light.  The rear chassis has SO-239 connectors for the antenna
and relay output to the receiver.  The thing cost absolutely nothing to
build, and looks it (note the chassis was salvaged from a home brew CB
linear I dragged home from the dump... lots of tube socket holes).  The
transformer is good for a couple hundred watts, so the 6V6 ( not visible,
behind the tank coil ) shouldn't stress it.
         
Bob  WB8CAC
         http://www.qsl.net/wb8cac
 

---

Hi Joe-
         
I recently stripped-down and rebuilt an Ameco AC-1. The rebuilt AC-1
looked almost  like new and performed as well as the origional. On the
air performance (by today's standards) left something to be desired, however.
But you must remember...this was a "as simple as possible, built to a
price" single tube (excluding rectifier) 6V6 electron-coupled Novice
oscillator-transmitter. Unlike many other 'improved' versions of similiar
e.c.o. transmitters, the AC-1 lacked an adjustable oscillator feedback capacitor 
(C9), a parasitic supressor in the plate lead, and regulation of the screen grid
voltage. A representative 'improved' e.c.o. oscillator-transmitter circuit using a
6L6 tube--the 'big cousin' of the 6V6-- can be found on the web at:
         
http://www.qsl.net/n6ev/7awk_6l6.jpg 
         
The design apparently is furnished by Al2G.
         
A further review of the literature at the Western Michigan University
Library  turned up other e.c.o. circuits in the following books and
journals:
         
ARRL Handbook, 1959 Ed.,  pages 174-176 & pages 177-179.  
         
CQ Magazine: August, 1965, p. 59-60;  August, 1963, p. 24-25;  Dec.,
1963,  p.28-29;  April, 1956, p. 28-30;  Aug., 1962, p. 26-27. 
         
         
A  review of the literature discussing the theory of the e.c.o. produced
 the following sources:
         
Electronic Communications, 4th Ed. by Shrader, p.264.
         
Understanding Amateur Radio, 2nd ed. (ARRL), p. 89.
         
Basic Electronics (1960) by Dr. Glade Wilcox, p. 297-298.
         
Using the resources cited above, I made several simple modifications to
my AC-1 which improved the power supply filtering and regulation on the
screen and plate, supressed parasitic oscillations, and better controlled
the amount of oscillator feedback. These modifications improved the CW
note as well as making the circuit more stable and less critical as to crystal type.
At a later date I will furnish you with a schematic as well as parts
sources for making the simple solder-in modifications. Unfortunately I'm going on
vacation tomorrow with my family and won't get back to this for several
weeks... 
         
Wishing my fellow  "AC-1 Fraternity-Members" the best of luck...
         
73,
         
Philip Schmitt, M.A.--WJ8L
         Electronics Instructor,
Michigan Career and Technical Institute, Pine Lk. Rd., Plainwell, MI.
49006                                                   
                                                                         
e-mail: [email protected]	
         
         

---
Hi Folks,
I am writing this note to let you know of the pleasure I have received from building and using the AC-1. My search for parts took about 6 months and about 1 month to build. Everything is built as close to the original as possible. I love this little rig.
After construction and initial checkout, it loaded up a 7.5 watt light bulb quite well. So, I put it on forty meter cw and wow.....four contacts immediately....I sure was impressed. I have now been using it for two weeks and have totaled 20+ contacts on 40 meters. My signal reports have varied from 579-to-599 and distances of up to 600 miles. I live west of Chicago about 100 miles (Rockford) and have worked in West Virginia and Maryland.
It is such a pleasure to use this little rig and I usually get calls whenever I send CQ. To those of you that would like to build one from scratch, believe you me that the parts are not very critical. I found all the parts in my junk box or other ham's junk boxes. I still have a problem with the antenna loading capacitor....it doesn't load like it should, but it does work. I used a 0-100ma meter in the key line to help me tune up the unit. Without this remote meter, I would not be able to tune properly. Also, I use a remote field strength meter to help me tune up.
If any one needs technical input on building the AC-1 from scratch, drop me a note and we will see what we can do. Email is pl[email protected]. K0WRX, Pete, in Rockford, Illinois.
You web site is a pleasure and has brought me a lot fun and memories. Keep up the good work, Alex.
P.S. Thanks for the data you supplied me on the AC-1 transformer/supply specs. I usually load my AC-1 to 20-40 ma and let it blast away.
Still have not found the correct knobs or how to make the decals, but it will come one of these days. So, look for me blasting away around 7120 +/- with my new AC-1 copy.
Thanks so very much......Pete....K0WRX, [email protected]