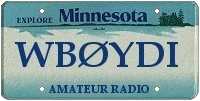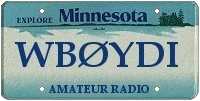 - WELCOME TO MY HAM SHACK -

- David E. Koopman - WBØYDI -

I'm David E. Koopman and I live in Maplewood Minnesota. My home is conveniently located on the northeast hub of the metropolitan freeway system, only 10 minutes from the Minnesota State Capitol building in downtown St. Paul and 20 minutes from downtown Minneapolis. Maplewood stretches along most of the northern and eastern borders of St. Paul and was incorporated in 1957. Its charm, strong residential neighborhoods and thriving commercial development make it an ideal place to live and work. Maplewood covers approximately eighteen square miles, and had a population of 38,018 at the 2010 census. My Grid Square is EN35la in Ramsey County.
I was born in 1947 to a farming family living near Madison South Dakota, though my mother always claimed that I had arrived by U. S. Mail C. O. D.
When I was five years old my family moved to St. Paul Minnesota where my mother was born and raised. My dad was looking for a better means of support than farming. Times were hard in the 1950's and my dad had many jobs during the years my sister and I were growing up. We moved locally several times and at one time we lived just north of the State Capitol building. I have many fond memories of my sister and I playing in the old Science Museum, the old Historical Society building, and the State Capitol building during school summer vacation. I'm sure I developed an early interest in science and history because of it.
My dad became tired of city life and decided we would give farming a try again. In my fourth grade year we moved to a farm near the town of Yankton South Dakota. I liked living in the country but by that time I think I had become a city boy at heart. Country living caused me to develope a strong imagination to amuse myself with because my school friends didn't live close by. I was kind of lonely so my aunt gave me an old short wave receiver to pass the time with. Listening to the world on cold winter nights was what developed my love for radio. My dad discovered it was harder to make a living at farming than it had been before so he gave it up. We moved back to St. Paul in 1960, on my thirteenth birthday, and I started eighth grade.
I graduated from Monroe High School in June of 1965 and enlisted in the U.S. Air Force in February of 1966. After my basic training at Lackland AFB and Amarillo AFB in Texas I went to technical school at Chanut AFB in Illinois where I studied Jet Engine maintenance. Upon completion of my technical training I was assigned to the 67th FMS (Field Maintenance Squadron) at Mt. Home AFB in Idaho a TAC ( Tactical Air Command ) base. The 67th flew RF-4C aircraft and conducted photographic, visual, radar, and thermal reconnaissance operations.
I had been stationed at Mt. Home AFB for about a year when I received my orders for duty in South East Asia. In September of 1967 I said goodby to the world and hello to Viet Nam. Twelve months of long days later, some of them filled with minutes of sheer terror, I returned from South East Asia and went home on leave. I had proposed to my girl friend by letter from Viet Nam so we spent my entire leave making wedding plans and getting to know each other again.
In January of 1969, during my last year at Mt. Home AFB, I married my lovely wife Jane. Over the years we've had three children. Our daughter Kristen is the oldest. She is married to Aaron and they presented us with our first grand child Michala. Our son Michael is the next oldest and is married to Mollie. They have presented us with our second and third grandchildren Alexander and Katherine. Our son James is the youngest and isn't married.
After my discharge in December of 1969 we went back to St. Paul Minnesota and early in 1970 I began working for the Post Office. Late in 1987, after 22 years of Government Service, I retired from the Post Office with a disability caused by HHT.
I'm 70 years old now and my main interest in life has become communication utilizing Ham Radio and the Internet. I'm a Life Member of the Tan Son Nhut Association and always enjoy receiving email from member and non member Vietnam Vets. I'm also interested in Archery, Target Shooting, Computers, Photography, Fishing, Reading Science Fiction and the Planet Mars.

- MY TRANSCEIVERS & ANTENNAS -
Kenwood TS-2000
Yaesu FT-2900R
In 1976 I became interested in Ham Radio. After taking a class from the St. Paul Radio Club I passed my FCC exam and became a Novice class Ham. Shortly after that I took and passed my General class exam. Twenty four years later I upgraded to Extra Class.

I have been a confirmed Slow Scanner since 1977. I can be found working HF SSTV on 14.230, 21.340, and 28.680 Mhz. I can also be found rag chewing on the rest of HF, VHF, and UHF using my Kenwood TS-2000.
- My Digital Modes -

- Radio Alphabet & Morse Code Practice -

- Explore my Country -