Sorry folks, the contest is closed. But here are the entries I received in the first few months:
Glenn Maclean, WA7SPY, of Sacramento, California, sent this one in on 3-23-99:
Armando DeJesus, KP4II, of Austin, Texas, sent this one in on 3-25-99, as a Power Point file:
This one is from Bob Scott, KF9YH, of Hobart, Indiana, sent in on 3-26-99. He created it with MS Publisher: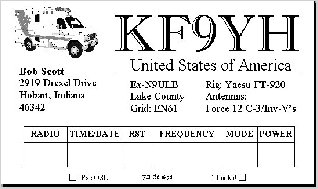 This eye-catcher is from Mike, KB9IYS, of Parrish, Florida, who wanted to raise the ante in response to the e-QSL from KF9YH. The neat 3-d font is his own creation: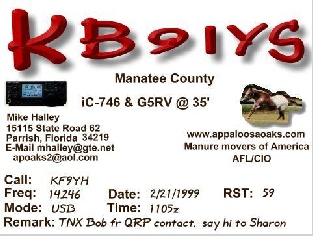 Here's the first international entry: from Pierre, VE2LHP, of St. Nicholas, QC, Canada. It arrived as a .pcx file: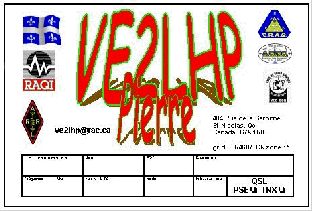 This QSL has a neat drawing showing how Don, ND6T, put up a stealth antenna for his QRP rig: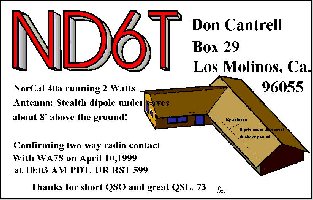 Here's one from the Ultra Rare state of Rhode Island (one of three I'm still trying for!) -- by Jeff, N1YDU. Jeff, be listening for me!
Thomas - SM0CNS - from Cebu Island put together some nice art work: "I used Adobe's PhotoShop 5 for this one".
Alan - W2AEW - uses Print Shop 6.0 and Word 97. "I usually work up a design, then print them off 25-50 at a time."
Rich - KE4LAB - sent this sunset from Florida: