Rehab Radio
Photo from Orange County Register article December 21, 1989. Remainder of article is further down this page.
For over 15 years, Amateur Radio made life better for patients at St. Jude Hospital and Rehabilitation Center. This is not the children's hospital that has been promoted by actors Danny and Marlo Thomas; it is instead a 300-bed acute hospital in Fullerton, California, which includes a 38-bed rehabilitation unit for victims of stroke, head injury, spinal cord injury and such exotic diseases as Guillian-Barre syndrome.
St Jude Rehabilitation Center patients, who range in age from the teens to the seventies, stay an average of one month in the unit, receiving regular periods of Physical Therapy, Occupational Therapy, Speech Therapy and Recreation Therapy. "Radio Time" was a weekly group session of Recreational Therapy, where patients could reach out beyond the confines of the hospital and talk to the world.
April Moell WA6OPS was Rehab Radio's originator, trustee, chief operator, spokesperson and guiding light during her tenure as St. Jude's Director of Occupational and Recreational Therapy. It began in the fall of 1976, when April was escorting some new employees through the therapy areas on an orientation tour. "One of them asked if we could use some Amateur Radio equipment for our patients," she says. "I almost fell over! I found out later that her husband Carl WB6ECW had died a month earlier and she was returning to work as a nurse. She didn't want to split up his gear and see it scattered. She hoped that some institution could put it to good use. How remarkable! She had no idea that I was a ham."
The equipment that Myra Young donated included a Kenwood R599/T599 transmitter/receiver pair and a Hustler 4BTV HF vertical antenna. Later, the station was given a tri-band beam and tower from the family of Frank Holly K6CRX, who was a rehabilitation unit patient. A donated two-meter station was also part of the WD6BPT shack.
Over the years, Amateur Radio proved to be an excellent therapeutic tool. It aids the healing and rehabilitative process by motivation, stimulation and orientation. The excitement of ham radio contact is contagious -- patients become eager to get involved after a few minutes of listening. April relates, "We had a lady with a speech problem as the result of strokes who just wouldn't work on it. She was very passive and would just sit by silently. We did get her to talk on the radio, though, and she was very excited when a ham would talk back to her. I told the speech therapists about it and they were amazed. They kept saying, 'She sure wouldn't talk for us.' Well, she did start really working on her speech therapy soon after."
Being confined to an institution for a month or more, surrounded by medical personnel and people with similar physical problems, can give one a rather distorted view of things, not to mention "cabin fever." The magic of Amateur Radio provides an opportunity to get outside the walls, in a way, and converse with average, everyday people about things of common interest, such as the weather or baseball. Preparing for radio time also helps patients reorient themselves to the world around them. If a patient is selected to give the weather report, for instance, he or she will usually pay special attention to that day's newspaper.
Amateur Radio is theraputic in another way, too. Tasks hams do help in regaining and improving muscle control and eye-hand coordination, one of the main goals of Occupational Therapy. The QSL cards sent by WD6BPT were stamped by patients as part of therapy. Sending Morse code is a very useful upper extremity exercise and some patients found it very helpful.
Over a thousand patients had a chance to speak into the mike at WD6BPT. Through Rehab Radio, the ability of our hobby to stimulate, motivate and perhaps even to heal was demonstrated many times. As April says, "When the spirits are high, the patient usually gets better faster."
Rehab Radio ended at St. Jude Hospital in 1990, when April resigned to become an independent Occupational Therapist in private practice. The hospital decided not to continue the program using April and others as volunteers.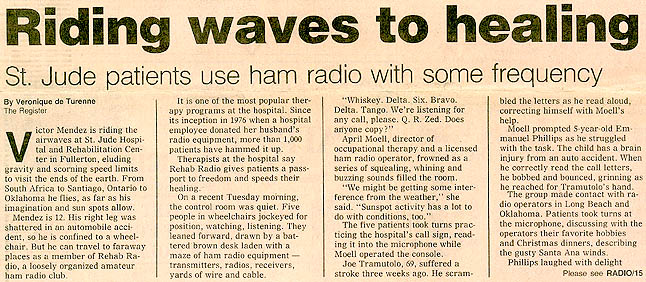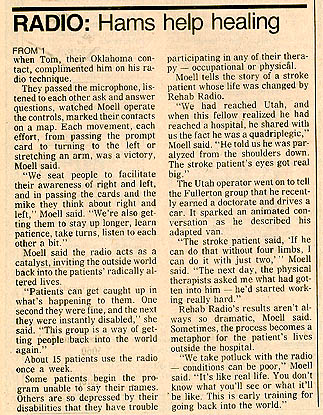 Orange County Register article of December 21, 1989.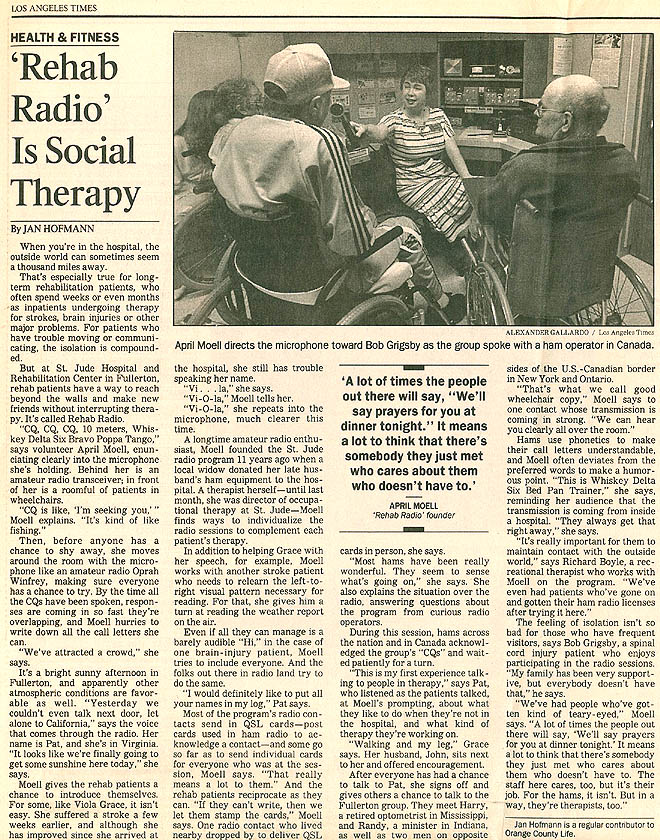 Los Angeles Times article of April 19, 1990.
---
Go to the Homing In Web site

Go to the HDSCS Web site

Go to the April and Joe's personal Web page

This page updated 22 December 2008

All content on this page is protected by applicable intellectual property laws and may not be reproduced elsewhere without permission