EMBARK
In the spring of 1984, about 100 applicants had gathered at Yorktown Victory Center to listen to Capt. George Salley discuss the upcoming trip aboard a replica 17th sailing vessel, GODSPEED.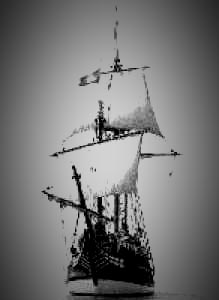 He gave an outline of the proposed trip, and talked about the type of crew he was looking for. During the next few weeks, he had narrowed the selection down to 14, with a few men as alternates. Soon, we were meeting twice a month, working on the logistics of such an unusual voyage. Time was running out, and we still hadn't had any sea trials. Godspeed was still at the Newport News Shipbuilding and Dry-dock for some last minute details. Finally, in late fall, we began sailing on the Chesapeake Bay. By December, we started making our own modifications, such as installing a propane stove, adding flexible water tanks, a diesel generator for charging our batteries, a chart table with modern navigation instruments,
Ham radio
transceivers and antennas, safety gear....all the things that we would need for three months at sea. By January, we moved her over to Jordan Point Marina where we had the masts removed and stowed on deck. A lot of our gear was stowed onboard, but the majority of supplies was loaded into an empty container. February arrived and Lane Briggs, from Rebel Marine, towed us to Willowby Bay Marina--where we made a final inspection of the spars we had lashed to the deck and stowed last minute supplies. Locks were placed on the forward and after hatches and the aluminum cover over the hold was locked as well. The last trip Godspeed made before we started our reenactment voyage to Jamestown, Virginia was on the back of a 20th century container ship, "Stuttgart Express", bound for the port of
Felixstowe
, England....
This site is still on the ways.
Don't forget to sign the Visitors Guestbook