Abaco Island QRP DXpedition II
February 02-15-00 to 02-22-00
Welcome to my Abaco Island II page. This page will have all my info for my QRP DXpedition to Abaco Island from 02-15-00 to 02-22-00. If you have any questions about this trip or other DXpeditions , please email me at:
[email protected]
QTH of all my QRP DXpeditions on Abaco Islannd
as viewed from beach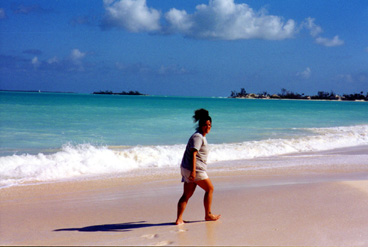 My daughter Cynthia on beach directly in front of qth
---
Antennas On Trip
130' ladder line fed dipole
Inverted-L 170' vertical
Edward R. Breneiser, WA3WSJ/C6A
775 Moonflower Ave.
Reading, PA 19606-3447
USA
Hi all! I am back from Abaco. I had a relaxing time on the island and enjoyed playing radio.
The ARRL DX CW Contest was brutal for me using qrp! I was bounced around like a bing pong ball. I only made around 250 qs in the contest, but I had fun. Outside the contest, I had another 250 contacts. I did manage to read a great book titled"Testament." I hope to eyeball many ops that I had qsos with while on Abaco at Dayton.


New QSL Card
Back to WA3WSJ's Main Page