IRLP is available for use on the WA3UMY repeater!
Try out the latest in ham radio experimentation... make new friends around the world... participate in global nets... keep in contact with your ham radio buddies here in southern Maryland while on travel... chat with your friends in other cities. YOU can do all these things when you try out the IRLP repeater linking capabilities on the WA3UMY 443.05 MHz repeater in Lexington Park, Maryland.
The Internet Radio Linking Project was started by system designer David Cameron, VE7LTD, in November 1997. He was looking for a simple and easy way to link radio systems together using the Internet as the communications backbone. Similar linking options existed (such as leased telephone lines, microwave systems and satellites), but they all were too expensive to leverage for ham radio purposes.
In the early months of 1998, Dave experimented with a prototype system based upon a design first described by James Millner, WB2REM, in the December 1996 issue of QST® magazine. He gave up after only a few months due to the unreliability of the Microsoft operating system and the voice over Internet Protocol (VoIP) software being used. He proceeded to redesign the entire system to make it easier to maintain and operate using Linux as the operating system and a newer VoIP program called "Speak Freely" as the client/server platform.
In just 8 months, Dave had come up with a brand new system design that was extremely stable and eliminated all of the problems exhibited with the WB2REM design. He nicknamed it "IRLP" and the rest is history. The IRLP design is currently linking hundreds of nodes (amateur repeaters, remote bases, or radios) in cities all over the world with close to 20 new sites per month now coming on-line.
So how did we get involved in all this? Well, in mid-November of 2001, Pete Butt (WA3UMY), the owner of the 443.05 MHz remote base repeater system was talking with Bernie Watford (KC4WFU) on the 146.64 MHz repeater one evening during a band opening. Bernie related how he lives in a high-rise apartment building in Alexandria, Virginia and could not operate HF on-site but was able to enjoy DX'ing using the WA3KOK 440 MHz repeater in Washington D.C. which had an IRLP Internet Node attached. Bernie was effusive about how he could still talk to his friends all over the world, even though the installation of HF antennas on his apartment building was out of the question. Pete immediately recognized the benefits of having a suitably equipped IRLP repeater in Lexington Park and began mulling over the concept. He knew that this was probably going to be a long-term project due to the cost and delays of acquiring the required Linux computer system and DSL router. He figured that it would be a few months before all the equipment was obtained and configured.
A few weeks later, Pete was talking with Cal Spreitzer (N3CAL) and A.J. Farmer (AJ3U) on Pete's 443.05 MHz repeater and Pete described his plans to build an IRLP node. He mentioned that it would probably take some time to get all the equipment. Both Cal and A.J. were immediately interested in the project and offered up their assistance. Cal mentioned that he had a spare computer (a nice 450 MHz Pentium model with CD-ROM drive and lot's of memory) sitting gathering dust in the closet and he would be willing to offer it up for this initiative to host the Red Hat Linux 6.2 operating system and IRLP software. A.J. offered up his software and router configuration expertise to the effort. Spurred on by this windfall of equipment and talent, Pete immediately ordered the router and IRLP hardware and software necessary on the 2nd of December. Pete integrated the entire system into the ACC RC-850 repeater controller on the 443.05 UHF machine with assistance from Tom Clarke (W4OKW). On 19 December, Dave Cameron sent us an E-mail advising that he had shipped out the hardware and software for our local node.
On Thursday, 27 December, Pete moved his Verizon T1 (1.54 MB/sec) DSL modem into the radio room and completed the installation of CAT 5 cable throughout the house. Since Pete wanted to link several other computers in the house to the DSL connection, a LINKSYS BEFSR41 Etherfast Cable/DSL Router with a 4-port 10/100 Switch and NAT firewall was procured. By early evening, the router was installed and programmed and all three computers were "on-line" on the Internet as planned. Later in the evening, Cal came over and we loaded the Red Hat Linux 6.2 operating system onto the IRLP computer and tested everything out. On 28 December, Pete completed the recording of the local node ID's using Cool Edit 2000 (a really neat 2-track audio editing program) and e-mailed them, along with other required data, to the IRLP Installer so that they could complete the programming of the node computer remotely.
At 12:05 AM on 29 December, the IRLP installer loaded the remainder of the software needed on our Linux box. Pete and Tom Clarke (W4OKW) spent Saturday afternoon interfacing the IRLP node computer audio in/out, COS and PTT to the RC-850 repeater controller on the 443.05 MHz remote base repeater. Guess what... it didn't work right so Pete worked until 3 AM on 30 December sifting through the technical manuals and schematics for the controller. Interfacing the new node to the RC-850 was proving more difficult than originally anticipated. While Pete was working on audio and keying problems, we were advised that the new node software was operational in the IRLP network and ready for final setup and testing.
After a few hours of some much needed sleep, Pete went back to work and finally put the pieces together to get the new node partially functional. Our first official contact using the node was with Mike Kelly (KG4MXE) located in Dunedin, Florida at 10 AM on Sunday morning. To say that we were all overjoyed was an understatement.
Pete then worked most of Sunday afternoon completing the final wiring, getting rid of the clip leads and loose diodes, etc. After taking time to reset all the repeater audio levels, node 4820 was declared fully operational at 6 PM on 30 December 2001. In the first three days since activating the new node, local hams in the county had already worked dozens of stations across Canada and the U.S. (including Hawaii), Australia, England and even McMurdo Station in Antarctica.
Now it's your turn to have some fun. Take time to check out the links below to get more information on using IRLP and then get on the 443.05 MHz repeater and give it a test drive. You'll be glad you did!
---> Click [ here ] to see pictures of the WA3UMY node
---> Click [ here ] to see the WA3UMY IRLP status page
---> Click [ here ] for IRLP general operating guidelines
---> Click [ here ] for specific instructions and codes necessary to access IRLP on the WA3UMY remote base repeater system
---> Click [ here ] for further information and operational status of all IRLP nodes world-wide (automatically updates every 3 minutes) - user selectable sort by node ID number, call sign, city or province/state
---> Click [ here ] if you wish to customize the IRLP node list output or sort it differently than the link above (this is for all you 'power' users in the crowd!)
---> Click [ here ] to see which nodes are connected to each of the nine reflectors (updates automatically every 60 seconds)
---> Click [ here ] for the main IRLP web site
---> Click [ here ] for an IRLP article by Paul Cassel, VE3SY (updated on 11 August 2003)
---> Click [ here ] for a complete list of NETS that can be found on the IRLP system

---> Click [ here ] to join the IRLP Yahoo Group

Audio Fun!
---> Listen to IRLP right now!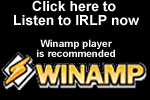 ---> Listen to the same source as above using your WINAMP® player:
1) On your WINAMP display, click on the ADD button at the bottom left corner of the play list module. Click on the ADD URL button, then enter http://live.irlp.net:8000
2) Now, when you select this URL in your WINAMP window, it will load up the buffer and then begin streaming reflector 9200 audio to you
Internet Linking Information

---> Click [ here ] for more information on all the known Internet Linking Software Systems in current use.
IRLP picture logo (above) courtesy of the Internet Repeater Linking Project
Reflector status page courtesy of Mark Haworth, G4EID (23 February 2002)