Tokyo 1954
<![if !vml]>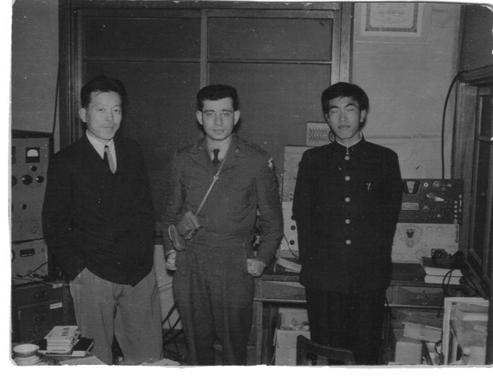 <![endif]>By Bob Wexelbaum, W2ILP

The photo above shows: from left to right, Hisao Shono, JA1AA, who was at that time the president of the Japanese Amateur Radio League (JARL) and editor of Japanese CQ DX magazine, yours truly W2ILP, at that time a private in the US Army Signal Corp, and a Japanese student, who was a high speed CW OP.  The picture was taken by Monte L. Brink, K6MDY.  Monte and I served at the 181st Signal Company (8th Army Signal Depot) in South Korea, and were vacationing in Tokyo, on what was termed by the military: a "Rest and Recuperation" (R&R).   Monte and I kept in touch by sending yearly Christmas cards to each other for over 35 years, until Monty's XYL informed me that he was a silent key.  JA1AA is still active, now  using QRP rigs.   He is no longer JARL president.
The photo was taken in the home of the student, whose call sign I do not remember  On the right you can see his receivers, probably military surplus.  The rack on the left contains his home brewed transmitter. In 1954, Japanese companies such as Yaesu, Kenwood and I-Com did not exist.  Japanese hams had to build or buy ham gear that was not as sophisticated as the best of American made radios of that time..  Most Japanese hams would have loved to own the Hallicrafters, National,, Hammerlund or Collins radios that US hams owned.  The JARL was much patterned after the ARRL, and I was told that many JA hams bought ARRL handbooks, after WWII as an aid to learning to read technical English ,as well as a way to study ham radio technology.  JA1AA laughed as he showed me a National Radio advertisement, at the back of his ARRL handbook.  In small print the ad said, "Prices slightly higher west of the Rockeys".  I don't know if the Japanese hams foresaw the time when Japanese manufactured ham radio gear would be popular world wide.  However the Japanese said that television sets would soon be made in Japan.  They were impressed when I told them that I had worked, as a TV troubleshooter technician, at te Emerson Radio & TV factory in Jersey City, NJ, before I was in the military service.  Using their very limited English, they asked me about television production methods in the US. At that time TV transmitting stations were already operating in Japan.  They were based on the American RCA system.  Few Japanese could afford to buy their ownTV sets.
I had contacted JA1AA while I was in Korea by mail and had set up an appointment for K6MDY and myself to visit some Tokyo hams, when we were scheduled for R&R.  Thus we visited three different ham QTHs, this sudent's being the first.  Hisao did not own a car, but he insisted on paying all of the taxi fares as we went from QTH to QTH.  At each QTH we removed our shoes and were served tea, as is the custom. The second was the QTH of an active ham, who was a medical doctor. Severeal other JA hams  also met with us at the second QTH. We discussed the evolution of photo multiplier tubes. The most interesting was the third QTH.  This was in a large concrete apartment building on the top floor.  It was the QTH of  Myiao Kan, JA1CO (sk) who was a communication engineer.  His XYL was also an engineer and so he asked us permission for her to sit with us after she served us not only tea, but shots of whisky.  JA1CO wore a kimona, but his XYL wore western clothes. We sat on the floor mats. It was considered customary to ask our permission, as Japanese women, at that time, could not assume to converse on the same level as men without formal permission.  The walls of the room were covered by racks of scanning radio receivers, primative spectrum analyzers and brush recorders.  JA1CO explained that the name Kan was not a typical Japanese name and that some of his ancestors were Chinese.  He and his XYL worked for the Japanese Bureau of Standards.  His job was to forcast radio propagation conditions.  He had written a book on that subject and gave me an English copy of it.  Unfortunately I lost the book.  The math in the book was far beyond my comprehension at that time, as I had yet to take college level statistical courses.  Aparently Kan was using a system that depended on monitoring noise level trends in order to make his propagation predictions.
After completing my 16 month tour of duty in Korea, I returned, as a civilian, to the my old job at Emerson Radio.  I told the people who worked with me that the Japanese were going to manufacture TV sets.  They did not believe me.  They said that the Japanese were unable to make CRTs (picture tubes).  I was promoted to work in the government engineering branch at Emerson Radio.  I worked first on projects involved with early transistor circuit design and then with analog flight training simulators.  Two  years later Emerson Radio & TV Corp in New Jersey was out of buisness.   Their TV manufacturing could not compete with  Japanese companies such as Sony. What remained of  the government branch was sold to Litton and relocated to Maryland.  The Abrams brothers, who had owned Emerson, moved to Israel.   Anticipating the demise of Emerson, I found work at Loral as a field service engineer, avoiding Emerson's massive layoff.. The Emerson name was sold, along with its music sign logo.  Today Emerson brand TVs and other electronic appliances are made in South Korea.
This trip to visit the Hams of Tokyo happened in 1954.  I was only 20 years old at that time.  I since learned from speaking to Japanese engineers at an IEEE forum in New York, that JA1AA was considered a sort of Hugo Gernsback of his day.  He was an editor of popular pulp radio magazines, but was soon overshadowed by the engineering hams who designed the modern transcievers that Japanese, as well as American hams, prefer to operate, over most of the primative  attempts at amateur home brewing.
K6MDY and myself were not the first American GIs who met with Japanese hams. However we were told that we were the first to come from duty in South Korea and spend part of our R&R vacation time visiting Hams in Tokyo.
INTERRNET LINK OF THE MONTH FOR INTERNERDS
This month's link was suggested by Dave Ledo, AB2EF.  It is the web site of the  Westeren Historic Radio Museum:  http://www.radioblvd.com/ On its home page you can click on links that show both ham radio gear  and radio receivers from the early wireless days through WWII and after WWII.  There is a link that shows the early keys and bugs;  another link that shows many microphone types.  You can browse all of the stuff that might be of technical or historical intertest to you by clicking on the links.  I especially liked the pages devoted to National HRO receivers.  I always dreamed of owning one myself…but never did.
ACTING PRESIDENT'S PAGE
By Gordon, KB2UB (Vice President)
            Our Holiday Party, this year will constitute the December meeting at Bertuccis, on Route 110, north of the Northern State at .  The date is December 19.  We will have a room and a selection of Bertuccis pizza and whatever.  The cost is around 25 dollars per person, still being negotiated, and we will have to guarantee a minimum, so please let Secretary Karen Cefalo know if you plan to attend.  Karen's e-mail is: [email protected]
            We hope to meet the expected minimum of 25 to 30 but if not I suggest that the club underwrite any shortfall.  After all it is our money to use and our social cohesion is very important right now.  Thank you all and please keep Karen in the know.
LATEST NEWS
There was an early ARRL report that Riley Hollingsworth, special council to the FCC, was about to retire.  The latest report says that he will remain in his position.  Hollingsworth spoke at an HRU and was well liked by hams because he enforced the FCC regulations of Part 97.  We can all breathe a sigh of relief because Riley has now declared that he intends to stay. 
PUZZLE
Here is another cryptogram:-
VOH   RHUV   CTN   VX   PHV   FSTWUH   WU   VX   AWH.    --WVTYWTE   FSXZHSR—
Solution to October's cryptogram:-
AIRPORT TRAVEL IS NATURE"S WAY OF MAKING YOU LOOK LIKE YOUR PASSPORT PHOTO.
--AL GORE--
MINUTES OF GENERAL MEETING – 10/17//2007
Secretary, Karen KC2OPX
This meeting was called to order by Gordon at
TREASURERS REPORT – Ed, WB2EAV          REPEATER REPORT – Gordon, KB2UB                       
Finances continue to be in good shape.                    Both repeaters are now on the air.  The .745 repeater        
                                                                                  conflict is being resolved.                                                                                                                                                                                                                                                        VE REPORT – Bob, W2ILP                                  NET REPORT- Zack, WB2PUE
4 applicants applied: and passed:;                             We hope that more members will be active on the                                                                                                                                      
2 Techs, 1 General, 1 Extra                                       Thursday night 2 Meter nets.
5 VEs were present:: AB2EF, AB2NT,                     Propagation was again poor for the Sunday
KB2QFT, KC2OPX and W2ILP                               morning 40 Meter net.                                         
OLD BUSINESS: We are in the process of renewing liability forms as required by the Northrop-Grumman recreation department..                                                                                                                                         NEW BUSINESS: Planning has started for the December holiday party meeting which will be held at Bertucci's restaurant on Rte. 110 in Melville.
PROGRAM: Our program consisted of three speakers:  Tom Carrubba, KA2D, who is our ARRL Section Manager spoke about emergency coordination, ARES , RACES. and the importance of Field Day. Phil Lewis, N2MUN, who originated the idea of HRUs, explained about the planning that is going on for the next Ham Radio University (HRU 2008) which will be held on January 13th, 2008 at Briarcliffe College.  More about HRU 2008 can be found at:a dedicated website: http://www.hamradiouniversity.org/ Steve Barreres, K2CX, ARRL Technical Coordinator, spoke about the cooperation of LIPA in regard to eliminating BPL interference in our area. Steve said that his first QSO was with Gerry Bontempe WB2MPP, who was a very active GARC member and was later related to him by a family marriage.
The meeting was adjoined at 6:30 PM
GARC NETS:
40 Meters: 7.289 MHz at 7:30 AM EST Sundays.
2 Meters (via repeaters): 146.745 MHz  (-.600)at Thursdays.
                                           145.330 MHz (- .600) at Thursdays.
[Tone for both repeaters is 136.5 Hz]         (ARES/RACES) Mondays
   MEETINGS
General Meetings of the GARC are held on the third Wednesday of each month, starting at .   The meetings are held at the Allen Ellsworth Park in Farmingdale.  Check the GARC web site to be certain of meeting location, which may change after this newsletter, is distributed. Board meetings are held eight days before the General Meeting.                                                                                                                                                                                                                                                                                                                                                                   GARC WEB SITE
 The web site of the GARC can be found at http://www.qsl.net/wa2lqo/     Webmaster is Pat Masterson KE2LJ.  Pictures of GARC activities, archives of newsletters, roster of members, and other information about the GARC may be found there including Field Day pictures.