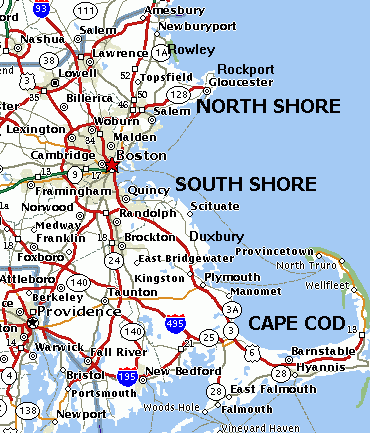 Guide to some eastern Massachusetts sites used for successful medium-wave DXing
Mark Connelly, WA1ION
e-mail: [email protected]
Comments: My principal activity in medium-wave DX is foreign station reception. Regions of greatest interest are Europe, Africa, Middle East / Western Asia, South America, the Caribbean, and Central America. Bearings of interest range from 30 to 210 degrees clockwise of true north. Interfering domestic signals are mainly found on bearings of 220 to 340 degrees.
Often there's a need to operate from a site that is not one's home location. Some of the reasons are the following:
* Most house sites have unacceptably high levels of man-made electrical interference from power-lines, TV's, computers, motors, and some kinds of lighting fixtures.
* It may be impossible to use a functional antenna (this is especially true of steel-frame apartment buildings).
* The home site may be near one or more strong broadcast transmitter sites. My house is less than 3 miles / 5 km from 50 kW WRKO-680. WTTT-1150, WWZN-1510, and others are within 10 miles / 16 km.
* The location may have electrical characteristics (poor ground, horizon blockage on DX bearings, etc.) that make it vastly inferior to good sites within a relatively short drive. When the Algerian clandestine (RASD) was on 1544, the highest it ever registered at home in Billerica was S9. Less than an hour's drive away, at Granite Pier in Rockport, signal levels of S9+40 had been recorded on the same equipment several times around local sunset.
If you could kick DX signal levels up by 10 to 40 dB without a corresponding increase in domestic interference just by taking a short ride, what would YOU do ?
What makes a good site ? Little or no man-made RF noise is a must. If you can get away from the "crunch zone" of local broadcasters, that would be good (though a loop antenna with high-Q can still get you some DX in RF-heavy metropolitan areas). The electrical characteristics of a high-performance site are fairly specific: you must have good conductivity and a low horizon towards stations you want to hear. Also, to "ice the cake", poor conductivity and blockage towards undesired "pest" signals can improve that all important DX-to-QRM ratio. You might as well have the location do some of the work before you marshal directional antennas, phasing, regenerative high-Q preselection, IF filtering, DSP, and all the other weapons to the battlefield.
Seacoast sites are far superior to any other locations, even mountains, farm fields, etc., for the kind of DX I do. There are several things that must be said of the eastern Massachusetts coast. Like other coastal areas in the northeastern states, as well as in Europe, Japan, and southern California, most of this area is highly developed. Open areas are few, buildings are everywhere, and large sections of coastline are not publicly accessible. Beaches, piers, and other public areas are often crowded and, even when they aren't, they seldom offer the kind of space needed for "dream" antennas such as Beverages. Most of the time, stringing out more than about 100 ft. / 30 m of wire would get you into a difficult situation with the police or with local troublemakers.
If you use antennas that are mounted on your vehicle, you have a much wider choice of usable locations than if you insist on installing longwires and Beverages. I've found that a broadband active loop phased against an active whip (to produce a cardioid pattern) is often the system of choice for efficient frequency-agile international DXing. These antennas fit on the car roof. The 6.6 ft. (2 m) per side square broadband loop does draw the attention of passers-by. Some look at it and must think "CIA spy". For less conspicuous DX operation in crowded areas, a remotely-tuned loop using a Quantum ferrite head gives a good deal of sensitivity, and some directivity, in a small package. One can easily reach out of the driver's side window to turn the loop when necessary (or to take it back inside the car if it's necessary to leave a site quickly because of weather, unwelcome visitors, etc.). Another single-antenna approach is the use of an active whip: this can be broadband or remotely-tuned by the use of a varactor diode and tank inductors.
The following list of DX sites contains ones that I use from time to time. Yet to be thoroughly investigated is the area within the Cape Cod National Seashore. Also, I have not researched the south coast region from the Rhode Island border to the Cape Cod Canal in much depth. Nantucket and Martha's Vineyard have not been visited in many years. As I travel the area, I'll update the list periodically.
Note that there are several good map servers on the Internet that can be used in conjunction with the coordinates I provide. Try these, or Google-search for others:
" http://tiger.census.gov/cgi-bin/mapsurfer "
Map CD ROM's are available from Microsoft, Rand McNally, DeLorme, and others. I often use the Eastern Massachusetts topographical map CD which is purchasable from the REI chain of outdoors-goods stores.
Mark's Eastern Massachusetts DX Site List - Updated 8 JUN 2005
Coordinates are in decimal degrees. Multiply the number after the decimal point by 60 to get minutes of latitude or longitude.
NORTH SHORE
The North Shore has some luxurious suburbs with very expensive homes; it also has a number of old fishing and industrial cities of lesser splendour. Cape Ann (Rockport, Gloucester) is geographically ideal for DX purposes since it has shorelines facing both Trans-Atlantic and Latin American targets. It's also a bit more separated from powerhouse local stations than are Lynn, Swampscott, and Marblehead.
Gloucester, MA
(GC= 70.68 W / 42.607 N)
(Stage Fort Park)
This is a busy area, so inconspicuous rooftop antennas are probably the best choice. During the winter, wires to 30 m may be runnable. I've had some particularly good African receptions here.
Ipswich, MA
(GC= 70.766 W / 42.607 N)
(Crane's Beach: eastern end of Argilla Road)
Maps show this to be a spacious area with some interesting antenna possibilities. What isn't shown is the fact that sometimes a locked gate prevents you from getting as far in as you'd like to go. When the gate is open, you may have to pay for parking and the place could be too crowded for the deployment of serious wire antennas.
Lynn, MA
(GC= 70.927 W / 42.463 N)
(Lynn Shore Drive near Wolcott Road)
Busy area; you park along the main road beside the beach. OK for a small rooftop ferrite loop. You'll need the loop's high Q because of monster signals from WBZ, WROL, WLYN, WMKI, WEZE, WXKS, WWZN, and the 382 kHz Logan Airport beacon. This is a site with really good "kick" towards Africa and Brazil on those auroral nights. It's a fairly short ride from downtown Boston.
Marblehead, MA
(GC= 70.83 W / 42.50 N)
(Fuller Lane off Ocean Avenue - near locked gate to private beach)
The best Marblehead site for southern Europe and northern Africa. Rooftop antennas only. If the cops make you move, there are two other DXable sites not far away.
Marblehead, MA
(GC= 70.855 W / 42.491 N)
(Devereaux Beach)
Good general South America / Caribbean site: a fine place to be on an auroral night in late autumn or winter. It's usually too crowded during the summer for much more than car radio dial twisting (if you can find a parking space). WBZ and WESX have needle-bender signals here so be advised.
Marblehead, MA
(GC= 70.833 W / 42.505 N)
(Chandler Hovey Park / Marblehead Lighthouse)
Reasonable for European DX during the cooler months. It's somewhat blocked to the south; therefore, it's of limited utility during aurora.
(GC= 70.622 W / 42.667 N)
(Granite Pier)
This could be the best site on the North Shore list. A lot of legendary DX (Israel, Iran, Greece, and more) has been bagged here by BADX members as well as by such illustrious visitors as Jean Burnell of Newfoundland and Aart Rouw of Germany. Weekdays from just before sunset to 11 p.m. are preferable in terms of reduced crowds and police activity.
Rockport, MA
(GC= 70.632 W / 42.657 N)
("Hospital Hill"/Poole Hill: park at W end of Summit Ave.)
This site has adequate land for Beverages. Permission to use it must be obtained from the town. The last activity here was the May 1995 DXpedition (the "parallel effort to Newfie-3"). I'm not aware of current site status.
(GC= 70.60 W / 42.636 N)
(Pebble Beach: Penzance Road, E of South St.)
Latin America oriented site usable all year with on-car antennas. Wire antennas might be possible on nights during the winter.
(GC= 70.829 W / 42.745 N)
(end of Stackyard Road at Parker River National Wildlife Refuge: salt-marsh)
On one outing, Bruce Conti encountered police who told him that the site closes at dusk (of course that's just when the DX really starts to cook). It would be unfortunate if the site is not usable as it's one of the few with adequate space for big wires. The wide salt-marsh also has the distinction of being one of very few US sites from which India has been conclusively logged on medium wave (twice at that !) This and Granite Pier - Rockport have been traditional gathering spots for the annual Boston Area DXers' "DX Clams" summertime outing after the obligatory seafood dinner at Woodward's in Essex or the Clam Box in Ipswich.
Salisbury Beach, MA
(GC= 70.82 W / 42.871 N)
(eastern end of Route 1A off Route 1)
This is too busy in the summer, but it's a decent October to April venue. Find a spot right near the beach (next to the somewhat run-down arcade buildings and amusement rides) rather than parking in the gated area; otherwise, you and your car might get locked in not too long after sundown ! Because this is a barrier beach with some marsh behind it, the "front to back" ratio isn't super. Still I've heard some good eastern European, Middle East, etc. DX here including "killer" Syria-783 one night. The site is convenient to high-speed Routes 495 and 95, so driving time here can be reasonable, even from quite a distance.
Swampscott, MA
(GC= 70.911 W / 42.468 N)
(Humphrey St., near Blaney Beach / Ingalls Terrace)
This is right down the street from the Lynn site, so many of the comments for that site (such as those about powerhouse local signals) apply here. Car rooftop antennas only: I'd go with the remotely-tuned ferrite loop as choice #1. The best reception aperture is towards the Caribbean and western South America, so this site is a good choice for an auroral evening.
SOUTH SHORE
You'll want to steer clear of the WBZ transmitting site in Hull (and also nearby Hingham and Cohasset) where "volts per meter" injections of WBZ can easily cripple a receiver's front end. It should be noted that substantial areas of Plymouth (near White Horse Beach) have streets marked "Private: Local Residents Only". This is a sign that invariably causes much anger amongst DXers scrambling to find a good shore location in time for a sunset DX session when the early-arrival heterodynes on the car radio are foretelling superb reception.
(GC= 70.651 W / 42.047 N)
(west end of Powder Point Bridge, at King Caesar Road)
This is an excellent site for DXing Africa and Brazil. The parking area overlooks a salt-marsh which submerges at high tide. There's a small sand beach where people often fish and dig for mussels and clams. Duxbury Beach, a narrow sand barrier, is across the wooden Powder Point Bridge.
(GC= 70.67 W / 42.039 N)
(Town Pier: east end of Mattakeeset Court off Washington St.)
The car park is often busy, so I'd stick with smaller rooftop antennas. You get very good exposure to Africa here, and reasonable clout towards the Middle East, Europe, and northeastern Brazil.
(GC= 70.647 W / 42.056 N)
(Gurnet Road, 1 km S of Marginal Road)
Think of this as an October to April site. In the middle of winter you can probably get away with stringing out some pretty decent wires here, especially at low tide. There is some water on the inside (west) of this barrier beach, so the "front to back" ratio isn't going to be quite as good as from the other Duxbury sites.
Kingston, MA
(GC= 70.722 W / 41.997 N)
(rest area / lay-by on Route 3 near mouth of Jones River)
This is listed as more of a "convenience site" rather than as a superlative DX QTH. If you're stuck in traffic on the way to the Cape, or you hear a radio report of a massive back-up ahead at the Sagamore Bridge, pull in here and DX for an hour or so. The usual blasters from Spain, Morocco, Algeria, Mauritania, and the Canaries shouldn't be hard to find in the early evening on any kind of decent radio 'n' antenna combination. You can see WPLM-1390's towers to the south and marvel at how effective their north null must be (as you listen to Syracuse, NY and other co-channel stations nibbling away at 'PLM).
Marshfield, MA
(GC= 70.69 W / 42.13 N)
(boat slipway area, near junction of Ridge Road & Ferry St.)
This is a small, but effective, site where the high-band Europeans can really boogie in at local sunset. Historic Brant Rock, site of Reginald Fessenden's first speech broadcast in 1906, is nearby. The Coast Guard commo-facility NMF is just up the road (but it doesn't seem to be a front-end bender).
(GC= 70.68 W / 41.98 N)
(Robbins Road - Holmes Reservation, N of Nelson Street Beach)
This area near this formerly secluded site has been developed for expensive homes recently. Watch for unpleasant vegetation (poison ivy and thorny brambles) near the side of Robbins Road halfway down the hill. I've heard some good eastern Mediterranean DX (Greece, Turkey, etc.) here and Egypt-864 is usually blasting in with Koranic vocals an hour after sunset on any half-decent night. Faint-hearted front-ends will be challenged by strong WPLM, only about 2 km distant.
(GC= 70.672 W / 41.967 N)
(Nelson Street Recreational Area / Beach)
Closing time is supposed to be 9 p.m., so this is primarily an autumn / winter venue. For Africa and Brazil, it is superior to the nearby Robbins Road site. It is just about equivalent to it for Europe and the Middle East. WPLM is really strong here, so use tuned antennas rather than the broadband approach.
(GC= 70.63 W / 41.94 N)
(Plymouth Beach: Route 3A between Clifford Rd. & "Plimoth Plantation")
An autumn / winter site that is best suited to northern European reception. Wires to 60 m could probably be run in the "off season".
(GC= 70.541 W / 41.927 N)
(bluff overlooking beach: Manomet Point Road just E of Arnold Ave.)
This site has a nice combination of altitude and coastal proximity: not a common occurrence on the Massachusetts coastal plain. The area is too crowded in the summer and, in any event, is suited to car-mounted antennas only. The view is great and the Trans-Atlantic signals at sunset can be pretty impressive also.
Quincy, MA
(GC= 71.015 W / 42.279 N)
(Wollaston Beach)
This is a convenient site for city-dwellers. On the "down side" it's extremely crowded most of the time. Also it's in the crunch zones of WBZ, WMKI, and WJDA: these transmitters are all within 10 km. These facts indicate that a compact high-Q loop antenna is the only way to go. Good European reception (bearings 30 to 75 degrees) can be had here, so the site has some merit.
(GC= 70.726 W / 42.193 N)
(near Front St. & Brook St.: waterfront municipal parking area)
Rooftop antennas only. Useful for Europe, North Africa, Middle East.
(GC= 70.727 W / 42.201 N)
(near junction Jericho Road & Hatherly Road: marina / boat launch area)
This is space-limited like the previously-listed Scituate site. It's somewhat better for Africa. This is a short distance from the former transmitting location of shortwave legends W1XAL / WRUL / WNYW / WYFR.
(GC= 70.762 W / 42.24 N)
(near junction Bailey's Causeway and Glades Road)
Good during the less-crowded autumn and winter seasons. I've had some big signals here from several of the Fortaleza, Brazil stations; also the Africans come in at a good level on semi-auroral nights. If it's cold and rainy (or snowy), the joggers will be less numerous and moderate-length wires may be "stringable".
The song says "You're sure to fall in love with old Cape Cod". The words are true whether you like swimming, sailing, golf, seafood, or - for that matter - foreign DX.
My list of sites below merely scratches the surface of potential locations. The Cape has shorelines that face in all compass directions (with sandy soil to provide blockage in varying landward directions). Sites that face west could be useful to the domestic DXer and for pre-dawn attempts at seldom-heard exotics from the South Pacific and Down Under. Go to a site in Wellfleet facing westward to Cape Cod Bay and you just may get lucky. Be that as it may, the emphasis below, as on the North Shore and South Shore lists, are bearings to Europe, west Asia, Africa, the Caribbean, and South America.
Chatham, MA
(GC= 69.949 W / 41.672 N)
(Chatham Lighthouse: Main St. between Water St. & Bearses' Lane)
This is a picturesque as well as DX-useful area. There's a good size parking area east of the lighthouse. Those using broadband active antennas should know that there's a 325 kHz DGPS station at the site. It can mix with the 100 kHz Nantucket LORAN signal to provide an intermod challenge to lower-quality front-end amplifiers. I'd use tuned antennas here for best results.
North Chatham, MA
(GC= 69.993 W / 41.713 N)
(Pleasant Bay: Route 28 near Harwich town line)
You go downhill into a dirt parking area that is rather bumpy. The site is primarily for European DX as it is somewhat blocked for bearings south of 75 degrees.
West Dennis Beach, MA
(GC= 70.176 W / 41.65 N)
During beach season, it will cost you about $10 to get in here. From mid-September to mid-May, the area is freely accessible and relatively uncrowded. This is a long beach, about 2 km or so. During poorer weather, with few other people nearby, you can run out some serious wire, especially at low tide. This site faces south: performance to the Caribbean, South America, and Central America can be very impressive during auroral conditions. Even on "normal" nights when I listened from there as a "kid" in the early '60s, 4VEH Haiti, then on 1035, frequently overpowered WBZ-1030. A recent daytime check revealed purely groundwave signals from WOKV-690 in Jacksonville, FL and Radio Vision Cristiana - 530 from Turks & Caicos. Until WOBM-1160 came on the air from coastal NJ, Bermuda could be heard during the day at West Dennis Beach. Cuba was also noted there during the day when it ran a superpowered rig on 830 kHz 10 or 15 years ago.
(GC= 69.962 W / 41.819 N)
(Fort Hill Park)
Great view from an elevation of about 100' / 30 m above sea level. Site should be useful for Europe and Africa. You could probably string out some good wires here in autumn / winter.
(GC= 69.946 W / 41.843 N)
(Coast Guard Beach)
Small area; somewhat crowded in summer, and suited for car-roof antennas only. Worth visiting in the off-season.
(GC= 69.950 W / 41.857 N)
(Nauset Light Beach)
You get a good lighthouse view at a site that's a bit roomier than the nearby Coast Guard Beach. Don't confuse this with Nauset Beach in Orleans to the south. Good reception of Europe, Africa, South America, and the eastern Caribbean; better blockage of domestic "pest" stations than the other two Eastham sites.
Harwich, MA
(GC= 70.04 W / 41.668 N)
(Red River Beach)
During the "off season" (October to April), the beach can be used without the otherwise-required town sticker. This is primarily a Latin American DXing location that provides a little bit of African pick-up. Europe is somewhat blocked. In the coldest weather, or during storms, you could run out some wire without bothering anyone. Broadband front ends may be challenged by a mix of the 100 kHz Nantucket LORAN and the 325 kHz Chatham DGPS. At least you don't have to worry about WCC anymore.
(GC= 69.936 W / 41.787 N)
(Nauset Beach)
This is an excellent site for DXing Europe in autumn and winter during the optimum sunset - 1 hour to sunset + 2 hours reception window. If you don't have too much company, you may be able to string some wires if you can work around the crude chicken-wire fences that are supposed to deter people walking on the dunes.
(GC= 69.953 W / 41.81 N)
(beach area: northeast end of Tonset Road, at Weeset Road)
This is an excellent site for sunset-period DX from Europe and the Middle East.
Most operation will be with car-mounted antennas, though wires up to 30 m may be used if you put them in less-likely-to-be-walked areas and if you make them hard to see.
(GC= 69.969 W / 41.754 N)
(Town Landing at east end of Portanimicut Road)
Orleans has got to be one of the greatest towns in Massachusetts for DXers and boaters alike because of its generous number of freely-accessible town landings. The Portanimicut Road site is good to Europe and great to Africa, Brazil, Suriname, the Guianas, and the eastern Caribbean. Walking into the adjacent marsh is discouraged, so stick with a loop / whip cardioid array on top of the car.
(GC= 69.991 W / 41.735 N)
(Town Landing, off Route 28, 0.3 km N of Tar Kiln Road)
One can usually DX in relative seclusion at the tree-sheltered site right off busy Route 28. I have had some of my strongest Middle Eastern, North African, and southern European receptions from here. Latin Americans can also do well when there's a bit of aurora. This is truly a high quality location. When Sudan-1296 cruises in at better than S9 during its 0300 UTC sign-on, you know you've made a good site choice for an impromptu car DXpedition. The distance to the shoreline varies considerably with the tide. At low tide time, wire antennas may be viable during autumn and winter (when boating activity tapers off).
Wellfleet, MA
(GC= 69.73 W / 41.91 N)
(Marconi Beach site)
A DX site with DX in its history. Guglielmo Marconi made the first USA to Europe "QSO" from here in 1903. There's a lot of land out there with beach grass, sweetfern, beach rose, bayberry, and a scattering of pitch pines and cedars to which you could string a not-overly-conspicuous wire. The site is reasonably "juiced up" towards Europe and North Africa. Wellfleet has Cape Cod Bay west of it as well as the Atlantic to the east, so don't expect as much rejection of New York, Boston, and Providence "pest" stations as you might enjoy at the Orleans sites. The large amount of available land can be a boon to longwave and tropical-bands DXers who just need high sensitivity set-ups (rather than strong site directionality). With a bit of planning, and a consultation with park officials, a full-blown Beverage DXpedition could be mounted at the Marconi Beach site or elsewhere in the National Seashore. Late autumn would likely be the best time for this. I think that hams have had approved Field Days and other events out there.
South Yarmouth, MA
(GC= 70.20 W / 41.65 N)
(Windmill Beach: River St. at Willow St.)
This is a great little site overlooking the Bass River near its mouth. Salt-marshes, the western end of West Dennis Beach, and open ocean are just beyond. With a car-roof-mounted loop / whip cardioid antenna set-up and a suitable receiver, you can milk out the excellent Africa, South America, and Caribbean pick-up this site has to offer just after local sunset. I've heard more Brazilians from here than from any other US site (Duxbury comes in second in that regard).
South Yarmouth, MA
(GC= 70.198 W / 41.645 N)
(Bass River Beach)
From October to April, this is a good general-purpose DX location. You might be able to string out 60 m or so of wire when cold weather reduces the amount of visitors to the beach. Receiving characteristics are somewhat like those of West Dennis, though Africa and Europe might be somewhat better due to more water on those bearings before low-conductivity sand is encountered.