2004 Boston Area DXers "DX Clams" DXpedition
Granite Pier – Rockport, MA, USA
Local: 22 JUL 2004 / UTC: 22-23 JUL 2004
<![if !supportEmptyParas]> <![endif]>
Accounts of the activity:
<![if !supportEmptyParas]> <![endif]>
Bruce Conti:  The annual Boston Area DXers "DX Clams" DXpedition on July 22/23 was fun as always, a rare opportunity to showcase antennas, equipment, and talk shop.  The group meets once every summer for a clam dinner followed by DXing from Granite Pier in Rockport, Massachusetts, overlooking the Atlantic.  Overall conditions were down although still not bad for mid-summer.  Most notably absent were Latin American signals with Canada dominant when US signals were phase-nulled out, for example 750 kHz had CBGY in clear with WSB nulled out, no sign of YVKS.  Normally this would be an indicator of a good northern latitude transatlantic opening, but nothing really materialized.  However it could be a sign of things to come as the current solar cycle is finally winding down and MW DX conditions typically improve dramatically during August.
<![if !supportEmptyParas]> <![endif]>
Mark Connelly:  The 2004 Boston Area DXers "Clams" gathering was a good time as usual.  Before the Granite Pier DX festivities, Gary Thorburn and I met for dinner at Woodman's Restaurant in Essex, MA.  The clams were excellent, of course.  By 7 p.m., five of us - Bruce Conti and friend Winnie Morales, Chris Black, Gary Thorburn, and I - assembled at the pier site in Rockport.  Much of the time was spent in conversation, setting up and testing antennas and receivers, picture taking, and chatting with some of the locals who were out there to take in the sea view on a pleasant late afternoon.  As sunset came, some actual DXing commenced.  Conditions weren't as good as they'd been on my solo visit to the same site three weeks earlier, but some of the more common transatlantics were heard.  Static wasn't too bad considering the time of year.  I tried out the Micro-Ewe antenna design for the first time; subsequent tests have shown even better cardioid pattern results with a "Micro-Flag" design.  DXers attending this annual event (and the occasional South Shore version in OCT/NOV) often bring out some new antenna, accessory, or receiver idea.  These get-togethers are always fun, even when conditions aren't the best.
<![if !supportEmptyParas]> <![endif]>
Logs: Transatlantic DX
<![if !supportEmptyParas]> <![endif]>
Mark Connelly, WA1ION: Drake R8A, 2 x 5 m "Micro-Ewe" with 20 dB amplifier. <[email protected]>
<![if !supportEmptyParas]> <![endif]>
Bruce Conti: Drake R8B, MWDX-5, 9-m vertical whip, broadband loop. <[email protected]>
<![if !supportEmptyParas]> <![endif]>
<![if !supportEmptyParas]> <![endif]>
531    ALGERIA   Chaîne 1, Ain-El-Beida  JUL 23 0050 - Parallel 153, 549, 890.98 with Arabic music; poor. [Connelly-MA]
<![if !supportEmptyParas]> <![endif]>
549    ALGERIA   Chaîne 1, Les Trembles  JUL 23 0050 - Parallel 890.98 with Arabic music; fair. [Connelly-MA]
<![if !supportEmptyParas]> <![endif]>
585    SPAIN   RNE1 Madrid  JUL 23 0020 - Poor; bits of talk in Spanish, the low end of the band poor overall. [Conti-MA]  JUL 23 0048 - Parallel 1107 with a woman in Spanish; fair. [Connelly-MA]
<![if !supportEmptyParas]> <![endif]>
603    FRANCE   Lyon  JUL 23 0052 - Parallel 1206 with "Jammin'" by Bob Marley; fair. [Connelly-MA]
<![if !supportEmptyParas]> <![endif]>
621    CANARY ISLANDS // SPAIN   RNE1 synchros, Santa Cruz de Tenerife et al.  JUL 23 0048 - Parallel 639 with Spanish; fair through WZON slop. [Connelly-MA]
<![if !supportEmptyParas]> <![endif]>
639    SPAIN   RNE1 La Coruña  JUL 23 0047 - Woman in Spanish; fair through CBN slop. [Connelly-MA]
<![if !supportEmptyParas]> <![endif]>
684    SPAIN   RNE1 Sevilla  JUL 23 0053 - Parallel 585, 774, et al. with "Yesterday" by the Beatles; good, getting by WRKO. [Connelly-MA]
<![if !supportEmptyParas]> <![endif]>
774    SPAIN   RNE1 synchros  JUL 23 0053 - Parallel 684 with "Yesterday" by the Beatles; fair. [Connelly-MA]
<![if !supportEmptyParas]> <![endif]>
783    MAURITANIA   R.Mauritanie, Nouakchott  JUL 23 0045 - Parallel 4845 with fast Arabic talk; fair to good. [Connelly-MA]
<![if !supportEmptyParas]> <![endif]>
890.98    ALGERIA   Chaîne 1, Algiers  JUL 23 0043 - Group Arabic vocal and orchestra; good. [Connelly-MA]
<![if !supportEmptyParas]> <![endif]>
945    FRANCE   Toulouse  JUL 23 0055 - Parallel 1206 with piano jazz; fair. [Connelly-MA]
<![if !supportEmptyParas]> <![endif]>
999    SPAIN   COPE Madrid  JUL 23 0056 - Parallel 1296 with man and woman in Spanish; fair. [Connelly-MA]
<![if !supportEmptyParas]> <![endif]>
1107    SPAIN   RNE5 synchros  JUL 23 0041 - Spanish talk with echo; fair. [Connelly-MA]
<![if !supportEmptyParas]> <![endif]>
1134    CROATIA   Hrvatski R., Zadar  JUL 23 0040 - Slavic talk by man; fair. [Connelly-MA]
<![if !supportEmptyParas]> <![endif]>
1169    unID   JUL 23 0022 - Maybe the Iranian moved from 1171?  Bits of audio and het against WFPB. [Connelly-MA]
<![if !supportEmptyParas]> <![endif]>
1206    FRANCE   Bordeaux  JUL 23 0027 - Good; French pop vocal. [Conti-MA]  JUL 23 0038 - French talk, tropical music; good. [Connelly-MA]
<![if !supportEmptyParas]> <![endif]>
1296    SPAIN   COPE Valencia  JUL 23 0056 - Parallel 999 with a man and woman in Spanish; poor to fair. [Connelly-MA]
<![if !supportEmptyParas]> <![endif]>
1359    SPAIN   RNE Arganda  JUL 23 0030 - Spanish news; fair. [Connelly-MA]  JUL 23 0115 - Good; two men in Spanish, loud het against 1360 kHz. [Conti-MA]
<![if !supportEmptyParas]> <![endif]>
1377    FRANCE   Lille  JUL 23 0108 - Poor to good, widely variable signal; music parallel a now strong 1206 signal. [Conti-MA]
<![if !supportEmptyParas]> <![endif]>
1413    SPAIN   RNE5 synchros  JUL 23 0105 - Good; man in Spanish, synchro echo. [Conti-MA]
<![if !supportEmptyParas]> <![endif]>
1422    GERMANY   DLF Heusweiler  JUL 23 0056 - Fair; flute instrumental parallel 6190, over an unID station likely Algeria. [Conti-MA]
<![if !supportEmptyParas]> <![endif]>
1431    DJIBOUTI   R.Sawa, Arta  JUL 23 0053 - Good; R&B vocal, announcement, then an Arabic almost Bollywood-like pop vocal. [Conti-MA]
<![if !supportEmptyParas]> <![endif]>
1557    FRANCE   Nice  JUL 23 0005 - Music parallel 1206; fair. [Connelly-MA]
<![if !supportEmptyParas]> <![endif]>
1584    CEUTA   RadiOlé, Ceuta  JUL 23 0001 - Fair, improving to good; the first transatlantic signal noted as local sunset approached. [Conti-MA]
Pictures:
Click on thumbnail for larger version of image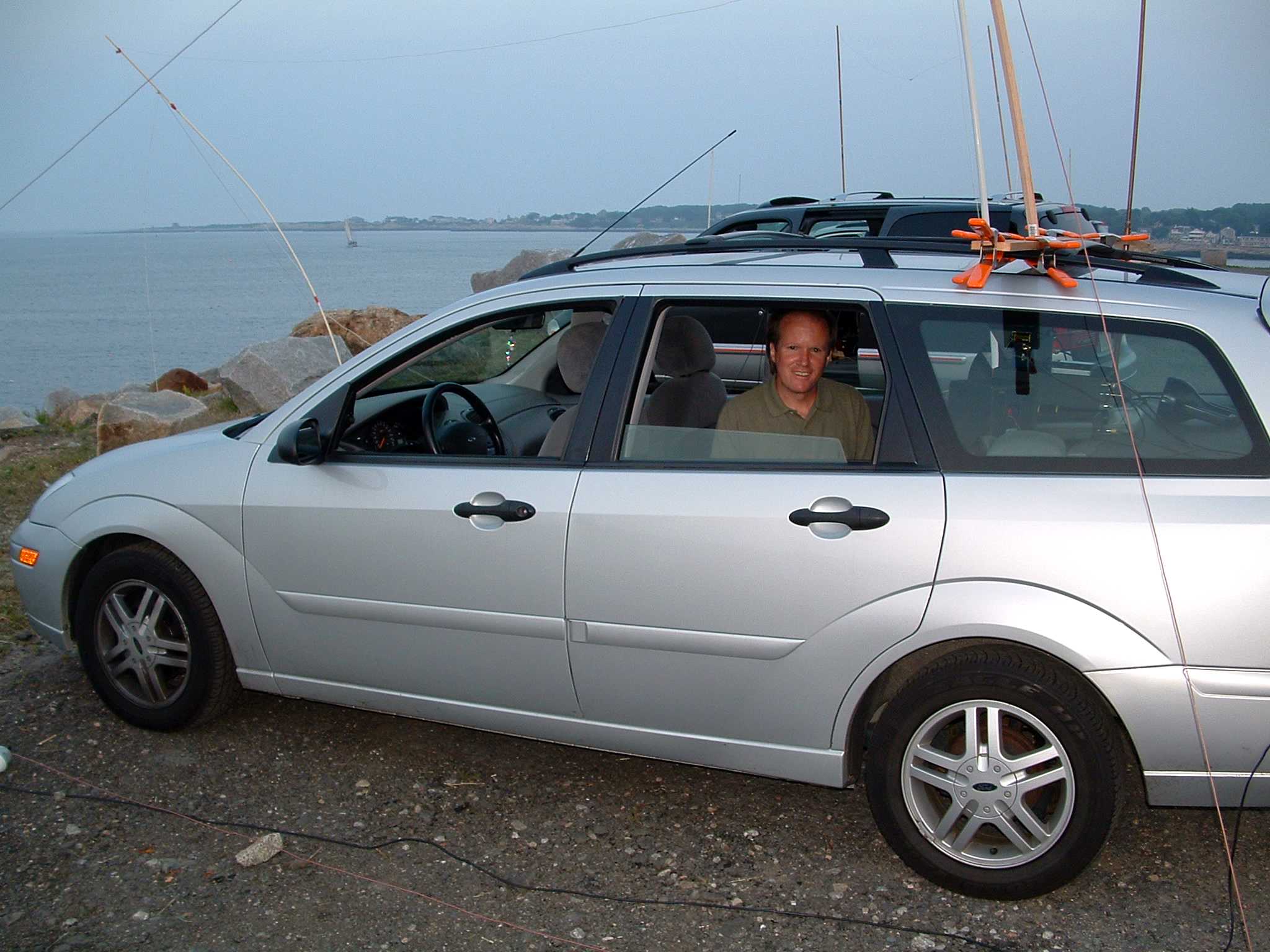 Bruce Conti in his Ford Focus DXmobile


Gary Thorburn (KD1TE) in car DX shack


Chris Black (N1CP), cars at DXpedition site


car DX shack of Chris Black (N1CP)

More pictures on Bruce Conti's site
Links to previous DXpedition reports on Worldwide DXpedition page