Welcome To The Web Page
Of
W9INF
Updated 01/20/2000
Bob Johler
Has been licensed since 1947 as a class A ham operator now
called Advanced class. at the present time not active on the dc bands due to antenna restrichions but still active on two and one and a quarter meter bands.
is also and active licensed pilot and aircraft owner of a PA- 28-161 Piper Warrior Two (1978 model) owned since 1980...his seventh owned aircraft.
Bob started flying before world war two but like many young pilots at the time
never got a license until after World War2 as none was needed for private flying..
You only had to have one if you where going
to charge for your flying services! Thus the term" private pilot."
He is instrument rated for SEL (single engine land) and just flies for his
own and any of his passengers enjoyment. (and of course is now licensed)
His aircraft is based at the St.John airport in reserve la. in his own hanger
(airport id 1L0) next to the reserve VOR on110.8mhz. callsign RQR.
Bob is also and assistant director of the airport , AOPA member and active in
the AOPA airport support network.
He is retired from Marathon oil co. and was and instrument project manager
at the Garyville La. refinery. And is also a licensed professional
engineer in control systems and stays active as a consultant when ever
possible.
Bob would like to hear from any of his ham radio or pilot friends from all
over the world
He can be E-mailed at

[email protected]

. and wishes all his ham radio friends
best of 73s and 88s and all his flying friends happy and safe flying.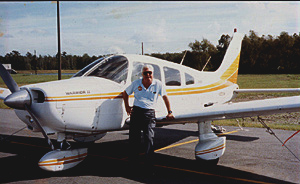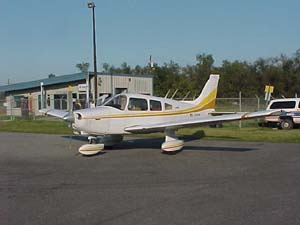 Bob's Pa-28-161 Warrior Two shown in front the
St. John La. Airport Terminal building
Please Check Out some of my Links
http://www.landings.com

Jarc Amateur Radio club
You are visitor number
since 01/02/00