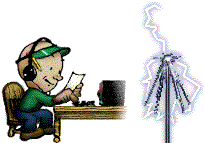 W9BOK'S RADIO PAGES
WILLIAM LUECK
COLUMBIA COUNTY, WISCONSIN
USA
THE WORLD IS MY PLAYGROUND


SITE UNDER CONSTRUCTION-DANGER!
(IT'S ALWAYS LIKE THAT!)
---
This site is devoted to my interests in Radio Communications. This started for me in the 50's and has continued until the present time. My father(the original W9BOK) was primarily responsible for this. From an early age I remember lsitening to my father work CW on an old BC345 WWII radio. During the 50's the Cold War was active and I enjoyed listening to the SW bands and getting those far off QSL's from many of the stations during that time, although I did get some strange looks from the mailman!!
My interest has remaind after 4 decades,only to be interupted by chasing girls and a stint in the US Navy!!
I have links to my Ham Radio Page, SWL page ,Homebrew pages and Antique radio restoration and Boatanchors as well as many other links which may be of interest to Radio Hobbyist. Feel free to browse and enjoy.
I also have link to my Vietnam Navy site, The Mobile Riverine Force, Rivron15. Please check this out
Finally, I have included a link to my Organ Transplant Page and Organ Donation information. I had a heart transplant in 1987. After 15 good years with that heart I needed a second heart transplant. I was fortunate enough to receive that on August 17, 2001. I hope many of you will check it out to see how you can help with the gift of life.

LINKS TO MY OTHER PAGES

Ham Radio Pages
Vietnam riverine forces
OldRadio
LINKS TO OTHER INTERNET SITES