Amateur Radio
Michigan Cabinet Counties Award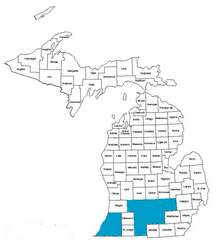 For establishing 2-way amateur radio communication
during the Michigan QSO Party
with one or more of the 10 Michigan Cabinet Counties.
Named for members of the cabinets of President Andrew Jackson - 1829~1837

Barry County (named for US Postmaster General William T. Barry)
Berrien County (named for US Attorney General John M. Berrien)
Branch County (named for US Secretary of the Navy John Branch)
Calhoun County (named for US Vice President John C. Calhoun)
Cass County (named for Jackson's 2nd US Secretary of War, Lewis Cass)
Eaton County (named for US Secretary of War John Eaton)
Ingham County (named for US Secretary of the Treasury Samuel D. Ingham)
Jackson County (named for President Andrew Jackson)
Livingston County (named for Jackson's 2nd US Secretary of State, Edward Livingston)
Van Buren County (named for US Secretary of State Martin Van Buren)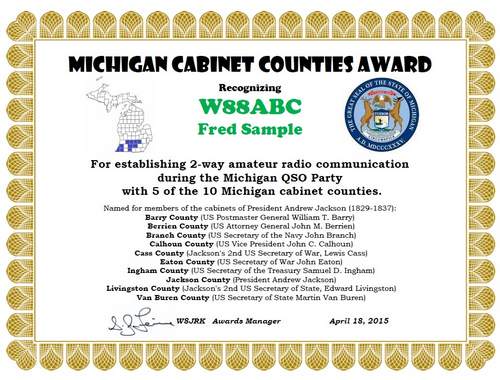 There is no charge for the certificate. It will be available for download as a .pdf file by mid-May.



Click here for 2015 Final Results
To qualify for the Michigan Cabinet Counties Award:

1. You must work at least one of the Cabinet Counties (there are a total of 10).
2. You must submit the online Application Form within 2 weeks of the end of the Michigan QSO Party .
3. Only the online Application Form will be accepted (no paper forms will be accepted).
4. All QSOs must be made during the hours of the Michigan QSO Party (1600z thru 0400z - Saturday - 3rd full weekend in April)
5. All QSOs must be on the bands and modes used for the Michigan QSO Party (80/75, 40, 20, 15, 10) either SSB or CW.
6. Questions? Please email W8JRK (

[email protected]

)

Are you in a Michigan Cabinet County? Interested in operating as a Participating Station? Click here for Participating Station details.





............ ............