My private island hideaway in

"Bora Bora"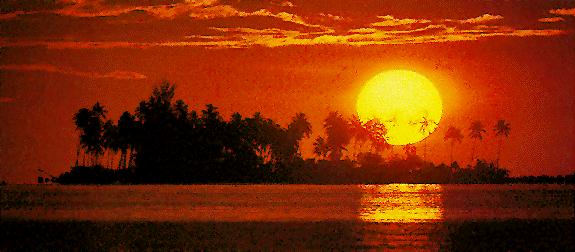 Your place in the sun, the island paradise you have always dreamed about. James Michener called it the most beautiful island in the world and Bora Bora will bring you back to childhood, beckon you to come play, rest and relax in the warm gentle breezes of it's tropical splendor. Click on the picture above and enjoy the song of Bora Bora while you read about Paradise.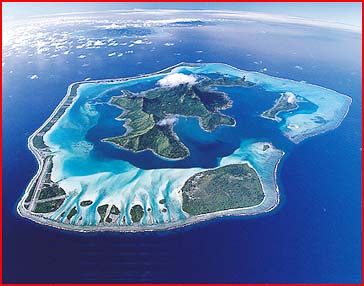 Just seven hours from the west coast of the USA to Papeete Tahiti and a short 50 minute flight in an air conditioned turbo jet plane, you land on a reef and suddenly you are transported into another world, another place in time.
Free at last, free to wander, to dream, to fall in love, to see the stunning beauty and magic of the South Pacific's crowned jewel. Island Paradise. Bora Bora will humble you, erase all your tension and stress as it woos you into it's warm lagoons teaming with tropical fish, it will lull you to sleep with it's gentle warm trade winds, and finally you will know peace.
Mai Moana was created to satisfy your most discriminating tastes with gourmet cooking, world class wines and local fruit. Spacious bungalows with all amenities including TV, VCR refrigerator and mini bar and a perfect view of the lagoon from your veranda for those afternoon naps.




Toast to the good life, explore a reef, sail snorkel or relax with a good book, Mai Moana has it all waiting for you when your arrive. If by chance you are a "Ham" operator you will be able to fulfill your dream of being rare DX and work the world from our club (FO8DX) or we can assist you in obtaining your own FO0 license while your in Papeete.
The picture on the left is the main building affectionately known as the "roundhouse" where you will be served breakfast lunch and candlelight dinners, all with a sweeping 300 degree view of the lagoon and Bora Bora.
In the morning we can make arrangements for you to have a private tour of Bora Bora's unbelievable lagoon, and if you are up to it a shark feeding trip with Tahitian guides at your side. Perhaps something more sedate may be your pleasure like being left alone for the day on one of the many "Motu's" with a specially prepared basket lunch for two. Imagine being alone with someone special on a small uninhabited island in Bora Bora's lagoon.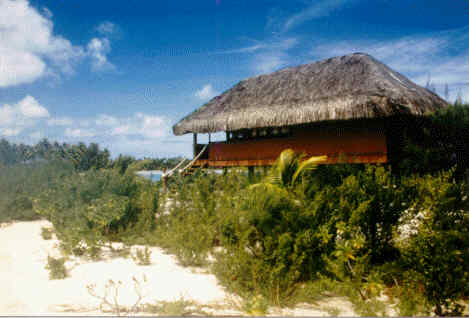 Our bungalows are situated around the perimeter so you have an unobstructed view of Bora Bora and the lagoon. Take your morning coffee and go for a walk in the 80 degree crystal clear lagoon and breath the sweet warm air of the tropics filled with the sent of the Tiara flowers, coconut and ginger.
If sunbathing is your choice you are less than twenty feet from your own private beach and just a few steps from the roundhouse where the sweet smells of Tahitian style cooking fill the afternoon air.
Mai Moana is your private paradise, designed and built to satisfy the senses, warm the spirit and sooth the soul.
The picture on the right is the inside of the bungalows with two full size beds, a TV and VCR, dressing area and large bathroom with fresh flowers and even built in hair dyers. Plenty of room if you want to bring along the kids or other family members for a vacation which they will remember and talk about for many years to come.
Bora Bora is in the society island group which is part of French Polynesia which covers an area in square miles larger than western Europe. While French and Tahitian are the primary languages English is spoken everywhere and it is seldom a problem. The staff of Mai Moana speaks several languages so you will not have a problem expressing your desires and requests.
Mai Moana has been reviewed by Air Tahiti and Tahiti Nui magazines. Click here to see the articles . Chuck Henry of CBS news Los Angeles taped a show on Mai Moana recently entitled "Worlds Best Vacation Hideaways" which will be in a streaming video format to view here soon.
---