Green Mountain
ASCENSION ISLAND
Loc: II22tb IOTA: AF-003 CQ Zone: 36
WLOTA-Ref: LH1491 ITU Zone: 66 IARU Region: 1 Time Zone: UTC

Now QRT after 14 Days, with over 20K QSO's logged.

ZD8F & ZD8ZZ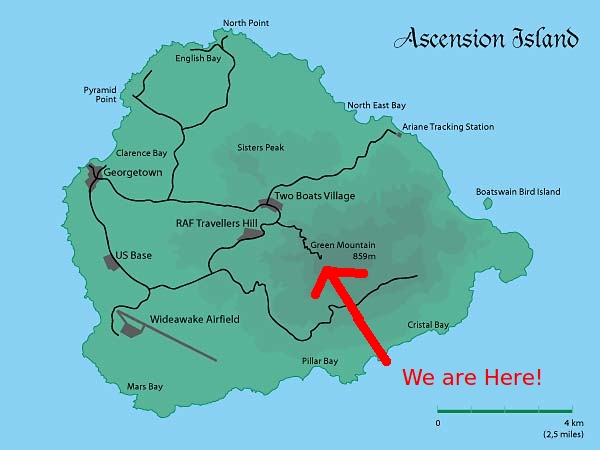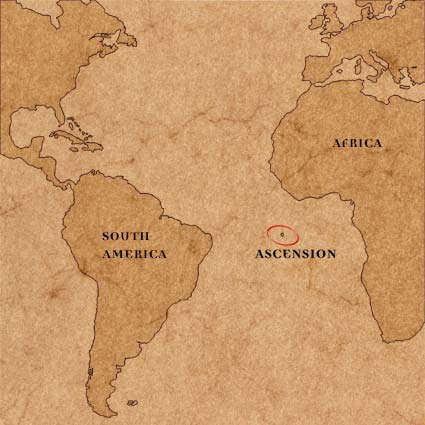 Check to see if you are in the log.



http://www.clublog.org/charts/?c=ZD8F With OQRS active.

http://www.clublog.org/charts/?c=ZD8ZZ


QSL Info: Direct or LOTW



Direct

: Please include SASE, or a self addressed envelope and $2 **No IRC Accepted***
ZD8F ZD8ZZ
Al Danis Tom Meier
PO Box 220164 13271 Woodland Lane SE
Chantilly, VA 20153-0164 Turner, OR 97392
USA USA



Or

via Home call
ZD8F = W6HGF
ZD8ZZ = K7ZZ



Or

for ZD8F, you can use OQRS from Clublog, and use paypal for the postage funds, and not need to send me a card,

Our operation was conducted from November 8 through November 21 . We had no internet access on site, and limited access at the Obsidian Hotel in Georgetown.
This was a team effort with Tom Meier as ZD8ZZ specializing in CW, and Al Danis as ZD8F will focus on RTTY. We both operated SSB when the opportunity arose. We had multiple antennas for 160 thru 6 meters, and operated two stations.



UPDATES:





21 Nov 2011

Now QRT We closed down this morning, packed up the antennas, and came down off the mountain top qth. Final tally was over 20K QSO's between the two stations. The logs will be uploaded to ClubLog about the same time this page is updated. LOTW will come a little later. Anyone that thinks they should be in the log, but can not find a contact in ClubLog, can write us a note, and we will research the contact once back at home. I made the trip up to the top of the mountain yesterday and saw the famous Dew Pond, as well as our tour of the country side and a visit to the "Worlds Worst Golf Course" with browns instead of greens laid out on the rocky moonscape of Ascension Island. We handed the site off to the next team that will operate over the CQWWDX contest weekend, so there should be lots of opportunity to work Ascension during the contest. We both had a great time, and enjoyed all the QSO's, it was very exciting to be on the other side of the pile-ups, sometimes overwhelming, most of the time very pleasureable. Our transportation home will leave tomorrow night, and we hope to be all the way home by Thanksgiving.



13 Nov 2011

Well my plan to stay away from the contest did not work, there was no one to talk with on RTTY except in the contest, so I reluctantly joined, just so I could make some QSO's over the weekend. I made over 1000 qso's in the contest today, so it was one of my best days so far. We did go into town yesterday, and I was able to upload my logs to LOTW, and both of our logs to ClubLog, so there will be something to look at there. It may be later next week before we get another opportunity. I tried to upload this webpage, but the internet connection would not let me FTP things for some reason. I will eventually get it updated and loaded to the website, but I am not sure when right now. 6 meter operations have not been very good, no one heard on 6 yet.

12 Nov 2011

WAE RTTY contest this weekend, so I will try to stay to the WARC bands to avoid disruption, although I did get a few 40 meter Q's just as the sun came up here with the US. This may be the right day to go down to town and send the logs and get some supplies. All the equipment is working great. I had a very good run yesterday evening with the JA opening on 17, at midnight it was still going, but I was exhausted and had to call it quits before the band died. This is a great location, and the conditions have been very good, we are having a great time with the pile-ups, and have another week still to go, what could be better than this! I think we are up to a combined qso count of over 8K when we looked last night.
Here are a couple of pictures we took during radio breaks.



And here is the view from our back porch, looking to the north. From the picture you can see how fast it slopes down, and just imagine driving it.






11 Nov 2011

We are all set up and running, everything is going fine. We are thinking about some antenna improvments, but since the high bands are working so well it may be later before we get to work on the low bands. We are not getting much sleep, just cat naps from time to time. All our equipment arrived and in good working order, much to our relief. Tom has been working CW on WARC bands, and I have stayed on RTTY with the standard 10-15-20-40 so far, we may swap it out later, but it is working fine now. Rtty is in demand on all bands from Ascension, but CW has been contested pretty strong over the years on the non-warc bands, so warc is where the CW demand is. The nights have been cooler than expected, and the days up here in the clouds has been on and off rain as expected. The Garden Cottage is a perfect place, the view down the mountain is very impressive, and must be good take-off for the antennas. The road washed out earlier this year, and is in process of being repaired, it is now passable, but not completed with dirt and muddy portions on the way. I think the QSO count for both of us is about 5000 as of this eveing, and we are sorry the logs can not be uploaded, but sometime in the next few days, I will upload this page to the website along with the logs.

6 Nov 2011 Tom and I are in Florida now, and prepared for tomorrows departure to Ascension. Everything is looking good so far. Look for us on the air as soon as possible Tuesday, thanks to Marko ZD8O for leaving his antennas up for us, see picture below, we should be active almost as soon as we arrive and unpack.

1 Nov 2011 Preparations for departure are continuing on track. Travel will start Friday on the way down. And on Monday morning (Nov 7) we should board the airplane for the final leg down to Ascension Is. Our plan is to be on the air as soon as possible after arriving and getting organized for the drive up the mountain, look for us probably sometime Tuesday (Nov 8) if all goes well.



Equipment:


ZD8F


Icom IC-7000
Tokyo Hy-Power HL-1.1Kfx



ZD8ZZ


Elecraft K3

Antennas:
Force 12 Vertical Dipole Array
Granite State Cobra Ultralite Sr.
Two Tribander beams and a phased 40/30 vertical array as well as other antennas as needed.
Dunestar bandpass filters.

Marko's picture of his antennas, note the mountain is in the clouds much of the time.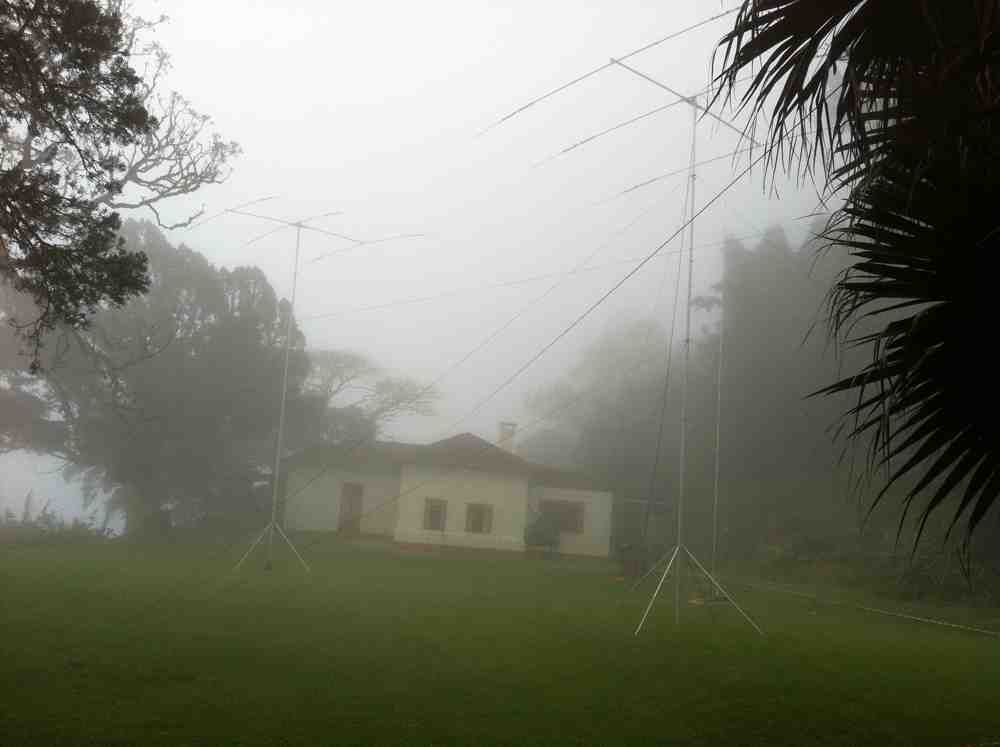 We support the DX code of conduct, Please read it, and use the principals so we all can have lots of fun DXing.


QTH: The Garden Cottage is near the top of Green Mountain, and has a difficult winding road to get to the cottage that takes at least 20 minutes each way. So coming down off the mounatin for meals and internet access would cut deeply into operating time. The Garden Cottage has a long history gonig back to 1820's, and has a great view to both US and Europe from 2300 ft elevation, but locations to the south like VK/ZL are obstructed by a higher peak to our south, and difficult to work. We will still listen for the VK/ZL and maybe will get some long path openings. Here is a picture showing the steep blockage to the south next to the cottage.



We have decided to take some of the Mountain House freeze dried packets, to supplement the food we purchase on the way up, and just stay up on this beautiful mountain and operate as much as possible.

http://www.obsidian.co.ac/gardencottage.html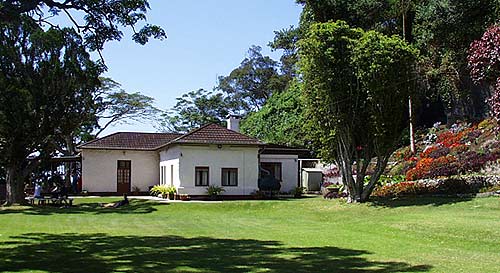 Links.


Sign Our Guestbook

Ascension Island Newspaper

Many thanks to QSL.NET for hosting this webpage, and also to Michael G7VJR and his team for the great work with ClubLog. Please make sure you are in the log before sending QSL's.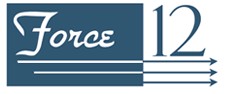 Many thanks to Force12 for the multiple vertical dipole array antennas we will be using.



Many thanks to Mountain House for the great meals we will consume up on the mountain.



Last updated 25 December 2011