Motel Miquelon, with my antennas as seen from the beach before the snow storm. The 30 foot mast, ( 3 ea 10 foot fence poles) in the foreground held the dipoles, and the Steppir vertical is closer to the building with the radials held down by rocks (like seen in the foreground) on the ground. The fine resturant which I ate all my meals is in the center, and the rooms extend to the sides I was in the farthest room on the left, which is room 5. The beach had no sand only the rolled rocks you can see, but they were multi colored, and interesting to look at.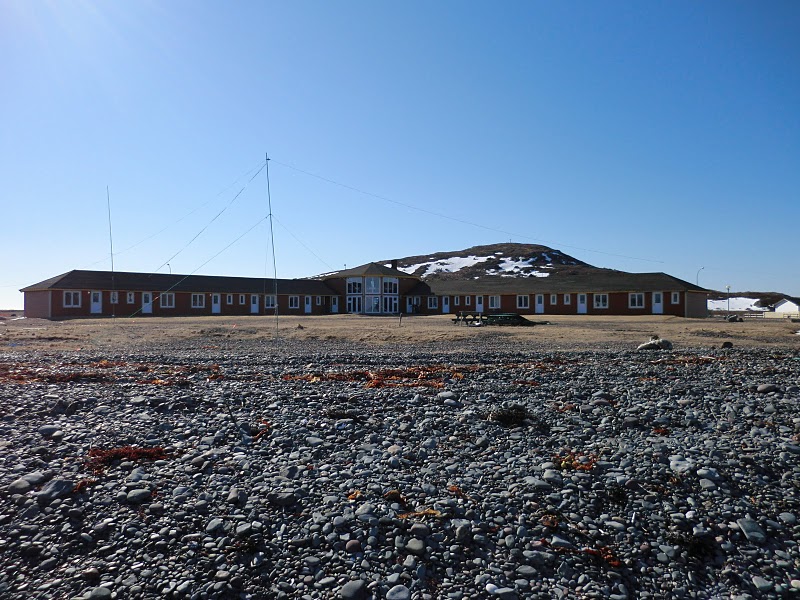 Here is the running blog from the trip the I kept as often as time permitted each morning when the propagation was low and just after breakfast. Once the bands started opening, there was no time for anything inbetween the pile-ups. It was so much fun, I did not want to leave.

Updates

I will be spotting Fldigi on PSK reporter

Watch for me on the DX cluster

RTTY frequencies planned are 1.830 3.590 7.040 10.139 14.090 18.103 21.075 24.910 28.090 plus or minus any other activity

Since I am using Fldigi with the Signal Browser for RTTY, I can see at least 2.5Khz of spectrum so there is no need to call me at exactly the same place the last contact was made, please spread out a little, so your callsign can be decoded by the browser. I will move my receiver when needed, but I will be looking for calls in the clear that decode easily anywhere within my 3Khz passband. Once I have your call, I may have to narrow the filters down on the IC-7000 to get your report, but that is easy with the software and the continuous range of DSP filtering. I hope this technique will help get contacts with as many of the deserving as possible. I have already found the dynamic range of my laptop sound card leaves much to be desired for these kinds of modes compared to my normal base station computer, but it will work, and add some to the dx flavor of this trip.

I may also try some PSK63 or PSK125 at the top of the PSK segment to see if there is any interest if RTTY gets slow.

12 March -- Everything Packed and ready. Travel tomorrow morning to Hailfax and wait for Monday flight to St Pierre. Hope the Weather holds out.

13 March -- Arrived in Halifax today, all the equipment made it this far safely, although TSA left a calling card in each suitcase after rummaging through them. I guess they are not used to Ham equipment going on a dxpedition and needed a closer look at it. I will depart for St. Pierre tomorrow at noon, and hopefully get on the Miquelon plane in the afternoon. The weather is predicted to be good most of the week.

14 March -- Arrived in St. Pierre, but the onward flight to Miquelon was cancelled because of weather. so I am delayed here until tomorrow morning's boat trip over at 0800. I had a good meeting with Jean-Pierre, FP5CJ this afternoon, so the time was well spent discussing antennas and DX. For now it looks like it will be later tomorrow before I can get any antennas up in the air, and become active on the bands, so stand by just a little longer. If it is a nice day as predicted, I will try to get both the multi dipoles, and 160M antennas up as well as the Steppir vertical up before the weather turns bad again. All the equipment is still with me, and no problems at all, (other than the expected overweight charges), but the Pelican case is becoming scratched up from other folks luggage banging against it in transit. I see the daily SSN is still dropping down to 64 today, so the higher bands may not be as productive as last week, but should still have some openings.

15 March -- Ok, I made it to Miquelon this morning, and am now on site and working on putting up antennas. I should be on the air later this afternoon or this evening depending on how fast I learn how everything works, and how many times I have to come back inside to warm up. It is cold and windy outside, but sunny, so not as bad as it could be. I updated the frequency list a little last night, and will see how it goes as I get started, it may change depending on conditions. I will update here later today when I am ready to start.

Explanation here-- My equipment arrived but all the data interface boxes and cables did not, so a scramble ensued to get RTTY going.

16 March -- Starting to work through this. Have got audio going to the radio now, in a fashion both directions, but no PTT yet. So I am clicking the mouse, and holding the microphone button, while keeping as quiet as possible for the rtty contacts. There was a very nice test run of about 20 lucky folk around 0500 that were calling me and I sort of got coordinated enough with the macros to answer and get them in the log. Tomorrow morning I will make a trip to the local hardware store and try to pick up some RCA jacks and some RJ-45 plugs so I can at least get vox ptt working on this rig, and the RCA so I can get the amp running. If I have to I could probably just stick wires in the holes, but I want to try to get the right connectors if I can. This situation is not looking as hopeless as it did a few short hours ago, I can work folk now, even if it is ackward, and with low power for now. it will get better.

17 March -- Had a very nice RTTY run last night and this morning. LOTW uploaded last night about 250 entries. Solved the PTT problems, with Mic taped into an earphone muff for acoustic isolation and using vox now. It seems to be working pretty well, but I have the real interface box on the way, it arrived by special courior ( my son-in-law, Mike) and is in St Pierre with FP5CJ today, waiting for transportation to Miquelon once the weather clears up a little. Once it arrives, I will then have rig control and be able to use the filters to really deal with the pile-ups. The dynamic range of the audio chip in this laptop leaves a lot to be desired when ever a strong signal comes up, I lose the weak ones half way in the middle of a decode, very frustrating sometimes, when I am used to just narrowing the filters, and the weak ones just come back up. Right now the internet is down again, so I am not sure when I can update this, but it is up much more than it is down. It is very windy today and I am looking at the antennas dancing in the wind, and the swr on the tuner going up and down, sometimes triggering a retune, but not to often. The Granite States Cobra Ultralite Senior has worked great it is loading on all bands with the AT-600 even with my less than successful experience testing it before I left home. It is not a 4 square on 160, or even resonant, but it has made a few qsos so far, on what seemed to be a dead band. I had a real good run on 12 this morning. One comment, when I am using the browser to select your signal, it is easier to decode if you send a call at least 3 times so I can have time to find you and then decode the last one. Once I have it decoded correctly it goes fast. My plan for today is to stay as high in frequency as I can and work my down as the sun falls, once I find activity, just stay there until it drys up, and then look for more. Breaks only when necesary.

20 March -- Received Plug n Play interface unit by Special Courier on the boat from St Pierre 18 March, and with a little surgery have it up and running with rig control now, and am ready for BARTG this weekend, I plan to do S&P at times and the rig control was critical for that type of operation. I had a good two hour run on 10 Saturday, and hope to get an opening today. So far nothing has been heard up on 160 RTTY although I did work a loud cw station just to make sure the antenna was working. I have been on the air almost from wake up to bed time with the exception of meals and this is the most fun I have had since fishing in Alaska several years ago. I need to do this again. I will try 160 again just before I turn in around 0100 or later, so if you hear a RTTY signal, please give me a call. I will be working on the 160 antenna to see if I can improve it tomorrow after the BARTG contest. All logs so far are up on LOTW and you can check down at the bottom with ClubLog to see if you are in. Sign up for LOTW, paper QSL's are going to take a while. No one has asked, but I will send the log to eqsl once I am finished and get a card designed and printed. Surprise, the sun is out today, but the wind is still blowing hard, this weather is hard on antennas!

21 March -- Because of the delay in getting started, I have decided to extend the trip until next Sunday 27 March when the next opportunity to leave is available. So there will be flight schedules to change but more opportunity to QSO. The bands do not seem to open here until the sun had come over the horizon, at least for RTTY, I can not find any one to qso with. So far everything is working fine, and BARTG ended well with over 400 qso's many of them with counter number 001, just for the contact I guess. A little drama working on simplex contest, but it was a lot of fun. This next week I will concentrate on maximum qso's and encourage everyone to please read the DX'ers code of conduct, just a few that do not listen, spoil it for many others. See you on the bands somehere near my announced frequencies.

22 March -- Well Murphy is doing well here on Miquelon. Last night as I was about to upload the logs, the internet went down and stayed down all night. A couple nights ago I smelled something bad from the tuner, but the pile-ups were busy, so I did not have time to investigate until this morning, and I found that I have cooked one of the toroids in the AT-600pro. It still works, but smells. Not sure what happened, but many possibilities including operating on an antenna port without an antenna in the heat of battle. So while I still have one low power antenna tuner left, the Z-11 pro, it was meant for barefoot operation, and was planned for backup if I lost the amp and the AT-600. So plan for today, is after lunch to build a resonant 40, 80, and 160 dipole that will not need a tuner to put up for tonight. I have not been able to get the Steppir to tune on 40 yet, and each time I try, it loses tune for all the other bands, so I have not enough experience with it to understand what I am not doing right. So a dipole is simple, and within my technical capability to build this afternoon, all the parts are here. Here is a tuner picture, you can notice the tororid in the lower right hand corner is very discolored, that is from getting hot. In spite of all, I am having more fun than I have had in years, I just love being on this side of the pile-ups. It is so much fun.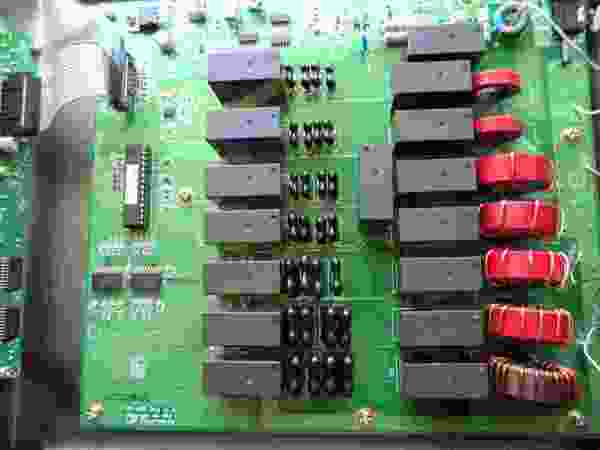 23 March -- Good activity on 17 this morning, and disapointed in the low frequency antenna work from yesterday. They are not resonant where I need them to be and without an antenna analzyer, it is to cold to be pruning them with the rig as the analyzer, so without the tuner working, it was much less than satisfactory at power. So I ran barefoot, but for RTTY, everything gets pretty hot with high swr pretty quickly, and so, just not good yet. Time will tell if it gets better. There are not many stations on the low bands to talk with that are in range I can hear even, I have listened on 160 just before going to sleep, and have not heard any, and just a few cw signals. SSN is coming back up as the sun continues to rotate back to last weeks activity area, so as the week progresses, it should get better. It is Wed already, only three more operating days after today, then pack up and head back. Time is starting to fly.

26 March -- Blinding Snow storm hit yesterday. Sidways snow coming down so fast i could not see the antennas 15 feet in front of the window at times. Still blowing snow today, but I do not think it is still coming down, just blowing around. Not that much on the ground, I think it all blows into the sea just a hundred feet from me. I am really hoping it is gone by tomorrow morning when I have to take the antennas down. Radio conditions are improving, many contacts are being made around the world on all the bands except 160, because of the cooked tuner mentioned a few days ago. Uploads to the Log book of the World are going well each night and it is showing 58 countries confirmed as of last night. Everything else holding up, and packing will begin in the morning. This week has gone by so fast, and the memories will last forever. This has been the most fun I have had for years, although i am very tired from so many hours on the bands, I know after tomorrow there is no more of this, so get it while I can. I may stay up longer tonight than ususal, and plan to sleep on the boat back (if the snow does not interfere with it's schedule).

27 March -- Now QRT -- Antennas coming down today, packing and travel on the boat planned for today. This has been the most fun I have had in as long as I can remember, thank all of you for the many RTTY contacts, I hope everyone had a chance for qso with FP during this trip, and as the sunspots rise, there will be other opportunities, I am sure. The pile-ups were fantastic from this end. All the logs have been uploaded to LOTW and ClubLog, and there will be a correction upload for the fixes I discover once I return. All the Paper QSL cards will be designed and printed on return and sent out as time permits, and buro cards will be returned when received and as time permits. LOTW is encouraged, as the fastest, and easiest for both of us, but if you want a nice color picture paper card with images of the trip, be sure to include a way for me to return it to you, or it will have to go to the bureau.