RON'S MINIATURE SCHNAUZER PAGE

"DUTCHESS" AT 15 WEEKS OLD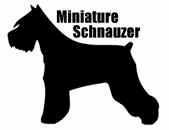 Hello and welcome to Ron's Miniature Schnauzer Page, located in Katy, Texas. Who is Ron? Please click here to read the bio. After purchasing my first Miniature Schnauzer in February of 2003, I simply fell in love with the breed. I had been looking to purchase a dog for some time, but certain conditions had to be met first. I wanted an inside dog that doesn't shed (or at least not much), a dog that doesn't have that "doggy" odor, a dog that won't get too big, a dog that is not overly expensive, and a loveable dog that exhibits a high degree of intelligence. An excellent web-site for checking out the ranking of your dog's intelligence (by breed) can be found at http://petrix.com/dogint/intelligence.html. After conducting extensive research, it was readily apparent to me that the "Miniature Schnauzer" was just the breed of dog that I was looking for. Miniature Schnauzers are alert, active, and affectionate companions who double as watchdogs. Miniature Schnauzer bark to warn, but not for recreation. They are house dogs who love the outdoors.
Unfortunately, I have had bad experiences in the past by purchasing animals from pet shops. In my opinion, purchasing a dog from a reputable breeder is definitely the best route to take. One word of caution though, be careful when it comes to choosing your pet from a "back yard" breeder. Do your research first and attempt to find a breeder that is truly knowledgeable about the breed. After careful research, I opted to purchase my first miniature Schnauzer from a local breeder who does not sell to puppy mills and interviews all potential clients over the phone prior to setting appointments. This particular breeder has a web-site titled " Promise Land Puppies ".
According to the dictionary, "Schnauzer" originates from the German word "Schnauze", meaning "snout" or "muzzle". As far as can be determined, the Schnauzer originated in the crossing of the black German Poodle and the gray wolf spitz upon wirehaired Pinscher stock. Schnauzers were originally bred to hunt mice and vermin in Bavaria (Germany) during the late 1400's. However, Miniature Schnauzers were not bred until the late 1800's in Germany. Miniature Schnauzers are the only breed of terrier that originates outside of the British Isles. The word "terrier" derives from the Latin word for ground ("terra").
There are three (3) sizes of Schnauzers as recognized by the American Kennel Club; The Miniature, The Standard, and The Giant. The Minatare Schnauzer typically stands 12 to 14 inches tall and weighs between 11 and 18 pounds. The Standard Schnauzer typically stands 17.5 to 19.5 inches tall and weighs 30 to 50 pounds. The Giant Schnauzer typically stands 25 to 40 inches tall and weighs 75 to 90 pounds. Of course, these are only rough approximations.
The American Kennel Club only recognizes three (3) official colors of Schnauzers; Salt & Pepper, Solid Black, and Black & Silver. No other colors are allowed under the breed standard.
Our family opted to name our female Miniature Schnauzer "Dutchess" as it only seemed fitting to give her a German based name. Dutchess is Black & Silver in color and was born December 28th, 2002 near Bellville, Austin County, Texas.


If you can find the time, please visit my main page which can be found by CLICKING HERE! Listed below are a few other sites that I maintain:

1)-Ron's Texas Page
2)-The Supernatural Zone
3)-Ron's Law Enforcement Page
4)-The W5WWW 09-11-01 Memorial Page
5)-The W5WWW Ham (Amateur Radio) Page



DOGS DON'T HAVE SOULS, DO THEY?-CLICK HERE!
---
ASSORTED FACTS ON MINIATURE SCHNAUZERS
Description: The Miniature Schnauzer is a very intelligent and energetic dog who has clean habits, is fairly small in size, and makes a delightful companion for either the apartment dweller or someone with a small house and yard. These dogs are strong and have an angular appearance that makes them look almost square. Thick prominent eyebrows and long mustaches are easily recognizable characteristics of this breed of dog. Miniature Schnauzers make excellent family pets. Miniature Schnauzers were originally bred in Germany, where they are known as the "Zwergschnauzer". Miniature Schnauzers were derived by crossing the Standard Schnauzer with smaller dogs.
Other Names: Zwergschnauzer
Height: 12-14 inches (approximate)
Weight: 11-18 lbs (approximate)
Colors: Salt & Pepper, Solid Black, Black & Silver
Coat: Harsh, hard, and wiry.
Temperament: Lively, very friendly, affectionate.
Special Skills: Vermin destroyer, watchdog, and family pet.
Watch dog: They make good watchdogs and do very well with children.
Care and Exercise: Brush or comb the wiry coat daily or it will become matted. Clip out knots. These dogs should be professionally clipped twice a year, in the spring and the fall. Trim around the eyes and ears with blunt-nosed scissors and clean whiskers after meals. Needs long, brisk, daily walks and loves to play off leash. Cropped ears are common among Schnauzers.
Training: Needs a confident handler who is fair and consistent. Schnauzers have a mind of their own and need variety as opposed to repetition.
Learning Rate: High, Obedience-Medium, Problem Solving-Medium.
Activity: High.
Living Environment: City or country, Schnauzers are an ideal pet for any setting.
Health Issues: Bladder stones, kidney stones, liver diseases, skin disorders, diabetes, and cysts.
Life Span: 12-14 Years.
Litter Size: 3-6.
Country of Origin: Germany (Bavaria).
First Registered by the AKC: 1926.
AKC Group: Non-Sporting Group.
Class: Non-Sporting.
Registries: AKC, ANKC, CKC, FCI (Group 2), KC (GB), UKC.

OTHER MATTERS WORTH CONSIDERING!
TO CROP OR NOT TO CROP: The Miniature Schnauzer is one breed of dog that is often seen with cropped ears. Part of the look of the "down the nose" keen expression of a schnauzer is enhanced by cropping. If you want your puppy's ears cropped, find out from the breeder if they will be done before you get your puppy. Cropping usually takes place between 8 to 12 weeks of age. Most reputable breeders prefer to wait until the ears are cropped and healed before selling their puppies. If this is not the case, find out from the breeder who he or she would recommend, as this is not a process that all vets are qualified to do. Ear cropping is an art, and if done improperly, can ruin the look of your puppy. If the ears are left natural, it does not necessarily mean they will be pretty ears. Over the years, some breeders have concentrated on breeding for correct natural ears. There is a great variety in shape, size and placement on the head. Good natural ears should be small, and well placed breaking above the skull and held close to the cheeks.
HOUSEBREAKING: One of the biggest challenges of having a new puppy in your home is housebreaking it. This is not that difficult if you keep certain things in mind. Hopefully the breeder has started the puppy on its way to knowing the difference between inside and outside. Inside is for playing and eating and sleeping. Outside is for eliminating, running and getting into all kinds of trouble, or fun, as puppies call it. A puppy who is two to three months old can't be expected to go for more than an hour or so without having to relieve himself. This time gets longer as the puppy gets larger. At first it seems like you are taking the puppy out all the time, and you are! Some breeders recommend a crate, not only for housebreaking, but for a place where the puppy can sleep and get away from the hustle and bustle of a busy household. It is not cruel to put a puppy in a crate. Just remember, everyone likes his own space, and to a puppy, it is his crate. It also serves as a means to preventing to chewing on furniture when left unsupervised.
After you have introduced your puppy to his new house, you will want to confine him to a certain area, perhaps the kitchen or laundry room, where you can supervise him closely. You will need to take him out after he wakes up, after he eats, and often in between those times. If you find that you can't watch him closely, put him in his crate. A puppy will usually not soil his crate or sleeping quarters. The crate should be just big enough for the puppy to sleep in and should have some soft, washable bedding in it. After you take your puppy out of its crate, take him directly outside and praise him for doing his "duty" or whatever you wish to call it. Then he can go back inside. You will be surprised how quickly they catch on. Never hit your puppy, or rub his nose in his accident. The instant an accident has occurred, the puppy has forgotten. Take the puppy outside to the area you want them to use and PRAISE, PRAISE, PRAISE! Do not leave a puppy in its crate all day. At 6 weeks, a puppy can last for about four hours without eliminating. By week 8, five hours. By 12 weeks, six hours and by the time the puppy is five to six months old, the puppy should be able to wait an average workday- 8 hours if necessary.
SCHNAUZER BUMPS: "Schnauzer bumps" or schnauzer comedone syndrome, is a condition affecting schnauzers that produces pus filled bumps which are most often located on the Back of the dog. It is an inherited condition present throughout the dog's life and there is no cure. However, there are some things that have provided relief to dogs with this problem.
1. Use a dandruff shampoo, such as Selsun Blue, or one called SeboRx, available from your vet.
2. Keep your dog in a stripped coat or clipped very short.
3. Use vitamin E daily.
4. Bathe dog on a regular basis.
5. If allergy related, try changing food. Try avoiding foods containing "corn".
Some breeders have found that sunshine seems to improve this problem. Schnauzer comedone syndrome seems to be less of a problem during the summer months.



SITE AWARDS-CLICK BELOW!

ASSORTED LINKS TO OTHER SCHNAUZER RELATED SITES




E-mail Me At:

[email protected]
CLICK HERE TO GO TO MAIN PAGE
Visitors as of March 16th, 2003