Networked Radio User's Group
W5NRU/R, 145.230- (136.5 Hz Tone)
W5NRU/R, 146.895+ (136.5 Hz Tone)
W5NRU/R, 443.650+ (136.5 Hz Tone)
W5NRU/R, 442.250+ (136.5 Hz Tone)
145.230 Repeater Update - June 2006
442.250 Repeater Update - February 2006
443.650 Repeater Update - November 2005
146.895 Repeater Update - September 2005
Hurricane Katrina - August 2005
Contact Information
---
7:46 PM 6/29/2006
Since Hurricane Katrina, we have been working hard to get things back to normal around here, at home, at work, and in the ham venue. The opportunity arose in recent days to find and correct what was, hopefully, the last nagging trouble left with the 145.230 repeater since Katrina. The new temperature compensated crystal modules finally arrived, and I was able to install them, along with a spare exciter, to bring the repeater back to its full quality functionality. This allows for enhanced frequency stability on both transmit and receive. It also corrects a Katrina related oxidation issue on the exciter that affected transmitted audio.
We are still on track for the 222-MHz linking project. Progress is being made. The next hardware installations to the 145.230 repeater will be the addition of the 222-MHz link radio and antenna that will access the inter-city link hub repeater. (While we continue work on this goal, we still take time to have a little casual operating fun. All work and no play...)
In addition to the other work listed here, we are making use of EchoIRLP. EchoIRLP is the name given to modified IRLP nodes that have the capability to make and receive EchoLink connections. IRLP, like EchoLink, is an Amateur Radio implementation of VoIP (Voice over IP). IRLP, and EchoIRLP, run on the Linux operating system. Okay. To make a long story short, EchoIRLP can be accessed via the 145.230 repeater. There are a few differences between the default EchoLink DTMF commands and those needed to operate this EchoIRLP node. I will soon be posting access information here. Meanwhile, if you need information on how to access or operate the EchoIRLP node, you are welcome to contact me directly. Local stations wishing to use the repeater to make IRLP contacts are encouraged to read the documentation found at http://www.irlp.net/guidelines.html.
Remote IRLP and EchoLink users, please take note of the following. You may make incoming connections via IRLP to node number 5980. EchoLink stations may connect to AA5SG-R, EchoLink node number 1545. (Note: IRLP and EchoLink node numbers are assigned from different databases. This is why there are different node numbers.) Finally, it has become necessary to inhibit remote access from EchoLink keyboard/headset user nodes. This was done to prevent the high volume of nuisance connects by neophyte EchoLink keyboard/headset users who do not have their firewalls and/or routers properly setup. (Proper firewall/router setup is necessary to allow two-way communications to take place.) Exceptions have been made for some EchoLink keyboard/headset users. If you wish to apply for an exception, so you may connect as a keyboard/headset user, please contact me directly with your detailed request.
Steve Grantham, AA5SG
---
3:34 PM 2/11/2006
A temporary antenna structure was erected for the 442.250 repeater on the ridge overlooking Laurel. With the restoration of local internet services and power, this allowed us to restore EchoLink access for the Ellisville-Laurel area. This is AA5SG-L, EchoLink node number 1512.
Steve Grantham, AA5SG
---
6:55 PM 11/18/2005
Undamaged by Hurricane Katrina, the 443.650 repeater remains on the air in the downtown area of Laurel near the Beacon Street exit from I-59. Though this repeater has limited coverage, it covers the Sawmill Mall, surrounding businesses, the EOC, and nearby police and fire stations. It was installed to facilitate special events, including the annual Christmas Parade, the annual Independence Day celebration, emergency public service, and everyday use by local hams. This repeater responds to 100.0 Hz CTCSS.
Steve Grantham, AA5SG
---
4:22 PM 9/15/2005
The 146.895 repeater, which went off the air during the storm due to antenna structure failure, was temporarily relocated to a surviving antenna system in Laurel. The repeater was then made available for post-hurricane relief operations.
Steve Grantham, AA5SG
---
1:54 PM 9/11/2005
Around 8:50 AM on August 29, 2005, we lost power in the Ellisville area of Jones County MS. Hurricane Katrina hit the area with category-3 strength. Our area endured the eastern eye wall winds and feeder band tornadoes with sustained winds and gusts out of the east and then from the south. Jones County suffered long power outages and other pole line utility outages due to the huge number of broken and uprooted trees that fell. Notable damage occurred in the Southern part of Jones County with the fall of at least two radio towers. Katrina left virtually all residents of the area without power, telephone, cable, and internet services. I was without power at my home near Ellisville for two-weeks. I do not know when telephone, cable, and internet services will be restored. Pictures showing the aftermath of Hurricane Katrina are presented here.
Steve Grantham, AA5SG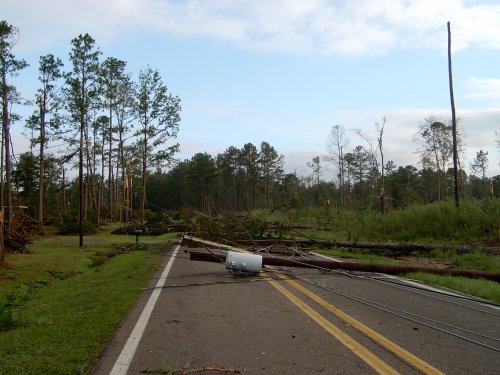 ---
This is an official web page of the Networked Radio User's Group (NRUG).
Queries may be sent to Steve Grantham, AA5SG

Page Last Modified: 7:46 PM 6/29/2006