Setting up shop
Some of the interesting shots of the W5AJ Rohn 25G tower
This installation is taking place in 2003.
And the gasoline driven digger was low cost comparied to what it would have cost in time to recover.....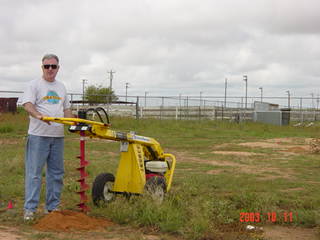 This is shot of project start.
Gasoline powered. Less pain then posthole diggers in WTX soil
AJ plate on Left Rohn plate is on the right
just south of the Crank up tower (see tower #1 page) Tower sections moved to location.
Hinged base. 1st ten feet in place
Concrete on base & guy posts was hand mixed 5000psi premix from hardware store. the 5000# version would setup to something like 2400psi strength in 3 days.
After getting ten feet up the section is laid over and another 20 feet added.
Setting the lower guys.
Bigger saw horse being put into place
Add another 30 feet & now 60 feet done - is ten open ?
note date on picture (I think Oct 26th was highest SFI for the eleven year cycle)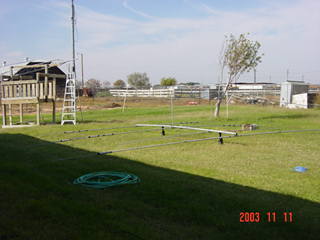 Assembly of A4 with 40 meter kit.
that is a WTX Apple tree behind the A4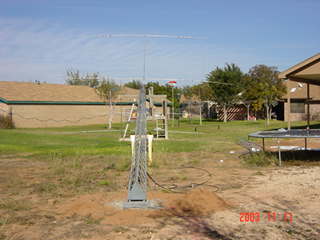 From the hinged end
20 feet of 25G on ground to right.
Note antenna assembly platform (some think this a trampoline)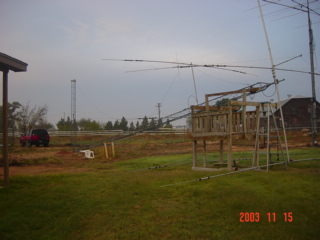 Early Saturday morning SS SSB 2003
With the help of my wife the 20 foot tower for lift cable is raised
and everything is in place for a lift shortly after 8 am
had planned this to be one person setup but had a guywire problem on the 20 foot tower.
tnx to the wife for bailing me out on that one.
there's another story there about always carrying a cell phone ....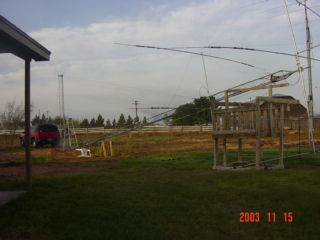 The lift begins as the tower comes off the sawhorse
Stopped at this point to double check lift cable
Almost vertical - note bird already checking out the A4
The manual (no computer) calculations showed at this point the tower could be hand pulled vertical
Wasn't a cake walk either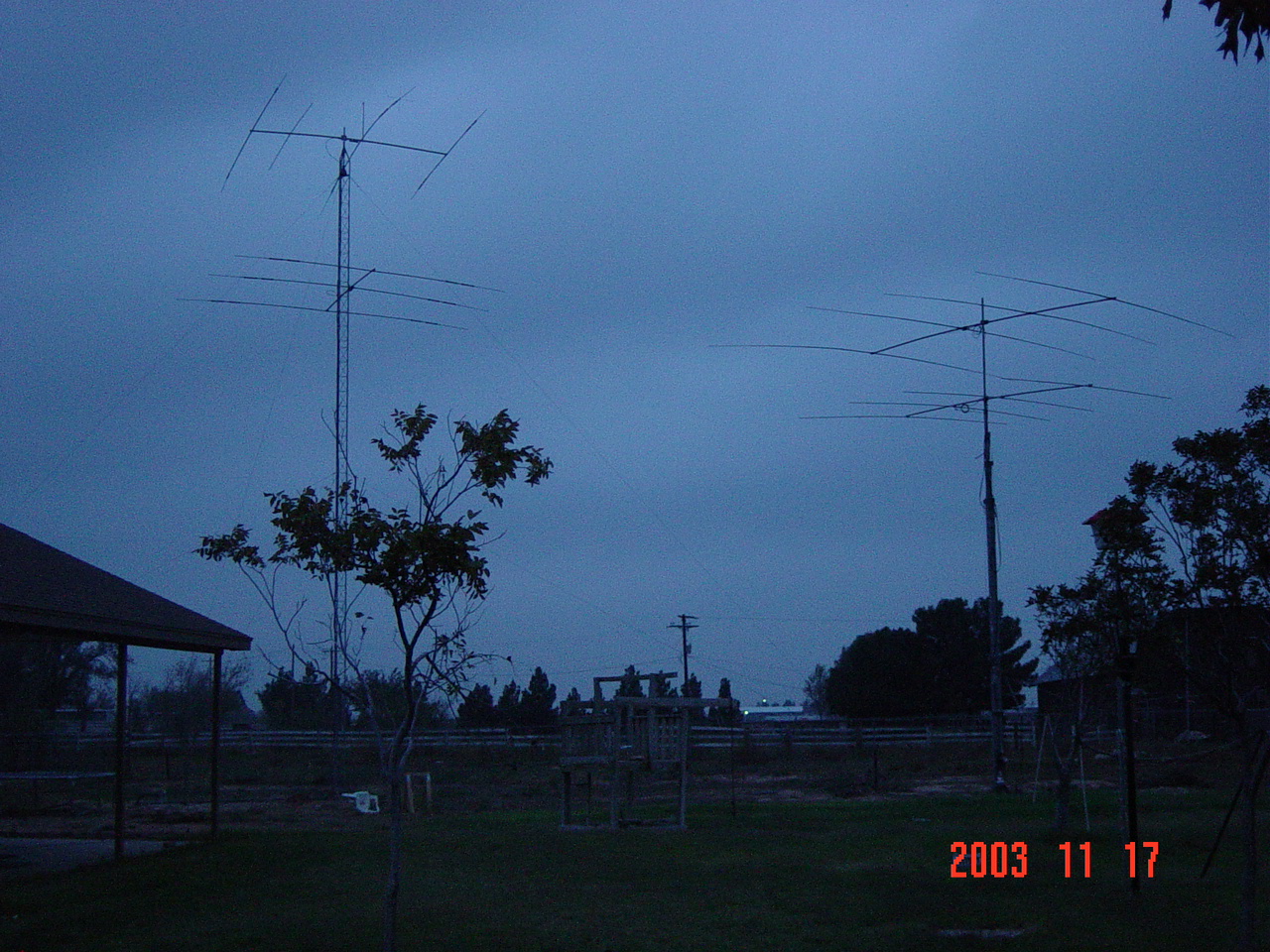 Taken just before sunrise Monday morning after 2003 SS SSB weekend
small print - this is not a design page - this shows the installation of a rohn 25G using a hinge plate similar to Rohn's. Hours of calculations were done to match conditions, tower & equipment and insure nothing was over stressed.
Work going on inside the shack building upper shelf
============================================================
Tower work in 2004 - installing new thrust bearing, top plate, new rotator and cable

============================================================

in the background sound you are listening to a QSO with cv5h

that is used in the UBN study by W5AJ

This page added 2003 Nov & is developing as time permits note not all pictures and text maybe uploaded
---
This page maintained by W5AJ
Please send your comments and suggestions to w5aj at arrl net