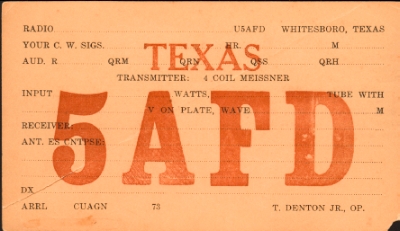 Some History of the 5AFD Callsign
First I would like to thank Doug Hensley (W5JV) for the pictures of the 5AFD Station and information on some of the history of the callsign. The first 5AFD was Doug's uncle who now resides in California.
Theo (Ted) Denton Jr., now N6AHY, was the original 5AFD. The picture above is a scan of one of his original QSL Cards from the 1920's which he generously sent to me. Mr. Denton is retired from CBS and Station KNX where he worked from 1935 to 1973. Mr. Denton is in his 90's. The information below comes from a letter Mr. Denton wrote to Doug in August of 2000 and a letter he wrote to me in September of 2000.
The pictures of the station (links below) were taken between 1924 and 1927. According to Mr. Denton, the receiver was a simple regenerative detector and one audio stage with hand wound inductances. The tubes in the receiver were UV (or UX) 192 detector and 120 audio.
Mr. Denton says the transmitter was a "Four Coil Meisner" using a RCA or Cunningham UV/UX 202. The transformer was an RCA UP1366 with a plate winding of 1100 volts, center tapped, and two filament windings of 7 1/2 volts.
He says when he first went on the air in October of 1924 he had to use raw AC for plate supply for lack of money.
Mr. Denton also said he had a Jewel filament volt meter and a Hoyt hot-wire antenna current meter and in 1924 or 1925 a friend loaned him a 500 volt DC motor generator that gave him a much better signal.
He also recounted that he sometimes used a push-pull oscillator in the "Four Coil Meisner" when he had two 202's and used an absorption loop for modulation which he says sounded great with an old telephone mike.
Mr. Denton goes on to talk about the "five watt 202" and that hams with more meters than he had said they could get 30 watts out. He said they would put the tubes in a glass of oil for cooling purposes.
Again thanks to Doug Hensley for the Pictures and sharing the letter from Mr. Denton with me. It is greatly appreciated.
5AFD Ham Station View #1
5AFD Ham Station View #2
5AFD Ham Station View #3
5AFD Ham Station View #4
5AFD Ham Station View #5
5AFD Ham Station View #6
Return to Home Page