W4RAZ HAM RADIO SCRAPBOOK...
As a youngster I was fascinated with ham radio when I overheard a local ham "testing" on my little cereal box radio. Come to find out, he lived just around the corner and was overpowering my broadcast band radio.
Other local hams shared their love of the hobby with me, but it wasn't until I entered the US Air Force in 1962 and met "Joe". He inspired me to get my ticket , and in 1965 I became WN8SLV. Joe, K8JRE, has remained a friend and he and his wife Renee are my daughter's GodParents.
---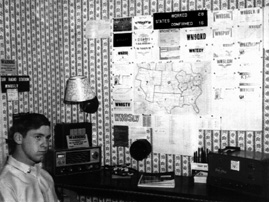 WN8SLV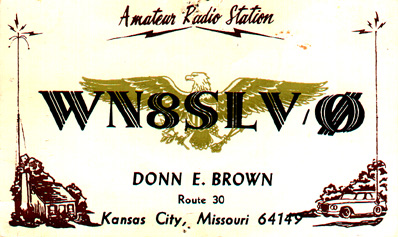 ---
After completing 4 years in the military, I returned to my hometown, Battle Creek, Michigan, and soon upgraded to WB8GCB in 1970. I was a Newspaper Photographer and worked for the Battle Creek Enquirer & News, and then the Marshal Evening Chronicle.
---
WB8GCB
---
In 1967 I had changed careers and joined the Battle Creek Police Dept. as a Patrolman. After 6 years of "harrassing" the locals, I moved to Naples, Florida and in 1972 became WA4CDO.
---
WA4CDO
---
It's too hot! that's what my family was telling me... too hot in Florida...So back to Battle Creek in 1973 and a new call.... WB8RAZ!
---
WB8RAZ
---
Guess what?... It's too cold and the snow is too deep, we miss Naples!
So in June 1978 we packed all our belongings and headed south once more..this time I hope for the last time! It has been 20 years now and everyone seems to be happy here in paradise. The kids are married and raising their own kids, and I am back in the photography business and enjoying it. I have made many ham radio friends over the years and was active in our local club, serving as president for several terms. I am still on the air, although with not as much gear as in the past, and not as much time.....but I do get out!
---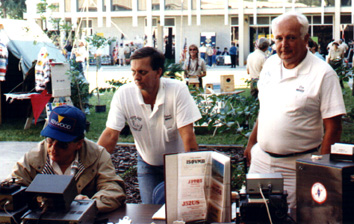 Here are 3 of my very good friends, John, KM4MB, Darwin, WD4GXT, and Don, WD4FLY at a Boy Scout Jamboree in Ft. Myers, Florida in 1990!
---
I upgraded to Extra Class in 1986 and in 1996 changed my call to W4RAZ!
---
---
Well, I hope you enjoyed my scrapbook and maybe we can meet on the air one of these days ... 73-Donn