W4LMA Field Day'98
---
… page down for more …
Starting off with Carter/WA4NRY, our Chief Photo-Eng, as he explains the
finer details of the Field Day photo-mission…..say cheese…
---
Chief Cook Gary/KF4WOY at work, so where's the Beef ?
This year we had a great picnic, thanks to Gary & some FB help.
Several family members and guests joined the picnic and were
Treated to good food and a chance to see emergency communication at work.
(We think of it more as play….)
---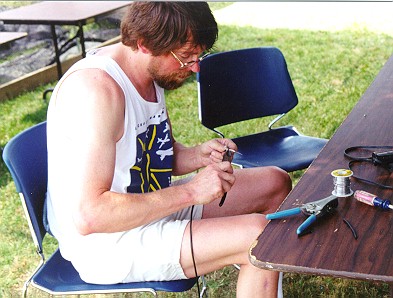 Here's what it's all about (note the required FD fan).
Ray/KS4EG and Gary/KF4WOY making points.
---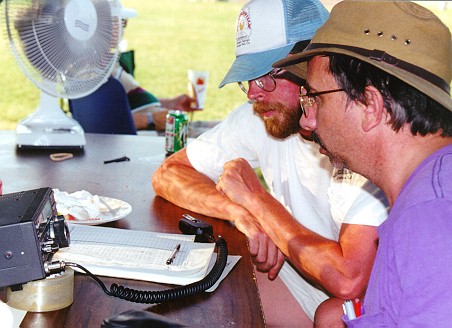 "New and the Old", FCC licensees.
Brand new KF4YST/Sid (left) with old-timers Ray/KS4EG and Ron/AA4RP.
Ray is our Antenna Ace and put up a Horizontal Loop this year.
Ron is and has been the real force behind W4LMA field day success.
He organized, setup, operated, picnic'd, tore down as well as collected
log data, formed the entry and sent it in - many thanks to Ron.
---
Here's another real force behind W4LMA field day, Bob/K4ZD.
Notice the tent like structure on the 2nd image above - it's Bob's do'n.
Bob's our Chief Structural Engineer & Ace QRP CW OP. Bob & Bob/W4ED
operated QRP CW (5 watts) for a ton of FD contacts and points for W4LMA.
Bob put up a rotatible aluminum tube 10/15 meter dipole too.
Notice the "Air-Conditioned RV trailer" behind Bob - very nice touch to FD'98 -
Thanks John/N4IFI and Linda/N4QQS for bringing your RV.
---
Our youngest guest operator & just wait till he can "Do Dit-Dah" CW.
---
Here's Ron/AA4RP again, staring in next years JF sequel to "CONTACT"

…. comeback………..will somebody comeback please……
---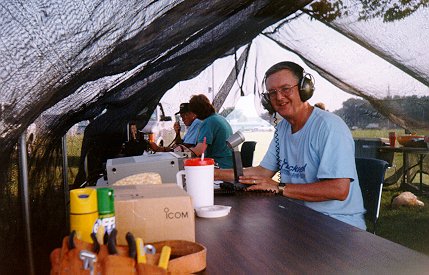 ---
Special Thanks to Carter/WA4NRY for these perfect pictures, and Carter for your
support and operation during field day.
Thanks also to the MIGHTY field day operators:
Bob/K4ZD
Cathy/K4BYU (Mrs-K4ZD)
Nick/KK5MM (W4LMA Pres & CEO)
Joan/(Mrs-KK5MM)
John/N4IFI
Linda/N4QQS, highest number of contacts, congrats !!
Ray/KS4EG
Ron/AA4RP
Gary/KF4WOY
Carter/WA4NRY
Bill/WB7QFO
Sid/KF4YST
Bob/W4ED
---
We were vary pleased to have three ladies operate
FD'98 and hope to have several more next year,
they really did attract contacts !!
We also had several guests and hope to see them next year.
Maybe some will dive in and get licensed too…
---
back to home page
W4LMA

Last Updated on 20 SEP 98
By Bob Edwards