W4YCH & W4MLF


Home Page
Updated - July 24, 2000

From: Don, W4YCH & Mary Lou, W4MLF
Kennesaw, Georgia
OM, licensed in Springdale, PA in 1953 as a Novice WN3YCH. In February 1954, I upgraded to General Class and dropped the "N" in the call. In 1966 while living in LaPorte, Texas I upgraded to Advanced Class. Other callsigns I have held through the years: K2LWN, Syracuse, NY; WA4DWN, Palm Bay, FL; WA4WBV, Huntsville, AL; WA5LOR, Long Beach, MS and LaPorte, TX; WA4DWN and KB4SA, Kennesaw, GA. Under the vanity program I requested and received W3YCH in June of 1996. In April 2000 I upgraded to Amateur Extra. In July 2000 I received W4YCH. Special interests: Collecting, restoring and operating vintage AM and SSB equipment, DX'ing, computing and working on this home page.

XYL, licensed in LaPorte, TX in 1967 as a Novice WN5ZLC. In October 1970 in Decatur, GA, she upgraded to General class and received the call WB4PMY. Under the vanity program she requested and received W5ZLC in July of 1996. In May of 2000 she requested and recieved W4MLF. Special interests: Crafts of all types, knitting and crocheting.
The operating positions & HF antenna
Studio "A"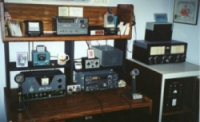 Click for larger image
Studio "B"


Click for more images