"The Pelican model 1420 Marine Utility Case is a gasketed waterproof flip-top composite polypropylene enclosure. It is suitable for mounting compact mobile transceivers, battery, antenna tuner, and whip antenna mount. The model 1420 is intended for use as a small boat gunwhale-mounted utility and tackle box... but it is just what hams have been looking for as a strong trans-portable grab-and-go station package.

The case provides optimum form factor, similar to military-style manpacks for shoulder or backpack-style carrying. Different from attache case type enclosures, the top-opening lid makes easy access to radio and tuner front panel controls for operation in either an upright or laydown position. The depth of the 1420 case easily accommodates mounting of HF transceivers such as the Icom IC-706, Yaesu FT-100, SGC-2020, Elecraft K2, Yaesu FT-817, or similar common VHF/UHF and HF mobiles.

With a transceiver mounted in the case, there is still ample space for mounting a high-capacity portable battery system (up to about 25Ah), a an antenna tuner or amplifier, and stowage for antennas. For use as a shoulder or backpack-carried unit, the original gunwhale mounts may be easily dis-assembled and/or completely cut off with a hacksaw to provide a thinner profile. A nylon carry strap may then be clipped or threaded through the slots of the gunwhale mounts.

With the addition of a mobile antenna mirror mount, ball mount, or the Superantennas FT-817 mount attached to the case side, the enclosure provides an almost indestructable portable station in a box.

Specifications:
Inside dimensions: 3" L x 5" W x 10" D inches
Outside dimensions: 15" L x 8 1/2" W x 10 1/2" D inches
Color: Black
Weight: 4 pounds
Cost: about US$49 to US$82"

Bonnie Crystal, KQ6XA
In the case goes an LDG Z-11 Tuner, Superantennas MP-1, A battery or two, An Amp, A Key, A speaker, A Mic, Tools and Don't forget "Counterpoise" It All fits in the case PLUS-A Handle and a Strap You could also put an SGC-2020 in this case instead.
This is a hard case and it was waterproof until I drilled holes it it. It is still rainproof and it fits into the console of my Tahoe Truck. It has attachments for a shoulder strap. Now I feel I can be in any kind of weather and use this setup. There is an antenna hookup on either side of the case allowing for HF/UHF/VHF Operation.
I still need to add a Microphone connector to the outside of the case so I can operate with the top closed. Also if I pick it up by the handle without closing the lid securely, nothing spills out as with other kinds of cases.
I had to slice off two "fins" that aided in making the box secure to the gunwhales in case of a boat tip over. Since I'm not on a boat, this seemed to be of little consequence. I used a flat bladed soldering tip on my soldering gun to do this.
Please click on the thumbnails to see the larger images and use your Browsers "Back" Button to return to this page.
Sharyl, W3VET


More ALICE PACK

top_right side

I hated to cover the Logo but balance was important

One can also use a BNC to banana blug adaptor to hook
up a dipole or Mini-Bac by
Bonnie Crystal, KQ6XA
Home -click Here
Email me - click Here
Visit AJRanch - Click Here

The All Weather Travel and Operating Expedition and BackPack Case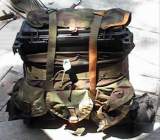 The Pelican case works on the back of an ALICE PACK


Note that the case sits at an
Angle for easy viewing and access.
The MP-1 base slides into a
slot on the removeable gunwhale mount. Nifty


Detail of the MP-1 Hook-Up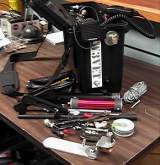 Here is the case with the accesories that fit inside


The external power and charging plug fits under the lip on the outside, thereby keeping it out of the way.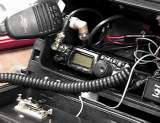 A Small Key fits right into the lid.
Note the UHF connection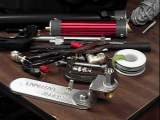 An example of some of the things you may carry inside the case


The tuner has a ground strap attached to this banana plug.
I use this to ground the rig
to the Tahoe or to hook up counterpoise


Tuner to Amp Connections