---
---
Links
CCAR Training Program Information

Online CCAR New Member Registration

CCAR EmComm
Training Program Graduates
National Homeland Security Knowledgebase
---
---
2nd Edition Level I Course--
Self-study made easy here!
CCAR's FREE On-Line Study Aid for the ARRL Emergency Communications Level I Course

---
---
December 8, 2004--News of a Soon-to-be-announced Hybrid Level I Emergency Communications Course is Coming! Watch This Space!

Dec 6, 2002--Updated Level I PowerPoint Slides And Course Materials Available to Other ARES-RACES Groups

Thanks to the diligent work of Cullen Langford, we have a new set of PowerPoint slides for teaching or reviewing the Level I classroom course. This set contains the entire multiple-choice question pool; For each question there is one slide presenting the question and all possible answers, another with the correct answer, and a third that explains the correct answer. The file is CCARKIT2.EXE, a self-extracting zip file, 237KB. To download the presentation, click here! A complete file of full classroom course materials is available as CCARKIT.EXE (15+MB Big!) Download it by clicking here!
Sharing go-kits reveals many tips! (Fall, 2002)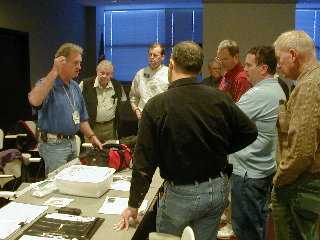 AA3QN Photo.

AA3QN Photo. Thanks Dana!
If you have any questions concerning this site, contact Lor Kutchins, W3QA.

This page last updated
December 8, 2004
Copyright © 2001, 2002, 2003, 2004 W3QA

You are visitor number
since 4 January 2002