Link to www.qsl.net

"UNITED STATES AMATEUR RADIO STATION"

W2TSA

WELCOME TO THE HOME PAGE OF AMATEUR RADIO STATION "W2TSA" AS OF 11/8/02. FORMERLY WA2LOW SINCE 1961 AND WV2LOW- NOVICE 1960-61. TRUSTEE OF CLUB STATION WV2LOW,(GOT MY ORIGINAL CALL BACK!) FORMERLY WB2EUU PRIOR TO 11/8/02 AT MEXICO HIGH SCHOOL.RETIRED IN AUGUST 2000 FROM TEACHING HIGH SCHOOL BIOLOGY AFTER 33 YEARS AND NOW OCCASI0NALLY SUBTITUTE TEACH AT MEXICO. I AM PRESENTLY EMPLOYED AT SYRACUSE HANCOCK INTERNATIONAL AIRPORT BY THE TRANSPORTATION SECURITY ADMINISTRATION, OF THE UNITED STATES DEPARTMENT OF HOMELAND SECURITY.(TSA-"W2TSA")THE STATION OPERATOR IS DAVID B. BROWN AND THE QTH IS OSWEGO,NEW YORK. CLASS PRIVELAGE IS ADVANCED (YES...A REAL 13 WPM HAM! ACTUALLY I COPY 22WPM!) THIS IS A "NEW" WEB PAGE AS I AM JUST LEARNING TO BUILD WITH HTML,SO PLEASE HAVE A LITTLE PATIENCE WITH ME!! MY EQUIPMENT IS AS FOLLOWS: HF...KENWOOD TS-530S, HEATH DX-20, HAMMURLAND HQ-145 VHF...AZDEN PCS-3000, DRAKE TR-22, ALINCO DJ-C1T, RS HTX-242 UHF...RS HTX-404 VHF/UHF... RS HTX-245 TA-33JR, W2RU LOADED DIPOLE 750 OHM FEED, 14 AVQ VERT., 4 ELE HB 12 METERS, ANT/VHF 7 ELE 2 MTR, 2 MTR RINGO RANGER VERT., 5/8THS WAVE MOBILE, 2M/70CM DUO CAPACITY FED, 70CM GND PLANE HB. TUNER...MFJ-941D, TNC...MFJ-1278B, COMP...AMD ATHALON 650 MHZ/WINDOWS XP PRO, 20GB HD. SSTV SOFTWARE...MMSSTV 1.08. JVCOMM32(REGISTERED) MODES...FAVORITE...CW,SSTV. OPERATE RACES AND NWS SKYWARN. OTHER HOBBIES... ULTRALIGHTS, CHARTER MEMBER ULTRAFLIERS OF CNY USUA #147, MUSIC...DIRECT AND PLAY LEAD TRUMPET IN A 14 PIECE SWING BIG BAND "HARBORLIGHTS",FORMER BOARD MEMBER OF LOCAL 267-441 AMERICAN FEDERATION OF MUSICIANS. I AM A MUSIC MINISTER AT ST. STEPHEN'S CHURCH...SING BASS IN CHOIR AND CANTOR TEAM MEMBER OF ST.JOSEPH'S COUNCIL #254 KNIGHTS OF COLUMBUS, 4TH DEGREE. I AM A RETIRED HIGH SCHOOL BIOLOGY TEACHER OF 33 YEARS, MARRIED 34 YEARS TO XYL DONNA WITH DAUGHTER MICHELE, GRANDDAUGHTER AMANDA AND DAUGHTER BETHANY...RILEY THE BASSETT HOUND AND CASPER THE VERY FAT "WHITE" CAT! I HOPE TO "BUILD" ON THIS SITE TO ADD, I HOPE, INTERESTING LINKS! 73'S DAVE-W2TSA Send me e-mail
"THIS SITE IS A WORK IN PROGRESS PLEASE HAVE PATIENCE!"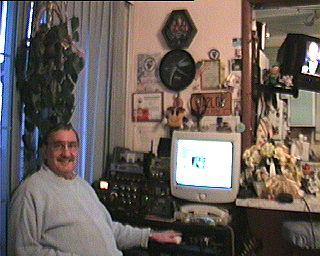 THIS IS MY BAND: "HARBORLIGHTS"
"SPECIALIZING IN SWING"
THIS IS AGENCY I WORK FOR:
THIS MY DOG "RILEY" & CAT "CASPER":