The Great Tour of China
~~~~~~~~~~~~~~~~~~~~
An exclusive 4x4 Adventure Drive exploring the hidden wonders of China's ancient civilization and awe inspiring scenery!! Come and join TEAM LAB ROVER
~~~~~~~~~~~~~~~~~~~~~~~~~~~~~~~
Jim and Andrew are planning yet another exciting trek for the Fall of 2003. They will be one of a limited number of teams that will venture into the heart of Mainland China!
The Great Tour of China is a touring event designed to allow drivers of 4x4 vehicles to discover some of the hidden wonders of China. The event will not only take them to see the admissible tourist highlights but will also allow the team to delve deeper into the culture and country of this ancient civilization.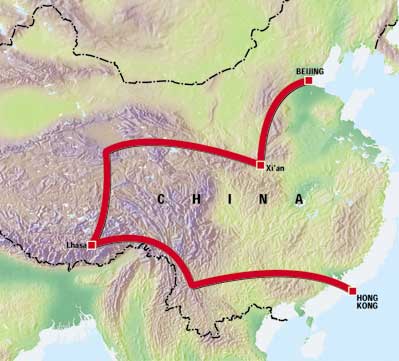 The adventure will start in early September 2003 and will last for about four weeks. This timing slots it neatly between the summer Monsoon season and the harsh Tibetan winter.

The route will be finalized after a full survey of the area in Autumn 2002. The current plan is to start from a major Beijing landmark and then to travel via the Great Wall, Inner Mongolia and the Terracotta Armies at Xi'an into the once forbidden kingdom of Tibet. After spending time in magical Lhasa the teams will continue into the lesser known parts of Tibet and from there via the delights of China's Southern Provinces to a gala finish in Hong Kong. The total distance will be approximately 9,000km (5,600 miles).

The event is organized by the 4x4 Explorers' Club; part of HERO - the Historic Endurance Rallying Organization, in collaboration with the Federation of Automobile Sports of China (FASC). Although HERO is better known for organizing events for classic cars, they actually pioneered this type of 4x4 event in the shape of the London - Cape Town 4x4 Adventure Drive in 1998. This was followed up by the Inca Trail 4x4 Adventure Drive in 2001.

The roads used will vary from brand new multi-lane highways to ancient tracks that may have been affected by the weather. Be reassured that we have no intention of getting vehicles stuck in lagoons or winching them out of raging torrents. In short, the roads will be interesting, challenging at times, but never impossible.
As Team Lab Rover has done in the past, a complementary interactive educational component will be developed age appropriate to Middle School students. An on-line "virtual" field trip will enable students to "ride along" in the Rover truck. For more information and to receive e-mail updates drop us a note at: [email protected]ver.com.
Jim, Andrew, Rufus & Cleo!!