! mcable98 COPYRIGHT (c) 1998, 2006 - Thomas B. Perera Ph. D.: 02-15-2006 >
These WEB pages are dedicated to the PRESERVATION of Telegraph History, Lore, and Instrumentation. You will find an On-Line Cyber-Museum with (copyrighted) downloadable illustrations showing Collections of Telegraph Instruments, Microphones, and Radios, a Telegraph History and Bibliography, Telegraph Lore, Museums of Scientific Instruments, Antique Psychological Instrumentation, and links to other sites of interest. As a telegraph operator and collector for over 45 years, I have amassed a collection of over 500 telegraph instruments. I actively trade keys from my collection and - - - - - I AM ALWAYS LOOKING TO ACQUIRE OR PHOTOGRAPH OLD AND UNUSUAL KEYS ! ! !
---
Click BACK to return to previous page.

UPDATE ON 1998 UNDERWATER SALVAGE DIVING EXPEDITION TO
RECOVER SAMPLES OF VERY EARLY SUBMARINE TELEGRAPH CABLES

I have always been fascinated by the early transatlantic telegraph cables which linked, for the very first time, Europe and the United States beginning in 1858. Here is a picture of one of the original ships laying the cable (39KB). and here is another picture of the laying of the cable (29KB). As you can imagine, this was an absolutely incredible undertaking at the time and it allowed nearly instantaneous communication between the United States and Europe instead of the several-week delay necessitated by using ships to carry the messages.
For a number of years I have been interested in trying to locate and recover some of these very early cables from the depths of the Atlantic ocean. This is a report on this year's (1998) expedition:
This year, I was able to recover a total of three long-submerged cables. I recovered two of the cables on solo dives from a boat that I chartered, and the third cable was recovered with the help of a professional dive boat and a professional diver who assisted me in cutting through the cable.
I started out this year's expedition with a trip to the several libraries and museums. They have some interesting materials relevant to telegraph cables in their archives and a nice old photograph of A Cable Shack and Cable Tunnel:(3KB) That shows where some of the cables came ashore.

I went to the shoreline to see whether I could find any trace of the shack or of the cable and found: a typical condo laden sandy beach:(16KB) with absolutely no sign of any cable... BUT, speaking of cables, I did find a paint splattered WARNING sign:(27KB) which made me very cautious about cutting pieces of the cables that I found in deep water... I went back to the books and double checked that the cables that I planned to cut had been abandonned for over 100 years.

This year I chartered an absolutely wonderful Hunter 34 sailboat:(5KB)
The weather was absolutely Ideal and the diving was easy. The only problem was the extremely poor visibility near the bottom. This picture shows the low visibility at one site:(5KB). As you can see, the visibility was so low that I could barely see my watch and my hand holding the cable. Nevertheless, I did manage to recover pieces from two different cables on these dives.

The final dive was made from a boat which I chartered from a wonderful dive operation that I have been diving with for over 28 years. A professional diver accompanied me on the dive to help me cut the larger cable and took This picture of me cutting the cable:(8KB). As you can see, the visibility was not very good at this site either. When I got close to the cable, however, I was able to get a very clear photograph of the cable after I had cut it:(29KB).

After I raised the cable, I kept it moist to prevent it from drying out and starting to rust. This picture shows the cable under wet towels on the deck of the dive boat:(17KB).

I wrapped the cable in several layers of duct tape to prevent it from drying out and, when I reached my home, I cut the duct-tape-wrapped cable:(18KB) into short enough lengths to fit into the electrolytic bath.
The cables were theng conserved by electrolysis. They are bubbling busily in a large plastic container:(15KB) as I removed the salt which has infiltrated into the iron during the 100+ years under the ocean. For more details, you may want to visit my description of
last year's (1997) diving expedition.
Before immersing the cables in the electrolytic bath, I took a photo of the end view of each of the three cables and they are shown below.
I will post pictures of the dive trips and more information about the cables as soon as possible.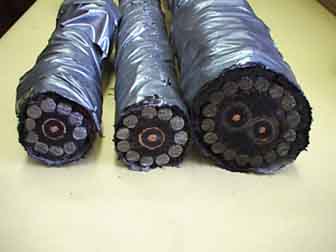 The first photograph shows the three newly recovered cables side by side before they were immersed in the electrolytic bath. The Duct tape was used to assure that the cables did not dry out during the long trip to my home.

The first cable is very similar to the cable that I recovered during the 1997 diving expedition. Like the 1997 cable, it has a total of 10 strands of iron cable in the protective outer layer.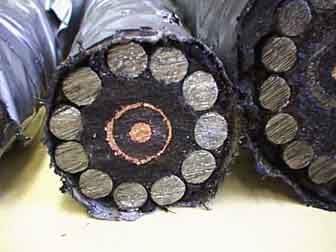 The second piece of cable is also very similar to the 1997 cable with the exception of the fact that it has 11 strands of iron instead of 10 in its outer layer.

The third piece of cable is quite different from the 1997 cable. It has a total of 17 strands of iron instead of 10 in it's outer layer and it has two inner conductors protected by not only a copper Torado worm barrier, but also a lead barrier outside of each worm barrier.

More photos and information will be added to this page as soon as they are available..
I will also update these pages as I try to recover all six of the underwater cables. They will provide samples of the technological improvements in cables from 1866 to the 1900's and allow me to analyze how well they have survived over 100 years under the ocean.
---
Click BACK to return to previous page.

---
Profe<! df@er.com>ssor To<! asas@aws.com>m Per<! uruer@dhr.com>era
Montclair State University

<! sdol@asdfln.com >Email Address:
<! dalr@dsal.com>(I receive over 200 sp<! dsf@dfnbo.com>am messages daily.
To help me avoid them, I ask you to type my <!sadf@awer.com> email <! sddf@aer.com> address as follows with no spaces between words:)

<! li afel@mndi.com sfg@asd.com dsofn@festf.com jdid@mops.com >
PLEASE TYPE: <! jfj@fods.com >keys <! odod@njdso.com >


THEN TYPE THE <! eie@noo.com ?>@<! 848@nmdl.net> SYMBOL


THEN TYPE: w1<! w1>tp.<! dhi@o@o.com>com


Please NOTE: It is w1<! sdl@ww1>tp Not: wLtp or wItp.
Please NOTE: You MUST include the word<!df@ee2@wdfr@> KE<! dsf@ewr.cp>YS in the Email Subject Line.
( Please Inquire Before Sending Attachments Larger Than 100KB ! )
Internet On-Line Telegraph & Scientific Instrument Museum:
http://w1tp.com
or:
http://www.chss.montclair.edu/~pererat/telegrap.htm
Internet ENIGMA Museum: http://w1tp.com/enigma

---
OTHER INTERESTS AND HOBBIES:
Extra Class Licensed Amateur Radio Station - W 1 T P
First licensed in 1953 as K2DCY. All Bands. All Modes. Mobile/Fixed.
Member: OOTC, QCWA, AWA, MTC, NEARC, ARRL, AREC, RACES, RCC
Specializing in Telegraph Keys dating to before the Civil War.

Licensed Private Pilot: Single-engine, land, and instrument ratings.
Owner of Piper Cherokee 180 Aircraft.
Certified Advanced Open Water Scuba Diver - Over 600 dives.
Hobbies: Sailing; Mountain Climbing; Diving; Spelunking; Running; Electronics.