! "I" imcol COPYRIGHT (c) 1995, 2006 - Thomas B. Perera Ph. D.: 02-14-2006 >
Click on photographs then click "GO BACK" to return to text.
Click BACK to return to the main Telegraph Museum Page.

TELEGRAPH KEY COLLECTORS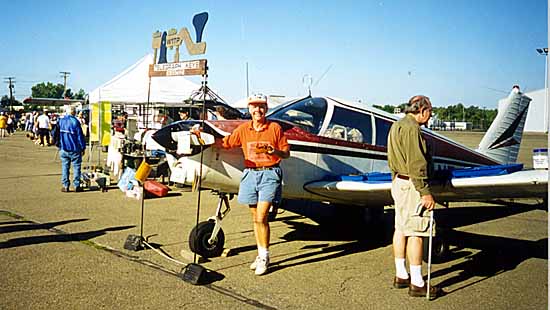 TOM PERERA - W1TP WITH HIS AIRPLANE IN THE FLEAMARKET OF THE ANNUAL TOMPKINS COUNTY AMATEUR RADIO CLUB HAMFEST IN ITHACA, NY in August, 2000:(37KB)
This great club let me taxi my airplane right up into the line of sellers at the hamfest and set up my display of keys and of my book and CD.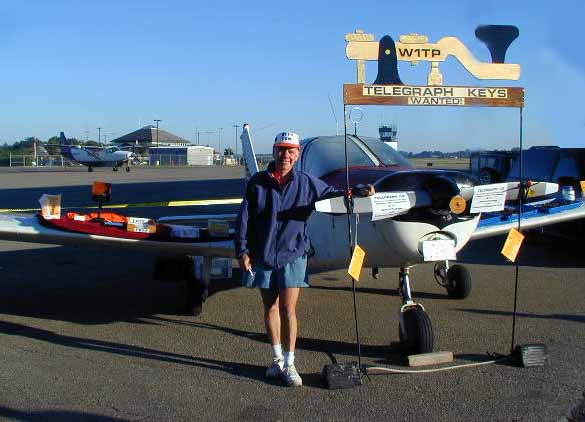 Another view of the W1TP flying museum:(37KB)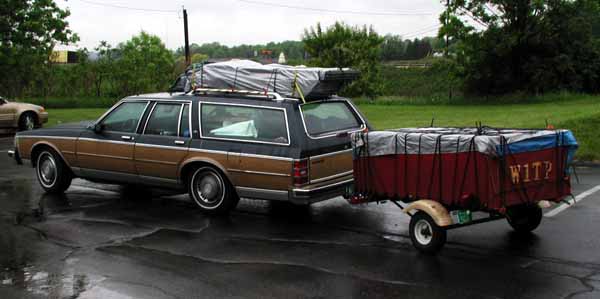 TOM PERERA - W1TP WITH HIS OVERLOADED STATION WAGON AND TRAILER ENROUTE TO THE 2001 DAYTON HAMFEST:(27KB)

Report and Photographs of the 1997 Antique Wireless Association Convention:(2KB)
<! p > <! Img src="c_kid.jpg" > <! A YOUNG COLLECTOR AT THE 1997 DAYTON HAMFEST:(13KB) /A > <! This young man was fascinated by the display of a working sounder/key > <! sending a constant stream of Morse Code and resting on display cases > <! filled with hundreds of bugs and other keys. >

TOM PERERA - W1TP WITH HIS COLLECTION AT THE AWA 1995:(34KB) All 500+ keys on display at the 1995 AWA Convention, Rochester, NY.

TOM PERERA - W1TP WITH CARTOON CHARACATURE:(24KB) The cartoon was drawn by Susan Kelly, the wife of Collector John Kelly at the 1995 AWA Convention.

TOM PERERA - W1TP "BATTLES" GIL SCHLEHMAN - K9WDY:(73KB) A Tug-of-war over a Navy Spark Key at the AWA Convention. (Photo by Ben Moore, N3BM.)

GIL SCHLEHMAN - K9WDY and VERTICAL FRIEND:(28KB) Gil shows off his Vertical Vibroplex at the AWA Convention.

GIL SCHLEHMAN - K9WDY is surprised by a VIBRO-MORS Bug at the 2001 Dayton Hamfest:(49KB)


PETE MALVASI, TONY ROGOZINSKI, and GIL SCHLEHMAN:(34KB) Left-to-right, Pete Malvasi-W2PM, Tony Rogozinski-N7BG, and Gil Schlehman-K9WDY look at pictures of the keys in Gil's collection at the 1995 AWA Convention.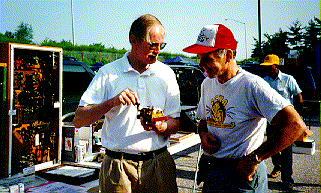 ROGER REINKE and Tom Perera at MAARC meet, 1996:(37KB) Roger has gathered an incredible collection of very early land-line telegraph instruments which he displays in and around a vintage telegraph office and railroad office. He edits the telegraph page of the Antique Wireless Association (AWA) bulletin and is an expert on early telegraph instruments.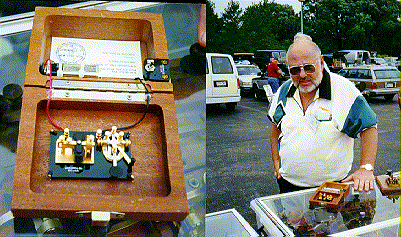 JOE JACOBS, AND THE NEW BUNNELL MINIATURES:(61KB) Joe Jacobs, the present owner of the J. H. Bunnell Company shows off the new Bunnell miniature key and sounder at the 1995 AWA Convention.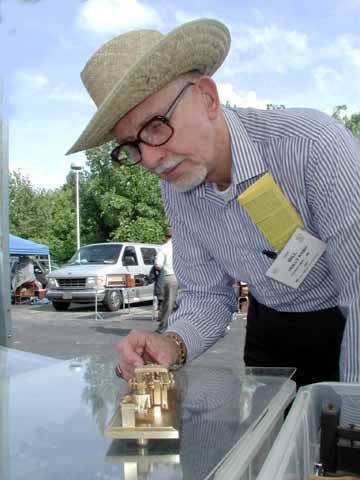 BILL HOLLY - K1BH, Author of the Vibroplex Book and telegraph historian concentrating on early submarine telegraph cables inspects Schurr Bug serial number 4 at the 2002 50th Anniversary Conference of the Antique Wireless Association.


JOEL WISOTSKY - N2LAI SELLS A CRICKET KEY TO TOM PERERA:(36KB) Joel regretfully sells a very rare wooden "Cricket Key" to Tom at the 1994 Long Island Mobile Amateur Radio Club hamfest.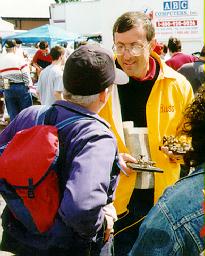 Russ Kleinman (WA5Y):(17KB) Russ shows the very early Tillotson straight key and unusual Brooklyn Metal Stamping Company Speed Bug J-36 Military key which he found at the 1997 Dayton Hamfest to Joel Kosoff W3ZT and his wife at the "key collector's party" at Tom Perera's tables at Dayton.

Tony Rogozinski (N7BG) and Tom Perera (W1TP) show off their finds at the 1997 Dayton hamfest:(13KB)
Tony found a wonderful

VIADUCT KOB:(12KB)
With a lovely

early camelback key:(15KB)

Tom Perera shows a 1936 McElroy key to collector Bobbi Barmore (KB9GKX) at the 1997 Dayton Hamfest:(15KB) Bobbi found several interesting keys at Dayton. Bobbi has recently completed construction of several homemade keys including a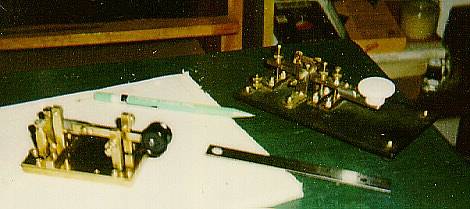 straight key, a sideswiper,:(42KB) and a bug which will be used in upcoming contests.

Tom Perera explains how the "release-of-tension" operation of a Right-Angle Mecograph attempted to circumvent the Martin patent at the 1997 Dayton Hamfest:(13KB) (Photo by: Bill Carpenter, AA8EY)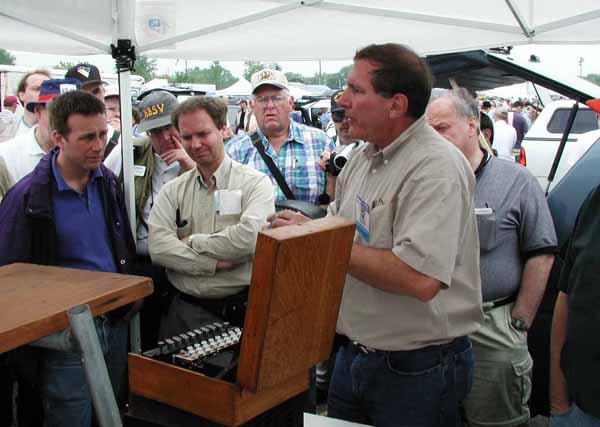 Jim Jaeger explains the operation of a German Enigma Cipher Machine at Tom Perera's booth at the 2001 Dayton hamfest.(37KB)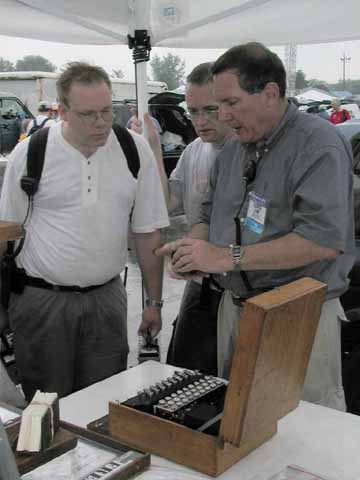 Another view of the enigma demonstration:(23KB)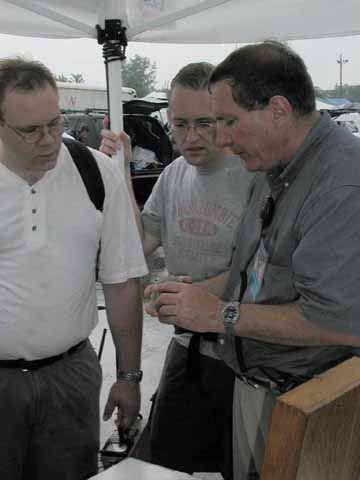 Another view of the enigma demonstration:(19KB)


John Kakstys (W2FNT) and Tom Perera (W1TP) examine a key at a New Jersey hamfest:(23KB) John is to be found at almost every hamfest and always has a table that is stacked high with goodies.

This photo shows John at 79 years of age at the Rochester, NY hamfest. John used to copy the press wireless at 50 words-per-minute during WW-II.


WYN DAVIES and TOM PERERA IN WALES:(31KB) Wyn Davies has an absolutely amazing collection! He was kind enough to show it to me on my trip to Wales in 1994. Be sure to call him if you travel to Wales.

HARRY MATTHEWS and TOM PERERA IN SCOTLAND:(42KB) Harry owns the Museum of Communication in Scotland. He has many absolutely spectacular keys and wireless items.. For Instance: this 5 - needle telegraph and: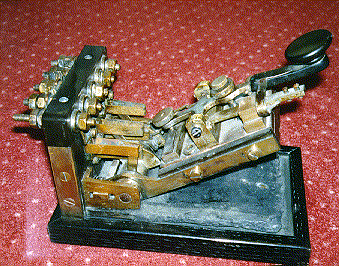 HARRY MATTHEWS' RECOVERED GERMAN WWI NAVAL KEY:(61KB) This incredible German Naval Wireless Key in Harry Matthews' museum was recovered by divers from the sunken WWI German fleet in Scapa Flow. The transmit-receive switch is activated by lifting up or lowering the entire key itself!

FONS VANDEN BERGHEN in BELGIUM:(61KB) Fons is shown in front of part of his truly mind-boggling collection of early telegraph instruments at a trade show in Brussels in May of 1996. He may be contacted by email at: [email protected]

BILL BURNS' Clokey Recording Galvanometer:(32KB) This early galvanometer has two coils and makes dual tracings on a paper tape. It was patented by Allison A. Clokey of Rutherford, NJ in 1926 (pat # 1,609,060) and the patent was assigned to the Western Electric Telegraph Company. The two pens made two simultaneous recordings of the incoming cable signal or recorded incoming messages on one channel and the outgoing messages produced by a repeater on the other channel. Since both channels appeared on the same tape, it was easy to verify that the incoming and outgoing messages were identical. Previous systems had used two separate paper tapes, making such verification difficult. The label reads: Direct Writer, Model 87, No. 792, A.A.Clokey,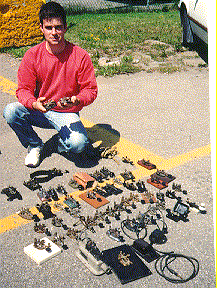 ALAIN PARE - VE2KC INSPECTING A TRADE OFFER:(42KB) Alain has a very interesting collection of primarily military keys. Isn't that a wonderful set of call letters for a Key Collector !

A KEY-BUILDING FATHER AND SON:(31KB) David Hale made this oversize key for his son Max to play with... perhaps in hopes that it would stimulate his interest in CW. It was used in the "Left Foot Contest" in 1994. He built the key as a scaled-up version of a J-38. It is made of 3/4" plywood. The adjustable parts are carriage bolts and t-nuts with plywood knobs made with a hole saw. The contacts are made of copper pennies. The key now hangs on the wall of the Barre (VT) Town Elementary School. If anyone would like more information on how to build a key like this you may contact David Hale at [email protected]

UNKNOWN EARLY TELEGRAPHER'S CARTE DE VISITE:(29KB) This is the Carte de visite or visiting card of an early telegrapher whose name is unknown. These cards were used in the same way that we use business cards today.

STEVEN BERKULA - NW2F's TATTOO:(41KB)
If you are a serious telegraph collector and would like to have your picture on this page, please send me a photograph and I will be pleased to post it... Thanks.
Click BACK to return to the main Telegraph Museum Page.

---
Profe<! df@er.com>ssor To<! asas@aws.com>m Per<! uruer@dhr.com>era
Montclair State University

<! sdol@asdfln.com >Email Address:
<! dalr@dsal.com>(I receive over 200 sp<! dsf@dfnbo.com>am messages daily.
To help me avoid them, I ask you to type my <!sadf@awer.com> email <! sddf@aer.com> address as follows with no spaces between words:)

<! li afel@mndi.com sfg@asd.com dsofn@festf.com jdid@mops.com >
PLEASE TYPE: <! jfj@fods.com >keys <! odod@njdso.com >


THEN TYPE THE <! eie@noo.com ?>@<! 848@nmdl.net> SYMBOL


THEN TYPE: w1<! w1>tp.<! dhi@o@o.com>com


Please NOTE: It is w1<! sdl@ww1>tp Not: wLtp or wItp.
Please NOTE: You MUST include the word<!df@ee2@wdfr@> KE<! dsf@ewr.cp>YS in the Email Subject Line.
( Please Inquire Before Sending Attachments Larger Than 100KB ! )
Internet On-Line Telegraph & Scientific Instrument Museum:
http://w1tp.com
or:
http://www.chss.montclair.edu/~pererat/telegrap.htm
Internet ENIGMA Museum: http://w1tp.com/enigma