I started working with radios in 1953. Serving in the Army in Korea from
1953-1955 in the signal corps. I attend on average about 6-12 Hamfests a
year. I retired from John Deere Dubuque Works in 1988 after 30 years of
service as an electronic technician working in their experimental department.
In my leisure time I repair T.V. and VCR's. I buy and trade tubes and various
other old radio components. I started in amateur radio in 1991 and soon after
joined the Great River Amateur Radio Club. (GRARC) I have served in many
club officer positions. We are very active in local groups and the American
Red Cross. I enjoy working HF and Satellite, I also work UHF and VHF.
If you ever pass through Dubuque, IA. give me a call on 147.24+ repeater.
73's Jerry
WØSAT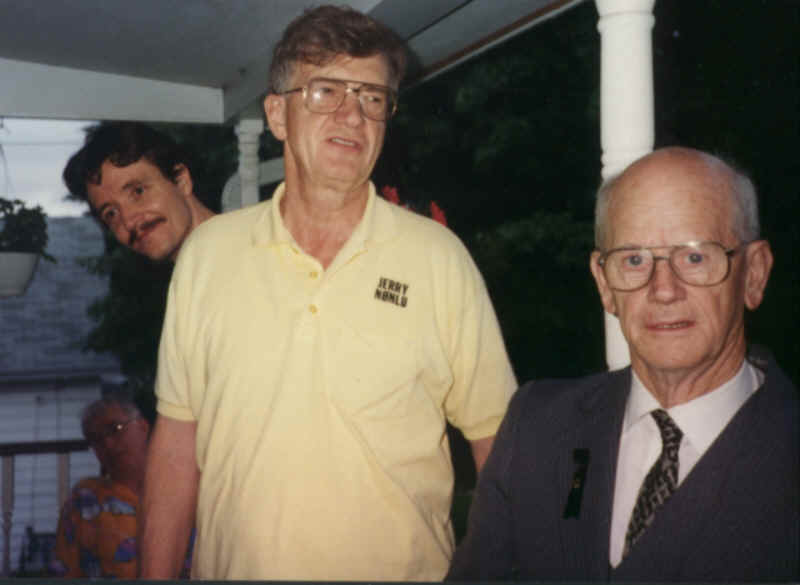 Pictured left to right
My brother Dale, my son Denny, me, and friend Paul Dunn(NØWJQ).
My old call NØNLU, before I applied for my vanity call.
CLUB REPEATERS
| | |
| --- | --- |
| WBØLOB | 147.240+ |
| WØYLQ | 147.030+ |
| KAØJAW | 146.895- |
SATELLITES I OPERATE
| | | | |
| --- | --- | --- | --- |
| FO-20 | AO-40 | UO-14 | AO-07 |
| FO-29 | SO-50 | AO-27 | AO-10 |
73S WØSAT

[email protected]

02/11/2003