Jones County Amateur Radio Club, Inc
Jones County, Iowa




Monthly Meeting

We meet the first Wednesday of the month in the meeting
room in the basement of the Jones County Courthouse in Anamosa.
Enter through the west door. Eyeball QSO's start at 6:30 p.m.
and the business meeting begins promptly at 7:00 p.m
Saturday mornings at 6:30 a.m. some
members meet Larry's in Anamosa
for coffee and breakfast. All amateurs
and others are welcome.
A few of our members meet Monday, Wednesday and Friday
for coffee at Larry's in Anamosa
2019 ARRL Field Day Submission
Celebrating ------JCARC is 30 years old
Click on the link above to read some of the old meeting minutes
Click on the link above to read some old news articles
You can contact the JCARC officers using
email below
Gordon

President




Jon

Vice

President

Ron

Secretary

Treasurer

Dale

Emergency

Coordinator

Dale

Repeater

Trustee
As of 11-16-2007 JCARC has been assigned a club call sign
WØCWP
Go to the ARES PAGE (use menu on the left)
OR CLICK HERE
For Weekly Net Script in MS Word
and ARES Call List in MS Excel
Check out our Photo Pages below
The Jones County ARC operates a repeater on -145.390 Call Sign WØCWP/R
A 77.0 hz tone is required to access the repeater
JCARC hosts a weekly ARES net at
8 p.m. each Sunday
night on the WØCWP repeater.
Every THIRD Tuesday of the Month, JCARC hosts a TECH NET
At 8 p.m. on the WØCWP repeater.
Located in "Grant Wood Country", Jones County is in East Central Iowa approximately
15 miles east of Cedar Rapids/Marion , Iowa.
ANY QUESTIONS OR PROBLEMS WITH THE WEB PAGE
CONTACT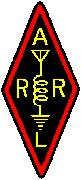 JCARC is an affiliate of the Amateur Radio Relay League.
Click on the logo above to go to
the ARRL Web site