The Rapid City, Black Hills & Western Railroad
The Crouch Line
I would like to contact anyone with personal knowledge of the Rapid City, Black Hills & Western Railroad, commonly known as The Crouch Line, or any of it's predecessor companies.
If you rode the Crouch Line, grew up alongside it's tracks, or otherwise remember the railroad, PLEASE contact me ASAP at the email link at the bottom of this page.
If you have personal pictures of the Crouch Line, I DEFINITELY want to talk to you.
Check back soon for more information on the Crouch Line.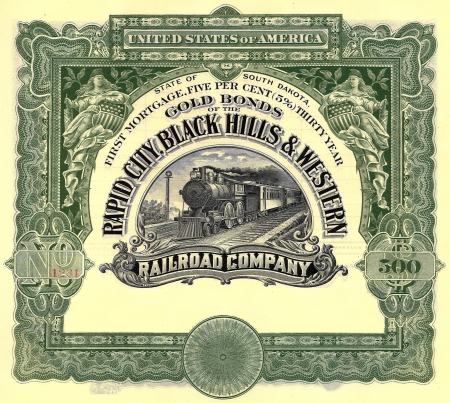 Gold Bond Certificate courtesy of the Minnilusa Historical Association at the Journey Museum
Click the link below for more great South Dakota railroad information from the South Dakota State Railroad Museum in Hill City.

SEND E-MAIL TO BRAD



Page last updated 11/23/2017