VU2MUE home Travel note image gallery (big images!)
VU2MUE's travel note page
:The Great Escapes!
Escape I
Kufri, AMSL:10,000 feet (Himachal)
We were out for the last few days (from June 24, 2003) away from the hustles and bustles of this big city. We enjoyed a lot our stay at a calm hilly place (Altitude 10,000 feet above mean sea level AMSL). When we started from here the temperature was soaring 40 degrees centigrade with a very high humidity (sticky) and when we reached that place some 400 kms away what an abrupt nice change we had!! We got a cool weather with temperature of 17-20 degrees centigrade! We could almost touch the clouds and we felt so happy about it. We just dreamt to be there forever! I enjoyed driving my old small car. All the five Delhi FM Radio Stations were accessible till Panipat. The road was very nice two-way wide open where the specified speed limit was 90 km/hr. We had a breakdown before reaching Chandigarh. The car refused to pick up with engine misfiring (the car was well serviced and inspected prior to the journey-all the plugs cleaned, engine oil changed, carburetor cleaned, brake lining checked with brake oil filled). We were so lucky to get assistance from a good samaritan (Rajesh) who arrived the deserted place in a car (who incidentally happened to be a car mechanic) without even conveying a message (telepathy!!) and took us to his garage! Initially we thought that he might be taking us to his hideout to rob us! But we found that he dranked a lot of petrol (gasoline) in his bid to clean the fuel distribution chamber pumping it with his mouth (without thinking about his own health or might be he got a good 'kick' out of it! ha ha ;-))! After an hour we again started our smooth journey..but after travelling about 15-20 km the same problem started. We managed to reach Kalka (the first hill station) at 11:00 PM (We started from Delhi at 3:00 PM). After an overnight stay we started our journey towards Solan in the morning with the same troubled condition. After reaching Solan Authorised Maruti Service station, the vehicle was repaired. They found a faulty Fuel Pump. The mechanic advised us to use a 'wet cloth' to keep it cool to avoid misfiring (his own ingenious way!) but as we insisted a replacement, the Fuel Pump was replaced there and the mechanic gave a trial by driving the car 'off-road' on a steep muddy mountain dirt track (it was raining by then and muds rolling down the mountain slope) to my satisfaction as it was able to climb the terribly steep hill (the mechanic incidentally used to be an assistant in the Mountain Car Rallies) without any problem and again we started a smooth journey towards Shimla through the zig-zag hilly road. Before entering Shimla, the problem recurred and now we stopped at the Shimla Authorised Maruti Service Centre (this is located some 15 km prior Shimla). As there were too many Maruti cars in the line, we postponed our repair till next day. We entered Shimla and parked the car in a parking house on top of the hill (a multistoried car parking building specially meant for parking because roadside parking is prohibited at Shimla) after much effort of applying force on the 'clutch' and 'accelerator' alternatively. In between 'cold water' was poured onto the 'Ignition Assembly coil' when finally the car agreed to climb the steep slope! There were hundreds of cars parked inside the building and we left the 'car key' with the 'parking in-charge'. To park a single car, he had to bring out 10-12 cars and again reposition them!! So he had all the 'car-keys' with him! Then we booked a hotel. The weather was so comfortable that we forgot our problem of the car. It was very nice to walk around the small hilly town in the night. There was a very nice small roadside market (Called Shimla Mall). To reach that market we had to use a lift (It is a lift by the side of the hill!) We had to book tickets to go up using the 'lift'! The lift carries the people to the Mall. In-between we changed to the 2nd 'lift' to finally reach the 'mall'. It was very exciting to see the leisurely roaming crowd of people at the Shimla Mall. Many old buildings were there at Shimla Mall. We have seen a 'Church' which was built in 1857. It was great to see the old buildings (all made during early 1900s) which were still maintained well. There was a dancing ground where young people could dance to the tune of a Punjabi singer in the open! Everybody was enjoying in their own way. It was in fact a worth visit..We returned back to the hotel in the night at around 11:00 PM and had our dinner. Next day morning, keeping Nandita, Manu and Jili in the hotel, Raju and me went back to the Shimla Maruti Service Station which we left some 15 kms down-hill. After listening to the chronology of the previous repair, the mechanic (Kuldeep) was able to trace down the fault at the one-go. Using a 'multimeter' (like the one which we use for our electronic works) he thoroughly checked the 'electrical distribution wires' (those connected to the spark plugs) and found a faulty connecting wire (which had 'discontinuity'). The wire was replaced. But the problem still persisted intermittently. So he removed an ignition distribution box from another new maruti car and tried with that. Our ignition distribution box was also found to be faulty. He told us that it was the original one from Japan whose life-span had naturally finished (5 years old). So we replaced it with a new one from 'Lucas-India' (New Marutis are fitted with 'Lucas' nowadays) and the problem got solved. To become double sure, we took a test drive of 20 km and the car was found to be better than earlier!! We were happy again as now we can go farther up-hill. We returned back to the hotel and checked out to reach Kufri, which was some 35 kms away. Kufri was much better and much cooler! Wow! What a place on the Earth we had seen! The crowd was less. People were not in a hurry. A mobile police petrol van suddenly got suspicious about my vehicle. Probably they had not seen such a nice VHF wireless antenna before in such an interior area and a VHF radio set (the Army surplus which I collected from Agra junk market at a cost of Rs. 450/- = $10) installed on a private vehicle. They cross-questioned a few things about the purpose of the wireless set and got convinced that it was in fact a govt. vehicle and the VHF set was used to communicate to my office ha ha ha!!!!!

It was carried to see the VHF propagation condition from Mahasu Peak to Delhi VHF Repeater. The equipment was a 25 watts VHF set(from the Agra Army Junk) installed on my vehicle. A 7/8 lambda collinear stacked vertical antenna with a specified gain of 9 dB was installed on a magnetic mount kept on the roof of the car and found that propagation condition was not at all suitable for activating the Delhi NCSTC & Vigyan Prasar Repeater Station VU2DLR at this moment from even the one of the highest peaks (10,000 feet) at Himachal. The survey was carried out from emergency communication point of view. It was felt that the NCSTC & Vigyan Prasar VHF Repeater Antenna needs further elevation from its present height of 100 feet.Click here for a line-of-sight distance calculator.

We stayed at Himachal hotel there and in the evening went farther up-hill upto an altitude of 9000 feet AMSL on the car (which was vigorous by now!!). The car was parked there and then we started our trekking (it was not exactly trekking because we were riding horses!!). It was difficult to walk uphill as the road was muddy (your shoes and legs would go inside almost knee-deep if you try to walk!!) So horses were available. In fact because of the continuous movement of the horses, the mountain road becomes muddy and the horseowners can also afford for their livelihood. They took us to an altitude of 10,000 feet AMSL (Mahasu peak) from where we could see the Snow covered Himalayas using Telescope. The Telescope operator was a truck driver who happened to carry LPGs to Tinsukia, Assam. He was once robbed at Kokrazhar, Assam!! During off-season he uses his telescope for his livelihood. The fees for observing each different location using his telescope was Rs.5/-. I paid Rs.25/- for five locations! Staying overnight at Kufri, we returned back. It was a very thrilling drive because suddenly the weather became foggy with poor visibility. It was nice to experience such a hilly road with clouds and fogs playing in the road. The weather again became clear before reaching Solan and we stopped at a road side 'dhaba'. It was not exactly a dhaba; There was an elite looking lady selling 'flowerpots' and also running a hotel. We found a very interesting phenomenon here. The boy who served us the tea was a smart looking handsome Assamese boy who never talked to us in Assamese!! He was from Betbari, Sibsagar and told us that he forgot to speak Assamese and told us that he had fled away from his village only 9 years back and tells everybody that he has no father no mother and he does not like Assam any more!! 'Assam is not a place to live'-he told us!! As he turned out to be of 'Dada' sort, his 'Bhabiji' and 'Malik' takes good care of him to run their business. He told us that he had to go to the local police thana very frequently as he beats up unpolite local guys there at Solan!! He was well dressed well mannered and some time spoke English too!! He purchased a plot of land too on top of the hill and soon going to marry a 'pahari sowali' and live happily there forever!!!! He didn't took the money for the tea which we ordered and even his 'Bhabiji' (the elite looking lady who hails from Delhi only) refused to take the money from us because we were Assamese people!!!! All the time he spoke to us in Hindi only using Assamese words in between. I told him that it was very strange and unbelievable that one could forget his own language within such a short span of time! With a gentle smile he told me that it was like that only-he just forgot his own language!!!!! He also advised us not to purchase the nicely painted 'flowerpots' in his shop as they were costly (Rs. 150/-) according to him. Instead he gave us the address of a lady artist who paints the pots at Chandigarh to get from her directly at a lower cost. However, we didn't enter Chandigarh. On our return I found that the fuel efficiency of the car increased tremendously with the change of that inginition 'thing', and the car is now much smoother than before. Finally we returned back again to the same old hustles and bustles of Delhi city where I work for my livelihood...We had to abandon our plan to visit Manali due to short of money. I thought of going upto Rohtang Pass, which is at a much higher altitude and then from Rohtang to Leh. But from Rohtang to Leh, one needs vehicle with more ground clearance. Upto Manali, the road is stated to be comfortable (I had a telephone QSO with Rahul Ji, VU2YK who had the previous experience of going there during mountain car rallies).
I missed Fatty & Carolyn onboard Wild Card for a long time because of being out. I was so eager to hear Cap'n Fatty's voice on my radio. Yesterday (July 1, 2003) morning I switched on my HF radio and tried to contact them, but no luck. They might be anchored at Cape D'Ambre area and out of the sailboat..........
IMAGE GALLERY
(Poor image qualities due to poor light condition regretted. Images captured with an
EZ 200 from Kodak. I love this camera!)



Kufri (Himachal)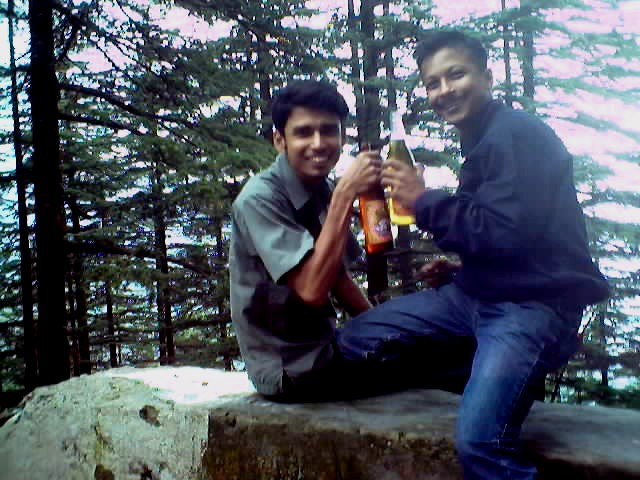 Cheers with 807s*!-
With my brother-in-law (a fan of Dire Straits) Parixit (aka Raju). A 'car stereo' was specially installed for him in my vehicle! He is an Instrumentation Engineer (A topper) by profession and works for a Gas major (Gas Authority of India Limited). Visit his personal web site at:http://www.myownworld.freehomepage.com Beer in Himachal is very very costly. A 700 ml lager/strong 807* would cost you Rs.70/- ($ 1.5) !!!!

With my YL & harmonic (QRP!)
Parixit (Raju) with Nandita and my harmonic
* 807 : A 'bottle of beer' in ham terminology (the beer is as 'cool' as a vintage 807 valve/tube for a ham!!!!!) Want more information on 807? Visit Rod Beavon, G3PPR's website: http://www.rod.beavon.clara.net/807.htm

Last updated: 02.07.2003
travel in india travel in india travel in india travel in india travel in india travel in india travel in india travel in india travel in india travel in india travel in india travel in india travel in india travel in india travel in india travel in india travel in india travel in india travel in india travel in india travel in india travel in india travel in india travel in india travel in india travel in india travel in india travel in india travel in india travel in india travel in india travel in india travel in india tourism in india tourism in india tourism in india tourism in india tourism in india tourism in india tourism in india tourism in india tourism in india tourism in india tourism in india tourism in india tourism in india