John Moyle Memorial Field Day 2006



Click here to view our log book in Excel 2003 format.
.
.
This years field day was hosted by our newest club member, Bob VK4BYX.
Our location QG62fk, a ridge/mountain top near Laidley has almost
360 degree views with a small rise blocking the view west to Toowoomba.
Most of the gear fitted into Alan's 4WD and trailer and was delivered on
site at around 1pm. By dusk all the antennas had been erected and the
tent erected. The generator fired into action as the night time closed in.
.

Missing from photo: Graeme VK4YEA
During testing of equipment on Saturday morning we found the 2mtr
antenna had a 3:1 VSWR - Murphy had moved in! A quick trip down
the mountain to home for another 5/8th antenna fixed the problem.
.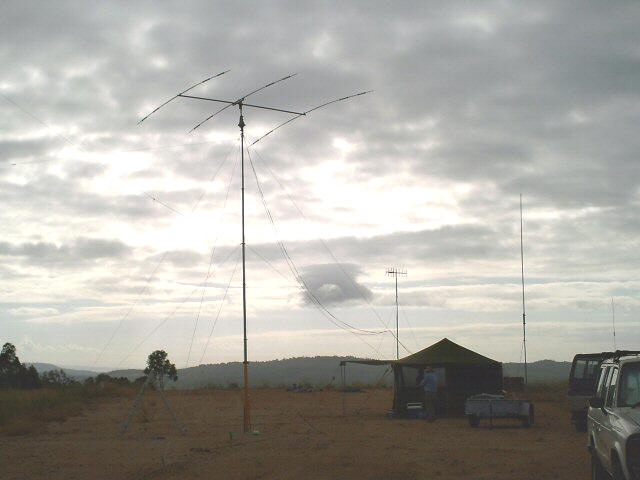 Antennas: 3 element beam on 40ft pump up mast, 11 element on UHF,
2x5/8ths on 2mtrs, 1/2 wave dipoles for 80 and 40mtrs.
.
UHF operation proved rather quiet, but 2mtrs and 40mtrs were in action.
As log pages were filled, Barbara (Club Secretary) entered the log entries
into the data base and kept us up to date with scores.
.
Hay bails acted as a sound barrier to deaden the noise from the generator.
.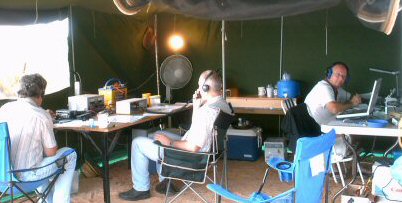 Helmut on 70cm, Ian on 2mtrs and Alan on HF.
.
A special thanks to Graeme VK4KML (Club President) for supporting
us from his QTH and to Dennis VK4OC for his valuable assistance in
helping with the packing up of our portable station.