RS 12/13 Telemetry received and processed at VK3UKF.
I began by modifying a 27 MHz O2A CB to work on the RS 29 Mhz band. I then recorded onto audio tape the morse code signal from the satellite as it made its pass overhead. I then fed that audio CW redording into the CWget software and it decoded the CW or morse code into the text below.... Click here for Windows Media Audio Recording of RS12. 181 kb. The doppler shift of the signal is very apparent. I make some corrections.
rs12
iik 82 ink 00 iad 07 imk 46
nid 46 nnd 00 nad 00 nmk 00
aid 29 ank 24 aak 38 amk 32
mik 45 mnk 46 mak 00 mmd 89
rs12

I then manually, using Notepad, put each data on its own line, such as,
rs12
iik
82
ink
00
iad
07 and so on..

RS 12 CW Telemetry first processed by the prototype VK3UKF RS translator program.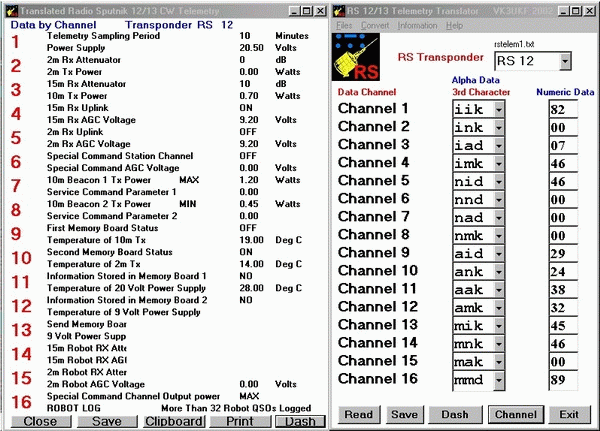 ---
The final display.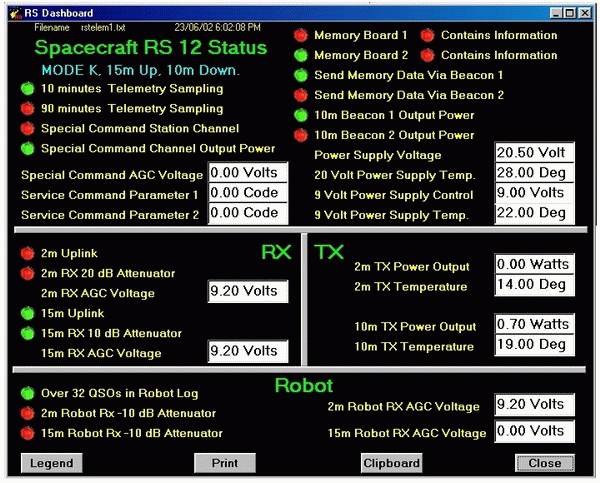 This software was nearing completion when the spacecraft was destroyed by a solar flare in late 2002.
---