NERG - HIDDEN TRANSMITTER HUNTING
- ARCHIVE PHOTOS -
Photos from the the SERG convention in Mount Gambier, South Australia.
(Circa 1970-something)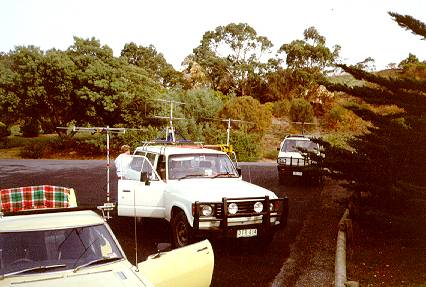 Fox hunters in pursuit of a hidden transmitter in the lake area of Mt. Gambier.
Note that all the "runners" are out looking for the transmitter, while the "drivers" sit back and admire the oppositions antennas!

Who said foxes don't live in trees?
Our antennas gave very confusing directions when we drove under the tree!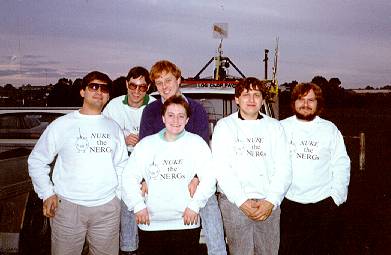 This is the "Nuke the NERGs" team.
Despite the four wheel drive vehicle and some impressive computer controlled
direction-finding gear, they didn't succeed in Nuking us that year.
(Many years later they are still trying!)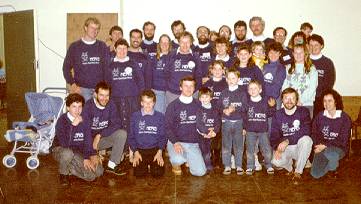 The NERG team of 1970-something.
Many of the harmonics (kids) have left home now and the rest of us are somewhat greyer,
but most of us still participate in friday night fox hunts or ARDF events from time to time,
and some even still make it to the SERG convention each year!
For more information, please send email to: [email protected]
Last updated 9/03/2001