NERG CONTESTING
The NORTH EAST RADIO GROUP Inc. occasionally participates
in various radio contests using the VK3CNE callsign.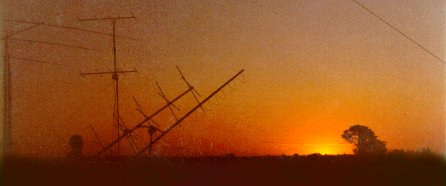 Sunset over the VK3CNE station during a John Moyle Field Day
The NERG often participate in the John Moyle Field Day, held in March each year.
In the past they have contested in the Remembrance Day (RD) contest, and the international CQ-World Wide contest.
Individual members are often heard during the RD contest.
If you ever hear us, give us a call !
NERG is also involved in local Fox hunts and ARDF events.
For more information, please send email to: [email protected]
Last updated 9/03/2001