VK2DYM'S MILITARY RADIO AND RADAR INFORMATION SITE.
A.W.A. REISS MICROPHONES.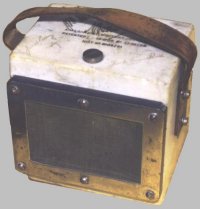 In the mid 1920's A.W.A. [Amalgamated Wireless (Australasia)] manufactured a number of Reiss carbon granule microphones. It is believed that less than 100 were produced. The housing for the microphone was a solid white marble block 100mm x 100mm x 75mm deep. The block was hollowed out and filled with carbon granules through a threaded hole in the top. The hole has a screwed sealing plug. A thin mica film is clamped over the front opening by an ebonite frame and then a wire mesh screen and nickel plated metal escutcheon is screwed onto that.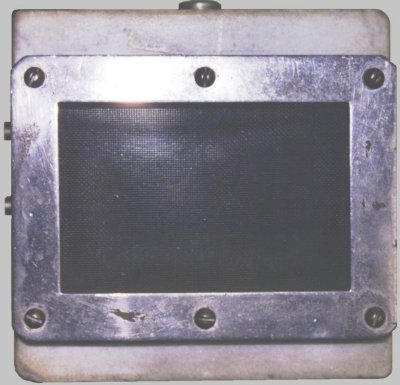 FRONT VIEW OF AWA MICROPHONE.
These microphones were used by a number of radio broadcast stations that were owned or managed by AWA, as well as for outside broadcasts. Each microphone was engraved with identification and serial number as follows:
AMALGAMATED WIRELESS (A/ASIA) L.T.D.
PATENTED19/9/25 No. 3538/28
INST. No. 109/xx
The "xx" was the serial number of each microphone.
For portable use the microphones had a leather carry strap. Sometimes the microphone was autographed by visiting dignitaries and a couple of examples are shown here.

AWA REISS MICROPHONE - INST. No. R109/21

TOP VIEW OF R109/2 1
The connectors on the rear are the microphone output and connections to an "ON-AIR" lamp at the top. The lamp is missing on this example.
| | | |
| --- | --- | --- |
| | | |
| REAR VIEW. Lamp terminals at top | FRONT VIEW | SIDE VIEW. Hamilton Harty visible. |
This microphone may have been used at radio station 2GN, Goulburn, because those letters appear faintly on the top front edge.
The autographs on R109/21 are:
* J.B. Hobbs, (Sir John Berry Hobbs). Born 16/12/1882, died 21/12/1963. Possibly England's greatest cricketer. Knighted
in 1953 for services to the sport. Played Tests in Australia in Dec. 1928 – March 1929.
* M.A. Noble, (Montague Alfred "Monty" Noble). Born 28/1/1873, died 22/6/1940. Australian Test cricketer.
* Jack Crawford, (John Neville "Jack" Crawford). Born 1/12/1886, died 2/5/1963. English test cricketer. Played Tests in
Australia in Feb. 1908. Later lived in Australia but returned to England after WW1.
* Fred Perry. Born 18/5/1909, died 2/2/1995. English tennis player. Won tennis grand slam. Played in Australia in 1934.
* On the side is the autograph of Hamilton Harty, (Sir Hamilton Harty). Born 1879, died 1941. Irish composer and later a
famous conductor. Knighted for services to Irish music and music in general.
In 1932 when the Sydney Harbour Bridge was officially opened, an AWA Microphone was used by the announcers and speakers. Afterwards a number of dignitaries autographed the microphone as shown below.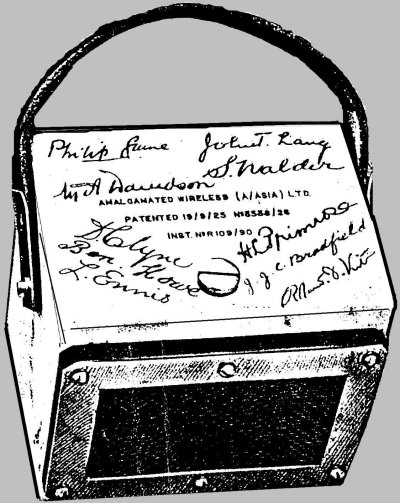 AWA R109/90 used at the opening of the Harbour Bridge.
The picture is from the AWA publication "The Radiogram", May 1932. It does not have the "ON-AIR" lamp.
The autographs on this microphone are:
* Philip Game. - His Excellency the Governor of NSW, Sir Philip Game.
* John T. Lang. - The Honourable John T. Lang, MLA, Premier of NSW & Colonial Treasurer.
* M.A. Davidson. - The Honourable M.A. Davidson, MLA, Minister for Public Works.
* S. Walder. - The Right Honourable Samuel Walder, Lord Mayor of Sydney.
* D. Clyne. - MLA for King (city of Sydney).
* H.L. Primrose. - Mayor of North Sydney.
* Ben Howe. - MLA for North Sydney.
* J.J.C. Bradfield. - Dr. John Job Crew Bradfield, Chief Engineer for the Government of NSW.
* L. Ennis. - Lawrence Ennis, OBE, Director of Dorman Long, and director of construction, Sydney Harbour Bridge.
* Roland D. - Kitson. The Right Honourable Rowland D. Kitson, DSO, MC, Vice Chairman of Dorman Long.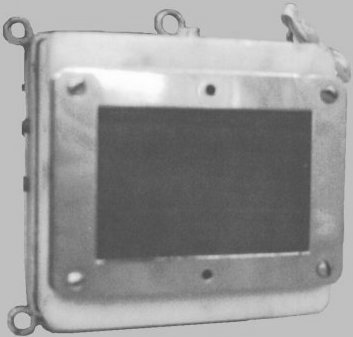 This AWA microphone is in the Ashfield Telecom Museum, Sydney. It has a metal strap around the sides and a number of wire loops so that it can be supported on coil springs within a metal frame.
The information on the "Harbour Bridge" microphone was researched and provided by Ric Havyatt, VK2PH.
Please note, this article is copyrighted.
---