Winterfest 2002 Prosser, WA
January 25th was a very special day for myself and many Northwest hams, for it was the beginning of a very exciting weekend in a small town in the southeast corner of Washington, Prosser. This was the 2nd annual Winterfest, which is an informal get together of avid AMers for a BBQ, story (lie) telling and swap meet held at Thompson aircraft at the Prosser airport
FRONT ROW L-R Roy KA7NGT, John WB0RLD, Bob KA7WOC, Steve WB7BNZ, Jerry K7LFE
BACK Brent AC7DA, Paul VE7KHz, Mike KC7OYY, Steve KF7EH, Mike N7KLV, Dick KB7RIK, Steve KL7OF, Lee, Mac W7JHS, Ray W7GEC, Pat K7YIR, Bob W7XS, Neil W7LMZ
It started Friday about noon and was attended by approximately 40 people. The swap meet was scheduled to take place on Saturday, with setup beginning on Friday at 3pm. As it is with most swap meets, the best deals were had during the setup. I was witness to an amazing deal, not knowing what I was looking at until it was too late, Dick KC7RIK was setting up his table and was setting down the last piece of gear which was wrapped in a blanket. There were a number of us visiting around the table but one keen ham, Mark K7RZ saw Dick unwrap the blanket and noticed what it was. He asked how much it was and Dick said how's $75. I didn't pay much attention as it just looked like an old MIL receiver and before anyone had a chance to even see the radio, Mark said I'll take it. The transaction happened and then people started to take notice of what had just been sold. It was a near perfect Halicrafters SX-73. For those of us who didn't know, it is Halicrafters execution of the SP-600 (R-274) receiver. Wow! What a beauty and what a deal! Comments immediately ensued and of course the buzz about what a deal that was could be heard all day. And I was standing right there and missed it! Mark was destined to have his hot dog rolled in the dirt before being served!
Mark with his new receiver. What a nice rig. Really smooth controls.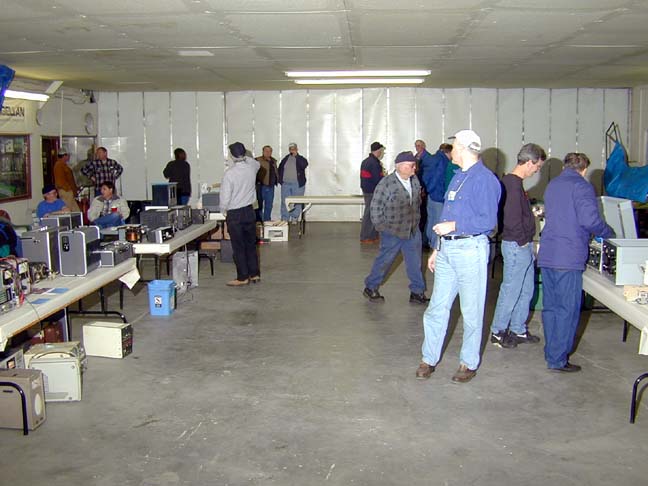 The Winterfest is held at Thompson Airfield and is hosted by one of the most well known hams in the northwest, Cormac W7JHS. He opened up his hanger for the swap meet and BBQ and had tables all setup and covered with nice clean paper for the gear to placed on. He, his wife and friends hosted a wonderful BBQ Friday night with refreshments, burgers, hot dogs, salads chips cookies and some Sockeye Salmon provided by Steve KL7OF and myself (VE7KHz)
Bob KA7WOC and Steve WB7BNZ checking out the SX-73 (post sale).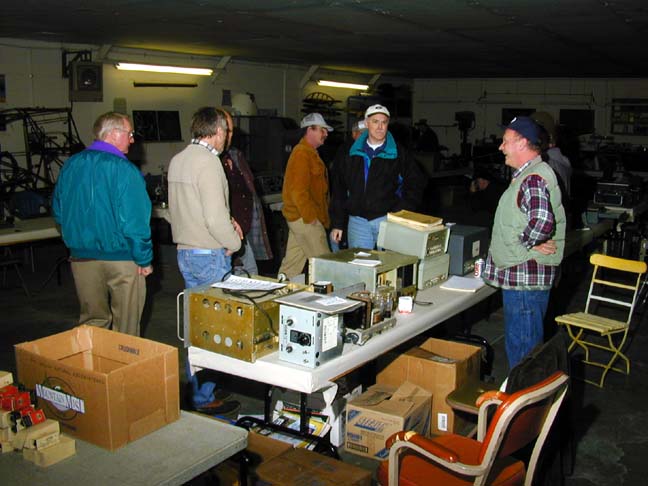 Ray W7GEC, Steve WB7BNZ, Lee, John WB0RLD and Dick KC7RIK
| | | |
| --- | --- | --- |
| Steve KL7OF and Steve KF7EH. Yes, you've counted correctly. 3 Steves in the Northwest makes for some interesting roundtables. | | Who is that masked man? Why it's Mac, W7JHS our gracious host. |
WOW! Jerry K7LFE can sure build some beautiful gear. This is one of his many home-brews that he brought for the show and tell portion of the weekend.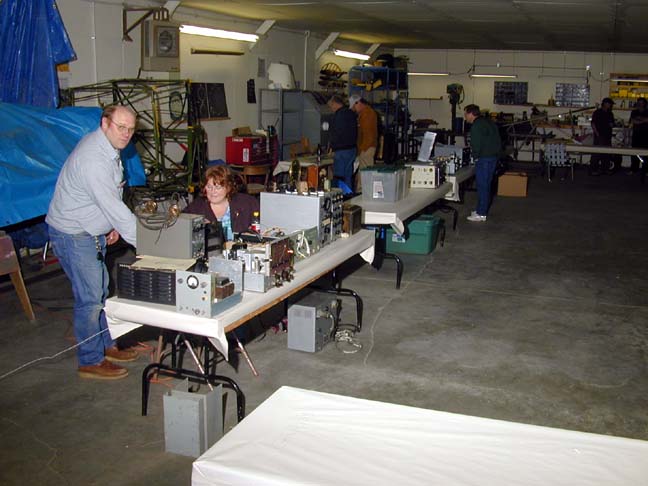 Roy KA7NGT and some of his treasures.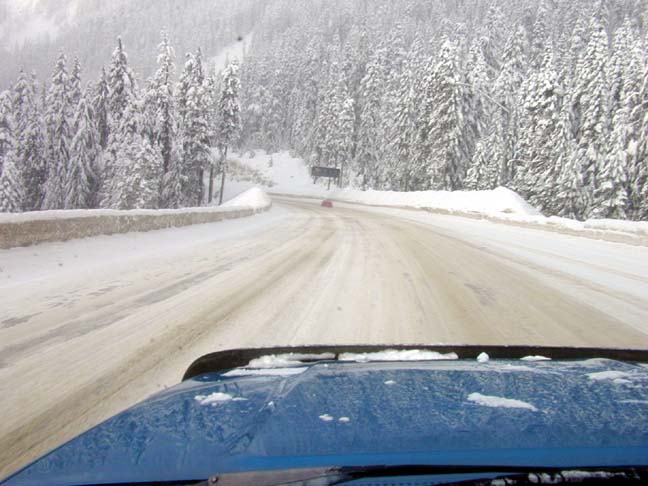 And some of the weather us crazy hams endure to go to a swap meet. This is the Snolqualmie pass east of Seattle.
P.S. That SX-73 deal was a just a big hoax for some fun. Dick brought it for show and tell.