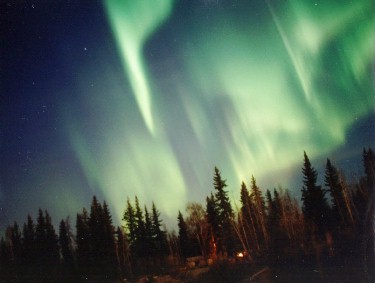 Aurora Sound Clips
Here are a couple of recorded aurora signals from August 27, 1998. These were recorded off of the 6 Meter band.
Click on the titles below!
* Note: The distortion on these two sound clips is really very 'mild' compared to what we hear a great deal of the time from my location. The signals on 144 MHz would have been heard with much greater distortion and CW would have probably been the only mode that would have been usable. Even on the 50 MHz band many of the auroral contacts must be made using CW because no other mode will work.

---
Auroral Oval Images
Here are some images of the auroral oval taken during the geomagnetic disturbance.