- VE5RC/VE5QRP History -
My interest in amateur radio first began when I became fascinated in short wave listening. My parents had a beautiful Philco radio at our home in Brantford, Ontario and I used to spend many hours listening to short wave broadcasts. Eventually I picked up other signals and my father told me they were ham radio operators. After Pop told me about these hams, I thought it would be neat to be able to talk with other people all around the globe from my own radio station. Quite often I visited Chuck Draper, VE3DB(?) who ran a gasoline service station on Erie Avenue in Brantford. He also had a ham radio station located there and I used to take great delight visiting Chuck and seeing his station.
The years rolled on. I attended school at the Ryerson Institute of Technology in Toronto, where I studied Radio & Television broadcasting. After graduating, my first job was with CHCH-TV in Hamilton, Ontario. My wife Bonnie & I lived on the top floor of a small apartment building near the Hamilton City Hall. I could walk to work. The desire to become a ham stirred itself and so I joined the Hamilton Amateur Radio Club, VE3DC. In 1962 several of us got up the nerve to take the DOC exam. One had to pass the code first before going on to the rest of the exam. I thought I had flunked receiving code but it turned out I had made it and then went on to the written part which included diagrams. Then the Radio Inspector asked us questions on the diagrams and a little while later I became VE3FCH!
So it was time to see what I could do about a rig and during this process I met Noel Eaton and Bill Crawford down at Bill's radio store. Many times I received good advice from both of them. When I asked where I should begin on the bands they showed me a National crystal on 3.717 mHz which I bought and have to this day. I then purchased an R1155A receiver and built a power supply for it. Remember my father's Philco radio? It had shorted out but I had kept it around. So I took the chassis which still had a good power supply on it and built my transmitter on it using a 6L6 and a tapped coil from a circuit in Popular Electronics. I believe Herb Brier wrote the column. That's when I learned not to use an iron chassis for radio projects!
The next project was to build a G5RV and seeing we were on the top floor of the apartment, I got permission to put the G5RV on the roof and run the coax down into our place. VE3FCH was setup in a closet just off the kitchen. Just open the door, place a chair in front and I was on the air. I was a "closet case" from the beginning!
Once everything was ready, the moment of truth came and on May 7/1962, I started transmitting, with about 25 watts on 3717 kHz calling CQ. But after a while, it seemed no one was going to answer me so I told Bonnie I was going to turn it off and try another day. Bonnie asked me "Why? There's somebody calling you now." You can imagine my surprise when I listened again and sure enough there was VE3EWA, Don Gater, from Weston, Ontario answering my CQ. It seems I wasn't the only one who was learning the code! I went through the usual "Good grief...someone's answered so what do I do now?" shock but somehow managed to stumble through it. I still have Don's QSL card, with a 4 cent stamp on it, even though it has faded a bit. Don was running an ARC-5 at 30 watts and using an ACR-175 on receive, with an 80 metre dipole. Ham radio had bitten deep 38 years ago!
In 1964 Bonnie, our little girl Heather and I moved to the state of New Hampshire in the U.S.A. where I began a new job at a PBS television broadcasting station, WENH-TV. in Durham, N.H.
We spent 15 wonderful years in New England, during which time our son Scott was born in 1962. We made quite a few life-long friends during this time, many of which were amateur radio operators. Our Director of engineering was Charlie Tamm, W1MIV(SK) and Dave Burgess, K1DB, was the Engineering Chief. John Merrill, N1JM, was also on the engineering crew and later moved to upper New York where he is now Chief Engineer for a television broadcast station in Syracuse. Bruce St.George, VE5ZN, was head of the Production Department and is now retired and living in Saskatoon, Saskatchewan.
While in New Hampshire, I built another transmitter using a 6DQ5 final out of the ARRL Handbook and combined it with a recondition Hallicrafters SX-28 receiver. What a difference to have a real receiver and a transmit power of 75 watts! The next project was the building of a Heathkit HW-101 which was my main rig until we moved back to Canada in 1979.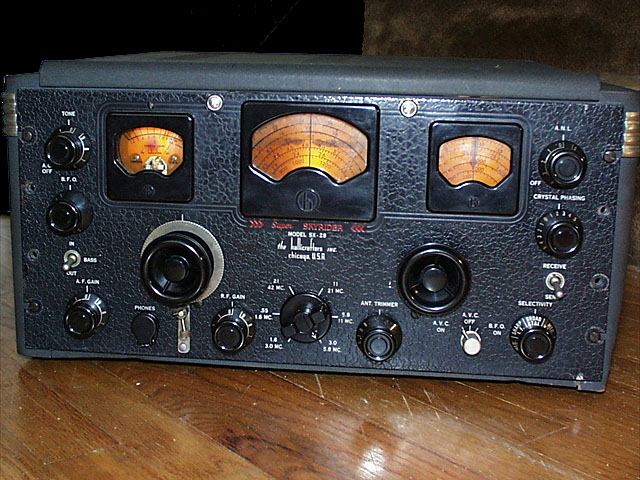 1979 found the four of us back in Canada and in Saskatoon, Saskatchewan. Here I went to work for the Kelsey Institute of Technology Audio/Visual department with Bruce St.George as the department head. I also brought a new Kenwood TS-180S with me as well as a Dentron Super Tuner both of which I purchased in Boston before we moved back to Canada.
In 1984, a Saskatchewan Government "downsizing" policy resulted in Bonnie & I moving to Regina where I am employed at the Wascana Institute of Technology. Retirement is just around the corner in December of 2001!