- The Glacier/Waterton Hamfest First QRP Get-together -
The Glacier/Waterton hamfest has been an annual event in the state of Montana for 65 years now. It used to be held in Montana one year and then Alberta the next until it proved to be very difficult, if not impossible, to find a campground on the Alberta side which was willing to "close" for the weekend for the hamfest. This lead to everyone voting to hold it at the 3 Forks Campground every year which is located 16 miles west of East Glacier in Montana.
It's a real family oriented gathering of hams in a very beautiful part of the state. Somewhere between 450 and 650 amateurs attend every year. You'll find events going on which are typical of any gathering of amateurs; cw contests, food, dealers, food, bunny hunts, food, tailgate flea markets, food, eyeballs, meetings, hot air balloon rides, belly dancers, working the satellites, food and so on.
In the year 1999 the first QRP Get-together was put on the agenda. The organizing of this event fell to Bruce, VE5RC and Earl, VA6RF, probably because they had put on a QRP Workshop at one of the semi-annual Provincial hamfests in Saskatchewan. It was decided to have an informal agenda; nothing written on paper. The idea was for anyone interested in QRP to come together and share their exper
iences. This included a Show & Tell aspect.The first photo shows the group while the second photo shows Judy, WB5LYJ & Jay, WA5WHN, doing their S&T thing. We have Earl, VA6RF, in the third photo presenting one of a number of qrp rigs that he has assembled.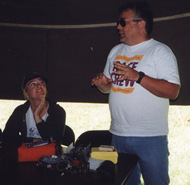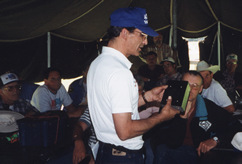 Approximately 22 people gathered on Sunday morning in one of the presentation tents and everyone was introduced and given time to do a Show & Tell of their favourite rig(s). It was a super time and after a group picture was taken, all agreed it would be a good idea to do it again in the year 2000.
I am listing the names & calls of everyone in this group below. Please look it over and send me corrections to: [email protected] .....let's look at the picture as having a front row, a middle row and a back row, left to right....
Front-Vern Wheeler(N7SPK), Doug Peterson(KD7DOK), Bill Vodall(WA7NWP), Judith Miller(WB5LYJ) and Jay Miller(WA5WHN)
Middle-Niels Kristjanson(VE6NJK), Kent Abendroth(WA7DUC), Mal Goosey(N7GS),Earl Murphy(VE6EWM), Tom Sneddon(VE6ZC), Maria Nenwirth(VE6MSN), Heinz Kloppenburg(VE6EQW), Tom Ohba(VE6OBA)
Back-Stan Skelton(VE7SKT), Doug Dunn(K7YD), Laurin Olson(VE6CHS), Don Cole(VE6EY), Virgil Veritz(KI7WW), Pat Moore(AL7L), George Henline(VE6HTO) and Skip Leininger(K0YWD)
Don Cole, VE6YE, took the floor to surprise Bruce, VE5RC&VE5QRP, by awarding him with the plaque for winning the QRP category for Canada in the November 1998 Sweepstakes contest.