- VE5RC/VE5QRP Equipment -
The equipment in use here has been varied over the years....nothing fancy or terribly expensive but it's all given me a great deal of experience, learning and fun operating on the ham bands.
The main transceiver that I operate with is the Kenwood TS-430S. I t had no filters but that situation was greatly improved with the addition of a Timewave DSP-9+, which I picked up at the Glacier/Waterton hamfest flea market last year. I use a Dentron Super Tuner with this rig.
I have an MFJ-9040 qrp transceiver (another flea market purchase) which I use and greatly enjoy making contacts on 40 mtrs CW. I also use a pair of 8 ohm headphones with this rig. They're the most comfortable pair of headphones I have ever used. Would you believe they're from Sears!?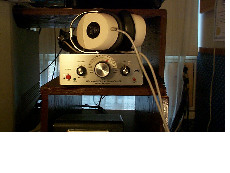 In the "keying" department, I have a Heathkit Electronic Keyer, model HD-1410, which I built from a kit about 26 years ago while living in New Hampshire and it's working fine. The MFJ-9040 has an electronic keyer in it. I also have one of the original TICK keys, which I use almost everyday. I put this keyer in it's own small box for external use and powered it with 3 AAA batteries inside the box. It's been ON and running for 2 years now. I'm thinking of getting another one to put together; they're super!
As far as paddles go I have a Bencher (black) paddle; another flea market purchase. Next to the Bencher I have a set of K8FF (NorCal) paddles. It was great fun putting (I sanded & sanded & sanded) this kit together and I painted the base a nice rich green to go with the brass colour of the paddle parts. There's a fun story that goes with getting these paddles through Canadian customs and maybe I'll put it on my page sometime.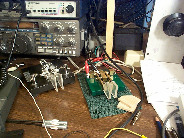 The other set of paddles that I have looks just like a Vibroplex Bug.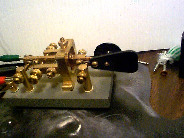 The base is a nice gray, the parts are all brass and the handle is black. These were constructed from scratch by Val Pestyl, VE5VP, who has a machine shop where he makes the most beautiful projects. I can only stand and drool at his pieces of "art." I use all 3 paddles. I am presently constructing a pair of the NB6M pc board paddles.
I have a few straight keys. A couple of brass J38s, a black bakelite "bath tub" key from the Lancaster bomber and another key which I have yet to identify.
The SWR meters lineup includes a Hansen SWR-50B, an MFJ model MFJ-941B, a WM-2 QRP wattmeter and a DyComm model 34 VHF wattmeter.
Other equipment in use here includes a KPC3, an AEA Pakratt 232, along with an HTX-202 as well as a Yaesu FT-209HR both on 2 mtrs.