Kawartha Packet Group
---
Stations QTH
...Peterborough, Ontario, Canada
AX 25 Local Area Network, 9600 baud
...Node
.........PTBO....145.67 Mhz(log on to Node by typing "c ve3kpg-14" without the quotations)
...BBS
.........BBSKPG (log on to Node then the BBS by typing "c bbskpg" without the quotations)
TCP/IP (JNOS) Local Area Network (Internet gateway)
.........VE3SSF...147.48 Mhz(out of service)
...APRS ( Automatic Position Reporting System )
.........VA3SSF...144.39 Mhz ( out of service)
CLUB MEETINGS
...We now occasionally, will meet up at a Tim Hortons in Peterborough, to discuss the current state of the KPG system. (Historically the meetings were the 3rd Tuesday of the month, 7:30 pm at Adam Scott high school, 175 Langton St. .. No meetings in Dec., July or Aug..) Everyone welcome!
KPG EMAIL LIST SERVER - to subscribe, send an email to: [email protected]
A high speed Packet backbone Link has been set up between KPG in Peterborough and the Grasshill (Lindsay) site.
A 1200 baud node has been set up at Grasshill for local RF packet connection. At this time, (Sept 2014) the Node has not been successfully connected to, with a Packet terminal.

June 2008
We have unfortunately discovered that all our club equipment was disposed of a long while ago by the Peterborough Manor. They said they tried to reach someone through the contact phone number, they had, but they wern't able to get a hold of anyone.
We have probably lost about $400 worth of used gear, such as TNC, 2M trannsceiver, 12A power supply, cables power bar, rough tote storage containers, computers, moniters,etc. I am very dissapointed in the Manor not contacting us, since they could see by the attendance book, that we were still having meetings at the Manor.
Harmen VE3EMA and Rick VE3IQZ have got a 9600 baud VHF node running on the KPG freq. of 145.67 MHz. To connect, type c ve3kpg-14
Photo of KPG members at Feb. meeting(click link for full size)- taken by Peter VE3OBE with his digital Mavica camera (year 2000).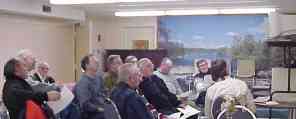 POSTAL ADDRESS
...Kawartha Packet Group
...c/o 14 McDonagh Dr..
....Lindsay, ON, K9V 0C8

Membership Dues
... $20/yr will provide Telnet access to worldwide packet BBS messages through the KPG BBS, if you would like this service.
... otherwise KPG meetings and 9600 baud RF access to the KPG Node/BBS, are free.
Executive Committee
...Chairman............................................................. Harmen VE3EMA
...Treasurer..............................................................Bill VE3WAH
...AX25 Packet Sysop.....VE3KPG.........................Harmen VE3EMA
...TCP\IP Internet Gateway Sysop.....
...APRS Sysop...............
...Secretary...............................................................Vacant
Volunteers
...Meeting Refreshments............................................ you are free to bring some :-)
Click on the following, to link to Radio Amateurs of Canada

IRLP ( Internet Radio Linking Project )
An excellent electronic hobbyist magazine, click on the following link NUTS & VOLTS MAGAZINE

To send comments, click on the following... Bill VE3WAH... Webmaster
Webpage modified Sept 23, 2014