Informal Submissions to
The (Original) Wireless Set No. 19 Group Website
Page 2
These pages are used to post informal submissions from Group members or others, which could be seen as being of interest to visitors. Related photos are welcome and encouraged.
All submissions must have include the name of the contributor and should have some relationship or connection, even loosely, with vintage military communications. It can be of a personal nature or a re-telling of what someone else has written or experienced.
The submitter agrees that all submissions become the property of The (Original) Wireless Set No. 19 Group website.
We reserve the right to edit submissions as deemed necessary. However, other than for some correction of obvious errors in spelling or grammar, or editing for ease of reading or to preserve good taste, submissions will be posted exactly as received for the most part.
Please be careful not to violate copyright. If what you are submitting is the property of someone else, please attempt to obtain permission BEFORE sending it to us. At the very least, you must include the source name and location so that credit may be given to that source.
Any submitted material posted here which is in violation of copyright will be removed. Please advise the owner of this website of any copyright infringement (WS19G @ bell.net). We are not responsible for inadvertent copyright violations, nor do we condone deliberate violations, and will immediately take the appropriate action upon being advised of such violations.
We have the right to decline posting any submission or portion thereof, or to remove any post, at the sole discretion of the website owner.
Thank you.
(NOTE: Depending upon the quality and content of original material, submissions may be chosen as feature items and posted elsewhere on the website. In any event, the pay's the same.)
Disclaimer
Every effort has been made to ensure the accuracy of material on this site. In addition, material published here is original, or is presented in good faith with appropriate express or implied permission, or in the belief it is in the public domain. Should anything appear which contravenes these standards, please advise the website owner immediately so that the material may be reviewed forthwith and, if necessary, removed. Use of this site is the sole responsibility of the user. Neither Robert D. (Bob) Cooke nor any other member of The Original Wireless Set No. 19 Group executive is responsible for any erroneous information or for action contained in or damage caused as a result of the contents of The Wireless Set No. 19 website, in any manner whatsoever.
---
---
Vintage Radio is in the family
I very much enjoyed a tour of the 19 set website.
As a young fellow I had two No. 11 sets, which is a tank transceiver not unlike the 19 set, although not identical either.
Both were put in working condition with the help of my father, Harry Dulmage. Dad was a Wireless Mechanic instructor at No 1 Wireless School in St. Hubert, Quebec, during the war. In fact I think he was the youngest instructor ever.
When i bought the first 11 set it wouldn't work. He told me ,"If that was a No. 19 set I would check this and then that." Sure enough, 10 minutes later it sprang to life. After the war he got his engineering degree at U of T. (He is a Prince Edward County, Ontario, boy).
He was given the job of making Mobile FM radio practical at GE Canada. After succeeding at that he was hired by Collins Radio of Canada, on Burmonsey Road, Scarborough, Ontario, where he was project engineer on the development of the radio for the AVRO Arrow jet aircraft. The cancellation of that aircraft stung him deeply but he stayed around to develop what is known as the Gas Can radio for the Voodoo jet aircraft.
Dad is still alive and recently gave me a bunch of his old stuff, including a German Spy radio-locating receiver (there is an identical unit in the Military Communications and Electronics Museum at Kingston, Ontario), a HP signal generator and an old but good pixel tube frequency counter. He is responsible for my ham radio interest, although he is really an aircraft radio guy at heart.
My Amateur Radio call sign is VE3LYX. I am now into the real old Glowbug-style stuff.
BTW there is a complete -- and reportedly it works -- No. 19 set for sale at the Grafton Twin Windmills antique store. I have looked at it twice myself. That store is just east of the Big Apple place just south of the Highway 401 (in eastern Ontario).
Thanks again for the tour.
---
Some World War One Signaller History

Original hand-written message from November 11, 1918, concerning end of WW I, as copied by a signaller with the Canadian Expeditionary Force in Europe. To see it and related information, click on the next three links.

standing_orders.pdf Research.jpg MtnNewsarticle.jpg

(latter link is courtesy Hamilton Mountain News)

Our thanks to Fred, VE3GCP, and Group Member David Wilson, VE3BBN, for bringing this to our attention.
---
WS#19 High Power Unit frame
Hello, A couple of year ago, I drew the WS-19 HPU's frame. Its could be
useful for some one else. You could put it on your site as information

Thank you

Denis VE2DSH
Denis Chouinard Eng.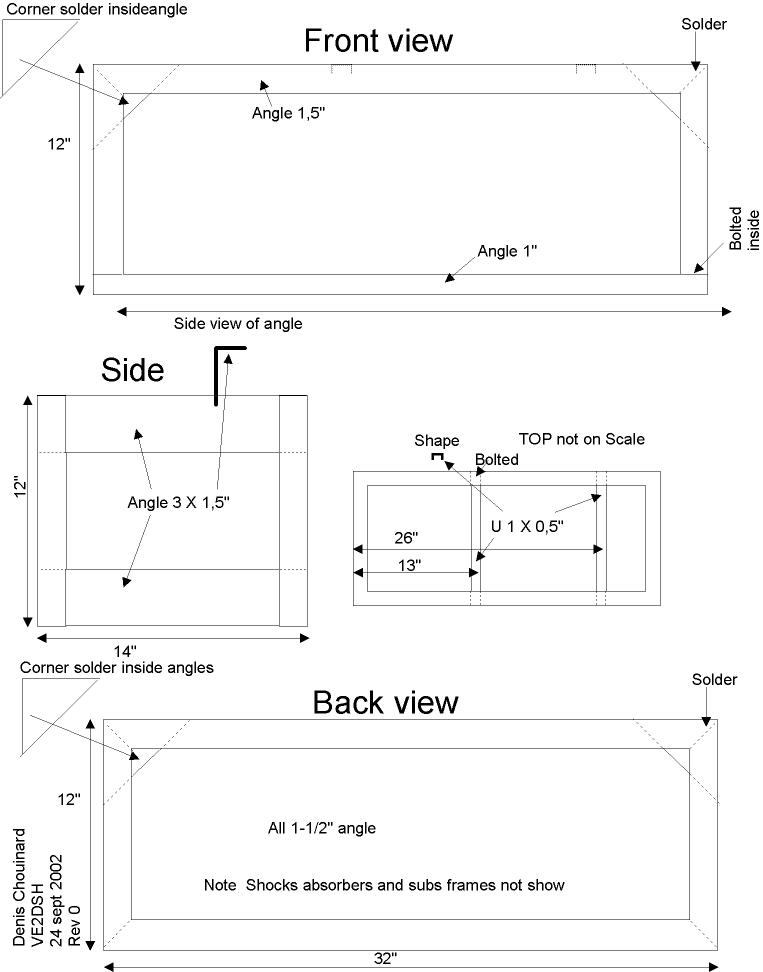 ---
B-set operation with the 19-set radio
By Don Trueman VE4AY
I've been a radio amateur ( ve4ay) since about 1965. Being an impecunious tinkerer and interested in things military, the 19 set was fascinating and has kept my attention over the years.
I also acquired Canadian military jeeps, M-38 and M-38A1, 1952 and '53 respectively. I tell folks I have the jeeps to carry my 19 sets. A jeep is much like a motorcycle, but doesn't fall over at stop signs. And a perfect home for 19 sets as well.
As a radio "ham", the A-set portion of the 19-set is the main attraction, but I realized over the years and with some military vehicle experience, the A-set was the least element in the line-up.
Let me develop this a bit.
On the inside, army tanks are really noisy and the gun(s) add to the racket. Start with hearing protection, and get the noise level down! Now you need an intercom (I/C) so the crew can talk amongst themselves, so build headphones into the hearing protection. The I/C is therefore the primary piece of the 19-set and is essential to the operation of the vehicle.
Now we need to talk with other tanks, and the B-set becomes the next most important element.
And lastly, the A-set for command instructions, or 49 meter band with music with Vera Lynn.
After several efforts to provide comms in antique military vehicle parades, the B-set caught my attention.
How to use it:
First off, don't! It needs some mods and cautions. The original frequency is in an aviation assignment these days…sometimes you can hear aircraft comms. And you can interfere with them…not good. Never connect the original antenna to the B-set. Never.
Here we go…
Coil L11 has high voltage on it when the set is active and is dangerous.
Turn the power off! Short the coil to ground to discharge the circuit…(remember to make the ground side first, then to the coil). Now, squeeze the coil (L11A) on the tuning capacitor to close it up and shift the frequency down to the 225 Mhz amateur band. If you squeeze it too much you will hear video noise and FM audio from Ch 13 TV (maybe not now in the digital era).
Squeezing may not be enough, add a "gimmick" cap on top of the coil…now, get a #1829 (24 volt) lamp bulb and fit it into the correct RF (PYE type, see pic) transmission line connector and plug it into the B-set antenna connector. Now, when you hit the mic prezzle switch, the bulb will light up with RF energy.
The attenuated signal won't go far, maybe up and down your line of restored military vehicles in a parade. I used a 1829 lamp rather than a #47 or 6 volt lamp as the bulb resistance is higher. I'm guessing that the ˝ wave (or multiple thereof) B-set coaxial line provides the impedance match to a half-wave antenna used in the normal B-set installs.
You should be aware that the B-set in the receive mode does radiate a low level signal and can interfere with aircraft radio if you have a B-set antenna connected. The #1829 bulb is a dummy load replacing the antenna and feedline, and in the amateur spectrum will probably be safe to use without interference to other systems or spectrum.
Now the interesting stuff. I have an Icom R-7000 radio receiver which will tune to the B-set frequency. In the AM mode, reception of the B-set is terribly distorted, almost useless.
Tie your comms to a brick and toss it to your neighboring tank!
But when the R-7000 is switched to the narrow or better yet, wide FM mode, the audio is Q-5, great.. Well, I guess! The B-set sender is an oscillator being directly modulated…I put a spectrum analyzer close-by and the carrier is being frequency modulated as "incidental" modulation. The B-set amplitude modulation is difficult to recover, but I believe the B-set receive mode is good old FM slope detection.
The manual's B-set tuning procedure/instructions are vague but seem to me to support this. The manual also doesn't describe the type of system the B-set employs, just how to use it. Maybe I've always made the wrong assumption this was "AM"
---